Dozens march in honor of 3-year-old found dead in hot daycare van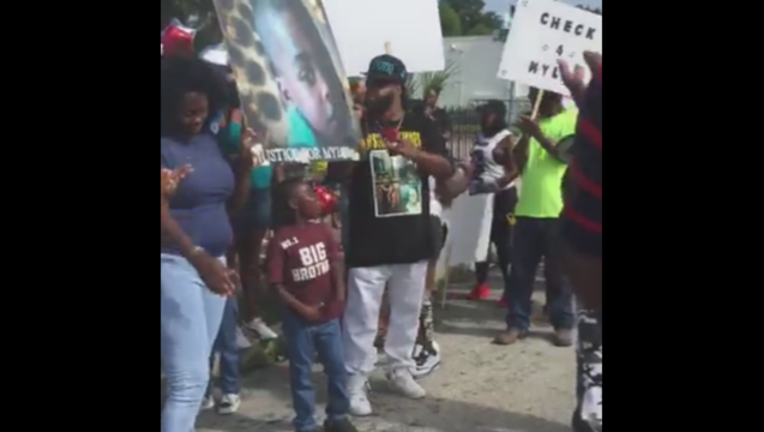 article
ORLANDO, Fla. (WOFL FOX 35) - Justice for Myles. Dozens march on the streets he once walked.
"We love Myles! We love Myles!" The crowd of about 50 people could be heard chanting Saturday morning.
"Somebody say 'Myles is [going to] be remembered!' Justin Felton, the family's pastor told the crowd.
The crowd repeated 'Myles is [going to] be remembered!'"
Orlando Police say 3-year-old Myles Hill spent all day in a hot van outside the Little Miracles Academy before he was discovered dead Monday night. It was 94 degrees that day in Orlando.
51-year-old former daycare worker, Deborah Denise St. Charles is still in jail facing charges in connection with Myles' death.
Destini Bolin, a family friend said "He was always laughing."
People like  Bolin came to the Little Miracles Academy Saturday morning to say goodbye to Myles.
Bolin said"Kids his age shouldn't die. They don't do nothing wrong for them to die."
One of the Hill family attorneys, Jarian Lyons , said Saturday's march is also about raising awareness of children left in hot cars.
"Check for Myles," Lyons said. Not just check for Myles, check for any child. There are protocols in place with day cares that transport children back and forth to home and to facilities. Those protocols should be followed."
The family's pastor, Justin Felton, told FOX 35 he's considering asking questions in Tallahassee, possibly seeking legislation changes.
Felton explained "Seeing who are the real watchdogs and are they doing their jobs when it comes down to this?"
This group is marching "Until we make a difference!" they shouted.
Myles's Aunt spoke to the crowd, saying "All this love and support is keeping my family together."