DeSantis vs. Disney: What happens if legislature eliminates Reedy Creek Improvement District?
ORLANDO, Fla. - The Florida Senate passed a bill Wednesday that would address independent special districts, such as the Reedy Creek Improvement District, that effectively allows Walt Disney World to govern itself. 
The Senate approved the measure (SB 4-C) in a 23-16 vote, with Jeff Brandes, of St. Petersburg, as the sole Republican to join Democrats in opposition.  Similar legislation (HB 3-C) was set for a third reading in the Florida House.
Republican Gov. Ron DeSantis and some state legislators have sought to quickly eliminate independent special districts, claiming that it gives "special privileges" in the law to powerful companies or entities. Disney was targeted following its response over the Parental Rights in Education Bill (HB 1557), which opponents have coined the "don't say gay" bill.
Disney, facing its own criticism from employees and groups for a perceived lack of response to the then-proposed bill, criticized the legislation. 
RELATED: Colorado governor offers Mickey Mouse asylum amid DeSantis-Disney fight
In response, Gov. DeSantis referred to Disney as a "woke" corporation and has urged lawmakers to consider legislation in a special session to dismantle special protections for Disney.
"I am announcing today that we are expanding the call of what they are going to be considering," DeSantis said during a news conference at The Villages on Tuesday. "Yes, they will be considering the congressional map, but they also will be considering termination of all special districts that were enacted in Florida prior to 1968 and that includes the Reedy Creek Improvement District."
RELATED: 'Don't Say Gay' bill puts years for fruitful relations between Disney, Florida at risk
DeSantis, whose comment drew applause from the crowd, has previously hinted at his support for repealing the 55-year-old state law that allows Disney to effectively govern itself on the grounds of Walt Disney World Resort.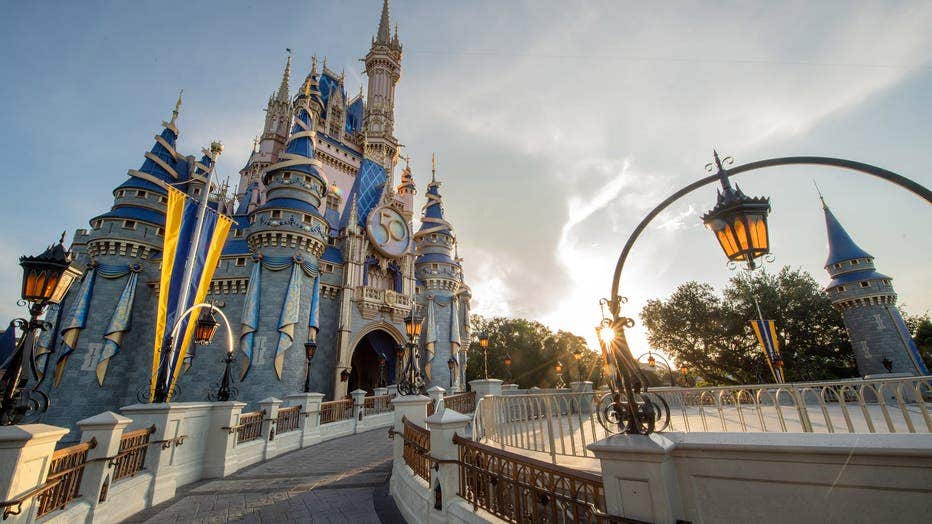 "Why is it fair that one company gets these special privileges, but the others don't? It's a discussion worth having," said HB 3-C sponsor, State Rep. Randy Fine, R-Palm Bay.
Fine want's lawmakers to consider revamping what Disney can and cannot do. 
"They have the ability to go and seize your property without your permission, the right to build a nuclear power plant, which is one of the things they have," he said.
Fine said the local authorities would take over running Reedy Creek, which has around 400 employees.
Some political analysts said this could be a way for the governor to punish Disney. 
RELATED: Political analyst says there's a 50-50 chance Disney's Reedy Creek could be dissolved
"I was shocked that they brought it in for a special session," said University of Central Florida professor of political science Aubrey Jewett, adding that there is "at least a 50-50 chance the bill could pass and that Reedy Creek could be on the way to extinction."
So what exactly is the Reedy Creek Improvement District? The Reedy Creek Improvement District, which is a private government run by Disney, was created back in 1967 to help develop Disney and bring tourism to Central Florida.  
"The Legislature basically created this government for Disney, so Disney would have a much smoother and easier path as they develop Disney World."
Jewett said around 50 people live in the cities of Bay Lake and Lake Buena Vista, where Disney is located, but it's operated by Reedy Creek. 
"They each have a city commission, and when they meet, they basically turn over the operation of the cities to Reedy Creek." 
According to Jewett, Reedy Creek deals with the millions of visitors who come to Walt Disney World Resort.  Many questions remain over what would happen should the special district be dismantled.
"Presumably, the power would be transferred to Orange and Osceola primarily, but we don't know," Jewett said.
This is why Jewett said this issue should be brought up during regular session, rather than special session of the Florida Legislature, which would allow for more time to get answers to those questions. 
Jewett described this as a political move by Gov. DeSantis.
"The real motivation seems to be to punish Disney for speaking out against the 'don't say gay' bill." 
Jewett said taking away Reedy Creek would put all theme parks on an even level. However, he questions the timing of a vote now. 
"From a policy standpoint, it's crazy. You shouldn't be rushing into this, even if your motive was pure."
So what would it cost taxpayers if the Reedy Creek Improvement District is eliminated? We asked the Orange County Tax Collector Scott Randolph.
"We have about 438,000 parcels here in Orange County, so if you divide that out, it's probably $250 a year. You'd literally get no revenue because it's an independent taxing district," he explained.  "When that's dissolved it just goes away."
Rep. Fine disagrees, arguing that it would not have to cost taxpayers anything. 
"The revenues that are currently collected for the Reedy Creek Improvement District could then be collected by the counties as well," Fine said.
We reached out to the Osceola County Tax Collector and Property Appraiser who said they need more time to come up with the numbers.  Orange County Tax Collector Scott Randolph agreed. 
"Something like this probably needs a bit more studying into before you do something like that." 
Rep. Fine said everyone will have more time to research, even if the bill is approved. 
"Nothing happens till after session next year," Fine said. "This would never have happened had Disney not chosen to lie to Floridians and tried to import California values into Florida."
The House will vote on the bill on Thursday. 
Orlando Weather: Storm alerts, live interactive radar, forecast, and more
Click here for the latest Central Florida news, Florida stories, and local headlines.