Construction on I-4 in Orlando to ramp up amid coronavirus pandemic
article
ORLANDO, Fla. - Governor Ron DeSantis announced on Saturday work on the I-4 Ultimate Project will be accelerated now that there are less drivers on the road due to the COVID-19 outbreak. 
"We should take advantage of this pause," DeSantis said. "People aren't able to go to work. Kids aren't going to school. There's a lot of negatives involved. The fact that we don't have as many people on the roads, let's take advantage of that and try to make some progress."
The $2.3 billion project is more than 250 days behind schedule.
The Florida Department of Transportation (FDOT) will speed up the construction on several sections in Orange and Seminole counties.
The $2.3 billion I-4 Ultimate project will reconstruct 21 miles of I-4 from west of Kirkman Road to east of State Road 434 in Longwood.
Specifically, the main travel areas affected will be:
Segments of Westbound I-4 through downtown Orlando.
Portions of the SR 408 interchange.
The goal is to have the new interchange open to drivers by July 4. 
"The Department completely understands that I-4 is a major artery within our state's transportation system and delivering these significant portions of the I-4 Ultimate Project is a huge win for Florida's residents and economy," said Florida Department of Transportation Secretary Kevin J. Thibault, P.E. "We are thrilled to accelerate as many segments of the project as possible so Central Florida residents can experience enhanced mobility on the corridor once we return to normal after COVID-19."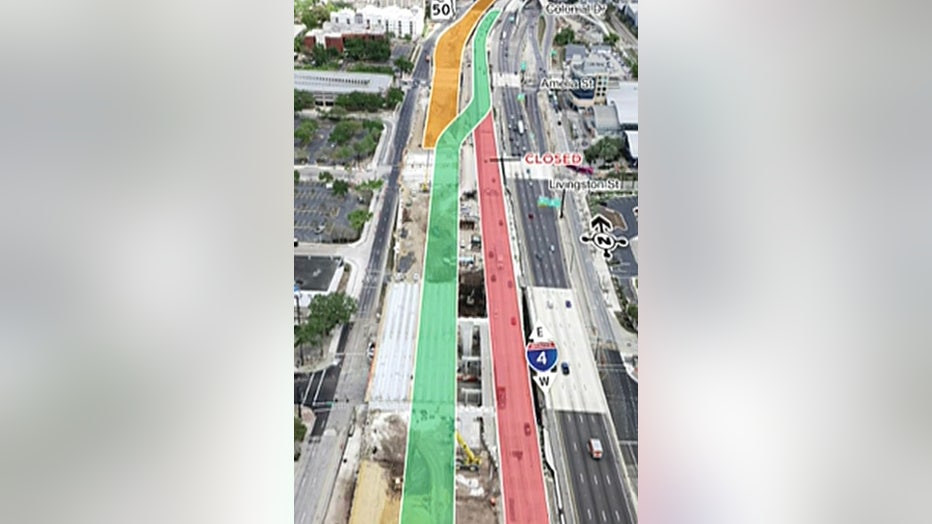 Daytime construction will increase by closing some lanes of I-4.
Officials say I-4 typically has over 100,000 cars a day driving on it. Now that many people aren't driving due to the 'stay-at-home' order, that's down to around 40,000 and they want to take advantage of the clear roads to get some work done.
Officials say the accelerated timeline could shave a month or two off of the project. 
For the latest on the coronavirus in Florida, CLICK HERE.