College student's emotional tribute to late father goes viral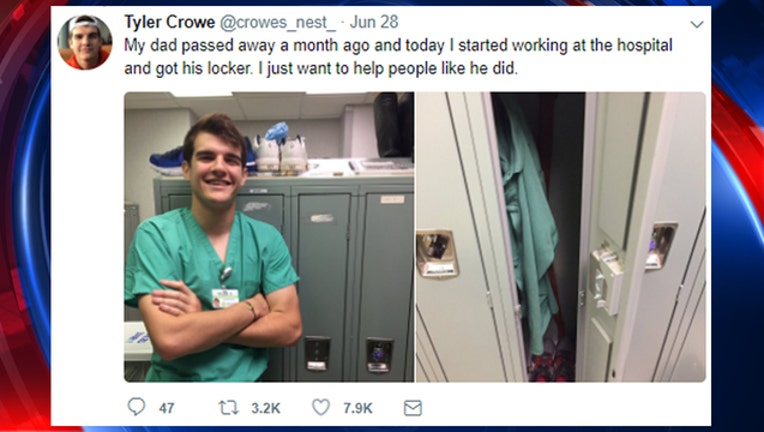 article
A college student started working at the same hospital his late dad was employed at and got his locker too.
Tyler Crowe is a Biological Science major at Clemson University-- he's trying to follow in his dad's footsteps by helping people.
Anthony Crowe, an anesthesiologist for 23 years at Oconee Medical Center, treated everybody like a friend and every patient like a family member. Earlier this year, Dr. Crowe passed away from stage IV cholangiocarcinoma. 
Recently, Tyler landed a job as a materials specialist, at the same hospital! And his first day was emotional. 
He told FOX 5 a couple doctors who worked with his dad offered him Dr. Crowe's locker.
Tyler said, "It was a beautiful scene of when one Crowe leaves, another Crowe takes his place." 
And to honor Dr. Crowe, Tyler took a picture in front of the locker and tweeted it with the caption,"My dad passed away a month ago and today I started working at the hospital and got his locker. I just want to help people like he did."
We're not crying, you are.
Okay, maybe we shed a few tears. But so did the rest of the internet!
Because people were ecstatic for Tyler.
"Congrats! I hope your job goes on well! I would of been so happy if something like that happened to me, with my mom. I start med soon."
Others cheered for Tyler as he continue to carry out Dr. Crowe's legacy.
"Privileged to have worked with Dr. Crowe. So glad to see you carrying on his legacy of caring. You look SO much like your dad :)"
Tyler plans on carving out his own path but will adopt his father's loving and caring attitude when it's his turn to care for his own patients. 
"What keeps me going is the joy of Christ and that I know this is not the end. I'll see my father again, but in the meantime, I'll make the most out of the time I've been given on this earth, and will try to an impact on as many people's live that I can."