2 dead after shooting at New Year's party in Orange County, deputies say
ORANGE COUNTY, Fla. - Deputies say that two people were fatally shot at a New Year's Eve party inside an Orange County nightclub.
According to the Orange County Sheriff's Office, two men were fatally shot at an after-hours club called The Spot Events, located inside a shopping plaza on Edgewater Drive. Investigators said it all happened as the party was winding down around 4 a.m. when shots were fired inside of a VIP area.
One man died inside the club; the other, a 39-year-old man, died at the hospital. Hundreds inside had nothing to do but run.
"There was approximately 250 people here when this occurred. Upon our arrival, a lot of them left. We currently have the six or seven security guards that were here. We'll interview each of them as well as I believe five or six people that remained inside," said Sgt. Jamie Hoffman, with the Orange County Sheriff's Office.
Deputies say those security guards were outside the club when the shooting happened and didn't screen or search party-goers before entering.
"We do not have a suspect description at this time. We do have multiple witnesses that we're interviewing and hopefully, we can get further information from them," said Sgt. Hoffman.
Investigators spent hours at the club, sifting through evidence and getting surveillance video from the laundromat next door.
One man dropping off his laundry didn't want to be identified but says The Spot Events is a popular club. "I've seen the club parking lot is full after hours."
He says he was shocked to see the place looking like this when he pulled in Wednesday.
"It's unfortunate that someone had to lose their life on the new year."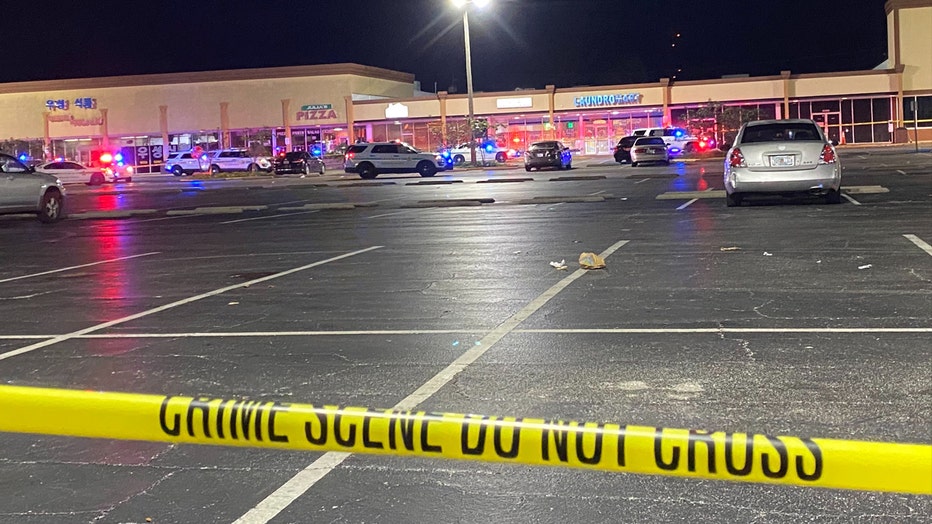 One of the club's employees told FOX 35 News nothing like this has happened in the nearly five years they've leased the space in the plaza. He says their guards always check people as they enter.
MORE NEWS: Download the FOX 35 News app for the latest local news and trending stories
The suspect responsible for this deadly shooting is still on the run.  No description of a shooting suspect has been released.  Investigators are asking for the public's help in finding the shooter.  If you have any information about the shooting, please call Crimeline at 1-800-423-TIPS.