Tennessee routs No. 12 Northwestern 45-6 in Outback Bowl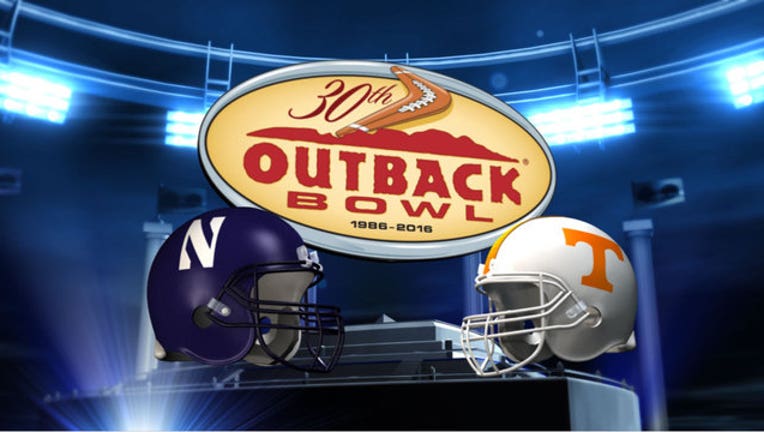 article
TAMPA, Fla. (AP) - Tennessee capped its best season in eight years with a dominating performance in the Outback Bowl.
Joshua Dobbs threw for 166 yards and ran for two touchdowns, helping the Volunteers rout No. 12 Northwestern 45-6 before a crowd of 53,202 on Friday.
Dobbs scored on runs 14 and 18 yards, while Jalen Hurd rushed for 130 yards and one TD for the Volunteers (9-4), who finished with at least nine wins for the first time since 2007. Evan Berry put a punctuation mark on the blowout by returning one of Tennessee's four interceptions 100 yards for a TD in the closing seconds.
Northwestern (10-3) sputtered offensively and was unable to keep up the stronger, faster Vols defensively in falling short on a bid to finish with a school-record 11 victories.
Dobbs completed 14 of 25 passes. The dual-threat quarterback ran 12 times for 48 yards, including a highlight-reel burst around right end in which he dove for his second TD after picking up a bobbled snap and tight-roping his way up the sideline to make it 31-6 early in the fourth quarter.
Hurd scored on 3-yard run in the third quarter and became the first Tennessee player to top 100 yards rushing in two bowl games. The 6-foot-4, 240-pound sophomore ran for 122 yards in the Vols' victory over Iowa in last year's Taxslayer Bowl.
The 100-yard performance was the ninth of Hurd's career, sixth this season.
Both teams ended the regular season on five-game winning streaks, Tennessee finishing strong after a 3-4 start that included losses to Alabama, Oklahoma, Florida and Arkansas by a combined 17 points and Northwestern rebounding from lopsided Big Ten losses to Michigan and Iowa in consecutive weeks in October.
The Vols won the only previous meeting between the schools, 48-28 in the 1997 Florida Citrus Bowl. They improved to 3-1 in the Outback, where Tennessee beat Boston College on Jan. 1. 1993 and Wisconsin to finish with a 10-4 record eight years ago — the last time the Vols appeared in the SEC championship game and won at least nine games.
Northwestern's Clayton Thorson, one of just eight freshmen in the Football Bow Subdivision since 2008 to lead his team to 10 wins, was 8 of 20 passing for 57 yards and two interceptions.
The Wildcats, whose three losses came by a combined score of 123-16, were outgained 420 yards to 261. Justin Jackson averaged over 5 yards per carry in rushing for 74 yards and one TD, a 5-yard run that finished a 12-play, 75-yard drive in the second quarter to trim Tennessee's lead to 10-6.
The Wildcats missed the extra point, and it was pretty much all downhill from there.
___
AP College Football website: collegefootball.ap.org