Spain's Women's World Cup win signals bright future with young talent
SYDNEY (AP) - Newly crowned Women's World Cup champion Spain has established itself for a long run among soccer's elite with its young and talented roster of rising stars.
La Roja defeated England 1-0 in Sunday's final for their first major tournament title. Over the course of the month-long event, Spain played through the turbulence of last year's player rebellion and the injury-diminished role of two-time Ballon d'Or winner Alexia Putellas.
Aitana Bonmati, at just 25 years old, solidified her credentials as a top midfielder, and 19-year-old forward Salma Paralluelo proved to be a rising global star.
RELATED: Women's World Cup: Spain wins its first title, beating England 1-0
"I know that this is the dream we've had since we were little. So right now it is difficult to comprehend. But when we get home, we'll really know what we did," Paralluelo said. "It's something huge."
Spain joined Germany as the only two nations to win both men's and women's World Cup titles and Bonmati spoke about inspiring a generation — just like her hero Andres Iniesta influenced her in 2010 when the Spanish men won the World Cup in South Africa.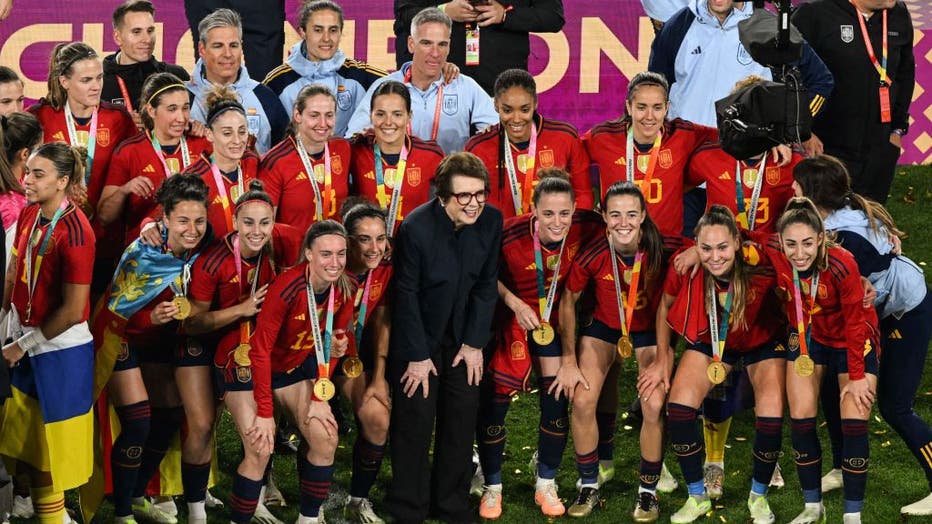 US former tennis player Billie Jean King (C) poses with Spain's players celebrating with the trophy after winning the Australia and New Zealand 2023 Women's World Cup final football match between Spain and England at Stadium Australia in Sydney on Au
Bonmati and her teammates after the match were already wearing new jerseys that included the star above Spain's crest that signifies a World Cup title.
"Today we have this star and this medal and this cup, but it's for all of them, all of those who have fought for more equality and to get us to a better place," said Bonmati. "We love that we could contribute our part to be role models for all those girls and boys. Very emotional to have achieved something so extraordinary."
More than anything else, Spain's victory showed that the rest of the world is catching up to the traditional powers. Germany, Brazil and the United States all suffered surprisingly early exits from the tournament.
RELATED: Heroic goal scorer Olga Carmona learns of father's death after Women's World Cup victory
Few expected the traditional soccer powerhouses to have long gone home by the time Spain hoisted the trophy.
An expanded field of 32 teams was expected to expose the disparity in the women's game. But instead, teams including Morocco, South Africa and Jamaica all advanced to the knockout round to defy expectations. Morocco was one of eight teams playing in its first Women's World Cup.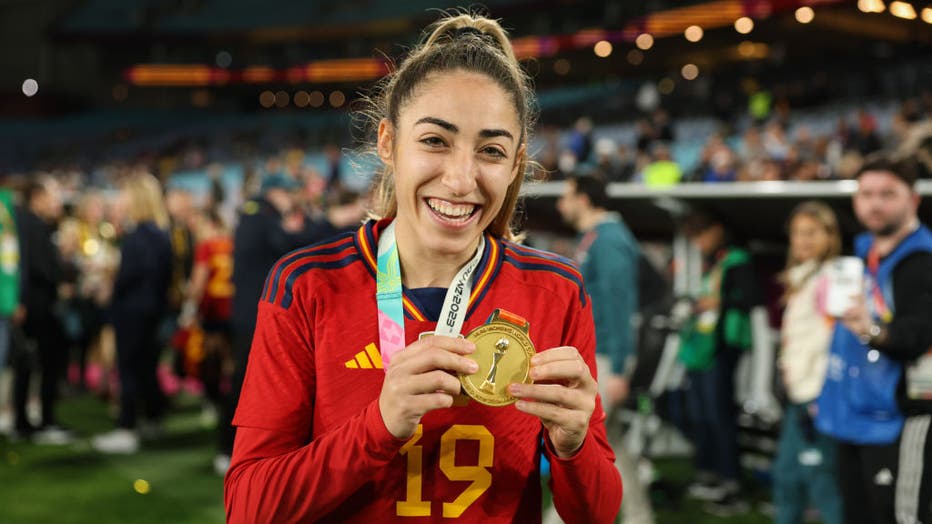 SYDNEY, AUSTRALIA - 2023/08/21: Olga Carmona captain of Spain celebrates with her medal during the celebration at the FIFA Women's World Cup 2023 Final match between Spain v England at Australia Stadium, Sydney.Final score: Spain 1 - England 0. (Phot
The semifinals included four teams that had never won a World Cup title: Spain, England, Sweden and Australia. Sweden defeated Australia 2-0 in the third-place match.
Spain was certainly among the top teams heading into the tournament, but not the favorite. The favorite was the United States, the two-time defending champions. But the Americans were eliminated on a penalty shootout with Sweden in the Round of 16, the team's earliest departure from the tournament ever.
While Spain had been building to this point — nine players on the squad were from Champions League winner Barcelona, and the country had claimed the 2018 under-17 World Cup and the 2022 under-20 World Cup — turmoil surrounding the team in the past year had created doubts.
Last September, 15 players stepped down from the national team in order to protect their mental health. They called on the Spanish federation to create a more professional environment. Three of the "Las 15" — Bonmati, Ona Batlle and Mariona Caldentey — returned to the team for the tournament.
RELATED: Pollos Mario in Queens, celebrates Colombia's historic run to the quarterfinals
Then there was the uncertainty surrounding Putellas, the back-to-back Ballon d'Or winner, who tore her ACL last year and was clearly still working her way back during the course of the World Cup. She started on the bench for the title match, while Paralluelo got her first start.
"We fought hard, that's the truth, until we felt like we had nothing left. But when we go to the airport and see a girl with a football or with a football jersey and the desire to play it fills us with energy again and makes us keep fighting for what we're still missing," Putellas said.
Spain's joy over the championship was tinged with sadness, too.
Following the match the Spanish federation reported that Olga Carmona's father had died following a long illness. She was told after the match.
Carmona scored the lone goal in the match against England. She also scored the game-winner in the 89th minute over Sweden in the semifinals. She is just the seventh player in tournament history to score in both the semifinals and finals.
Paralluelo, who won young player of the tournament honors, was among a group of players who stole the spotlight during the tournament. She joined Colombia's 18-year-old phenom Linda Caicedo, and 23-year-old Hinata Miyazawa, who scored five goals to win the tournament's Golden Boot.
Older stars played in their final World Cup, including Brazilian legend Marta, U.S. forward Megan Rapinoe, Sweden's Caroline Seger and Argentina's Estephani Banini.
"Everything that we'd hope for this to be on every level, it's happened, in my opinion. We've seen rising stars. We've seen players saying farewell to the game. We've seen giants fall. We've seen newcomers," former U.S. coach Jill Ellis said about the tournament. "I just think, all of these pieces here speak to the fact that if you do invest in this, you will reap incredible benefits."
Bonmati won the Golden Ball award for the tournament's best player. Afterward, she said it was "not fair" to address Spain's tumultuous year. Putellas suggested that the players who stepped down were also a part of the team's World Cup journey.
Like her Barcelona teammate Paralluelo, Bonmati said the magnitude of what she called a "unique and historic" moment would take time to sink in.
"I am without words. I can't believe it," she said. "I am going to need time to savor this victory. This trophy in incredible."