LSU's Miles sidestepping questions about his future; FSU's Fisher declines to comment on speculation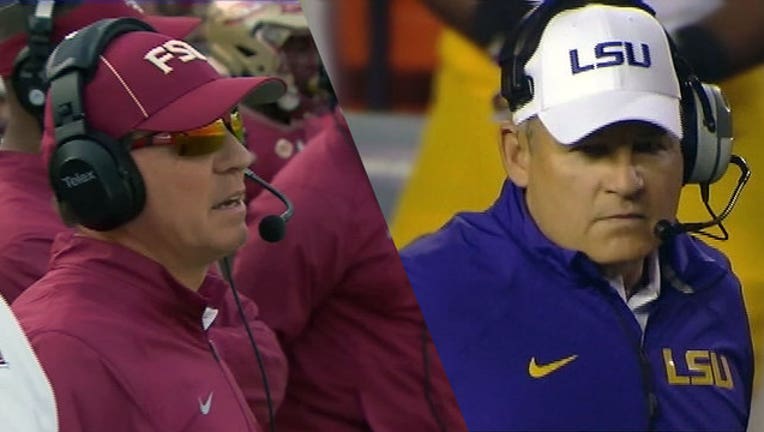 BATON ROUGE, La. (AP) - LSU coach Les Miles considers talk about his job security "off limits" as the Tigers prepare to host Texas A&M on Saturday night.  But Miles also said Monday that Louisiana is "home" as he nears the end of his 11th season with the Tigers.
LSU has lost three straight for the first time since Miles arrived in 2005. The skid has dropped LSU to 7-3 and out of the Top 25.  "I think the question's valid," Miles said of the questions regarding his future. "At some point in time there's a me in this. Not while I'm coaching. This will always be about our players."
Miles did not whether he's met with top LSU athletic department officials about his future, saying the only instruction he has received is to continue doing his job.
"Someone's asked me about coaching for my job and I think I've done that for 11 years," Miles said.
The coach said he plans to hold a team meeting before practice but did not go into specifics about what he would tell his players about his status.
Miles said he met with his assistants Monday morning.
"They kind of understand this is not about me. This is about the team. This is about preparing to beat an opponent and enjoy the young men that we coach."
The coach said there is "probably some concern," among members of the coaching staff, but added that they understand that "victory is maybe more important than anybody's job."
The 62-year-old Miles is 110-33 at LSU with one national championship in the 2007 season. He is under contract through 2019 with a 2015 buyout figure of $15 million. Miles' buyout would decrease to $12.9 million if he was fired after Jan. 1.
Each of LSU's past three losses have come by double digits. The first of those losses came against Alabama, which had now beaten the Tigers five straight times, starting with the 2011-12 BCS title game in New Orleans.
If LSU loses to Texas A&M, the Tigers will finish 4-4 in the SEC for a second straight season.
Florida State coach Jimbo Fisher declined to talk specifically about the LSU coaching situation, but did address all the coaching vacancies and state of the profession.
"It's the nature of the business. There isn't patience or any of that anymore," Fisher said Monday. "What have you done for me lately or how are you going to do it? I've never seen a year like this year. There are so many jobs and situations out there."
Fisher said the College Football Playoffs has contributed to the changes.
"You have to get in the playoffs and that is where leaders of the university have to understand what they want and how they want it," Fisher said. "Be very explanatory to the people there and if you do something just make sure you communicate."
___
Associated Press writer Joe Reedy in Tallahassee, Florida, contributed to this report.