Eagles draft former Apopka native, Georgia DT Jalen Carter in No. 9 overall pick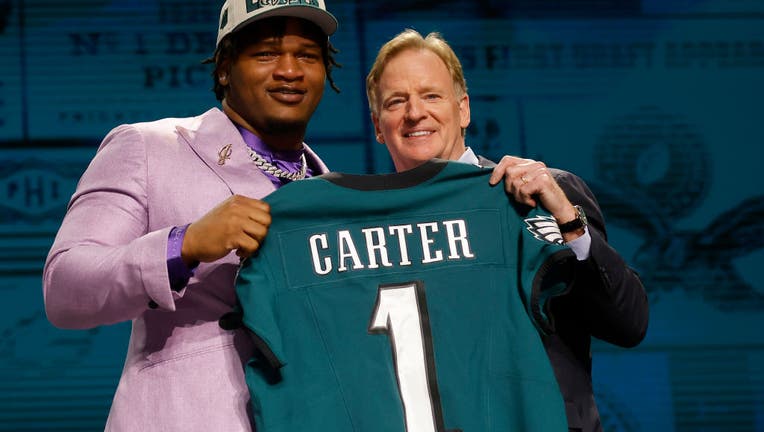 article
Central Florida is represented at the NFL Draft in Kansas City.
The Philadelphia Eagles selected Georgia defensive tackle Jalen Carter with the No. 9 overall pick of the NFL draft on Thursday night, trading up one spot with the Chicago Bears. The tears were flowing as he took the stage in Kansas City.
The former Apopka High School standout was a five-star recruit coming out of high school. Carter helped lead the Blue Darters to a state championship appearance in 2019. Back in his hometown, his family, friends, and former high school teammates were cheering him on at a watch party.
"Just a sense of joy and excitement. I can't even explain it. I'm so excited right now, to be honest," Carter's aunt, Krista Jex said.
Carter excelled at every level – from high school to college. He was a beast at Georgia, earning playing time right away as a true freshman. He was an integral part of the Bulldogs' historic defenses. He recorded 83 tackles and six sacks during his collegiate career, leading the Bulldogs to back-to-back national championships.
Carter's family and friends are expecting continued success in the NFL. For his former teammates still chasing that dream, Carter's moment serves as motivation.
"I've seen the work he puts in. the love he has for the game. He's more like a brother to me. So just seeing him being here, living the dream, my dream. It just gives me motivation," UCF defensive back, and Carter's former Apopka teammate, Nikai Martinez told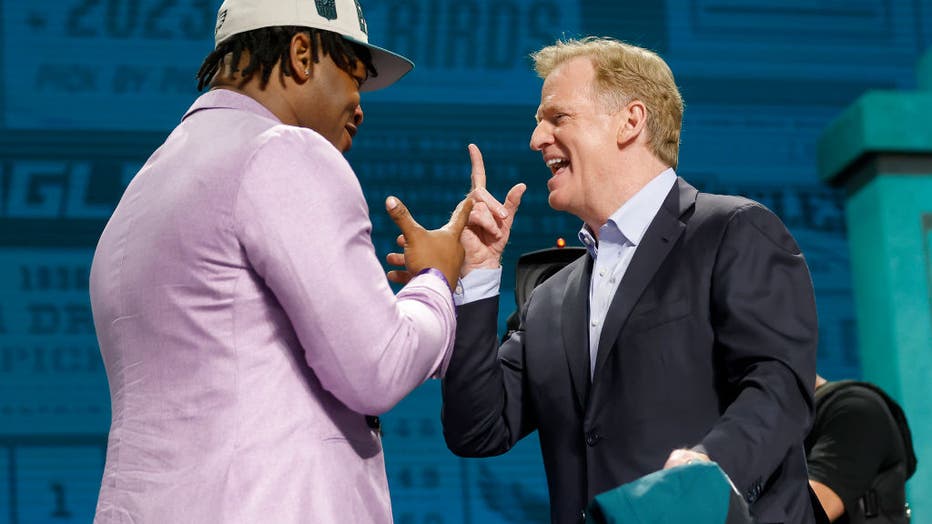 KANSAS CITY, MISSOURI - APRIL 27: (L-R) Jalen Carter celebrates with NFL Commissioner Roger Goodell after being selected ninth overall by the Philadelphia Eagles during the first round of the 2023 NFL Draft at Union Station on April 27, 2023 in Kansa
Colts select QB Anthony Richardson at No. 4 in NFL draft
The Indianapolis Colts followed their plan, selecting Florida quarterback Anthony Richardson with the fourth pick in the NFL draft Thursday night. While the move had been expected even before the Colts finished last season with seven straight losses and a 4-12-1 mark, the bigger debate was over whom to take.  
The athletic Richardson could help the Colts re-emerge as a playoff contender perhaps sooner rather than expected.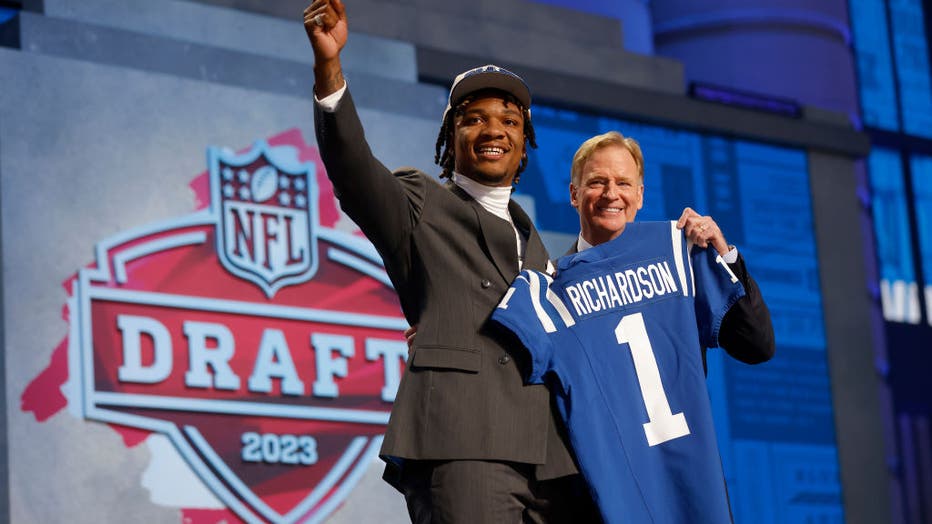 KANSAS CITY, MISSOURI - APRIL 27: (L-R) Anthony Richardson poses with NFL Commissioner Roger Goodell after being selected fourth overall by the Indianapolis Colts during the first round of the 2023 NFL Draft at Union Station on April 27, 2023 in Kans
Bucs select DT Calijah Kancey with 19th pick in NFL draft
The Tampa Bay Buccaneers selected Pittsburgh defensive tackle Calijah Kancey in the first round of the NFL draft Thursday night, addressing a desire to get younger and stronger up front as the team retools for the post-Tom Brady era.
The Bucs have already brought in 2018 No. 1 overall pick Baker Mayfield to compete with third-year pro Kyle Trask to replace Brady, who retired - this time for good, the 45-year-old quarterback says - in February.
Kancey was the 19th player drafted Thursday night and will be expected to bolster the pass rush and contribute right away on a team despite the Bucs going 8-9 in Brady's final season and coming off winning consecutive NFC South titles for the first time in franchise history.
Offensive tackle was deemed a more pressing need following the release of veteran left tackle Donovan Smith, however, depth on the defensive line was a strong consideration, too, due to the loss of Akiem Hicks, Will Gholston and Rakeem Nunez-Roches to free agency.
The Bucs are rebuilding after a three-year run with Brady that produced a Super Bowl title and three playoff berths.
Jaguars select OT Anton Harrison with 27th pick in NFL draft
With veteran Cam Robinson facing a multi game suspension, the Jacksonville Jaguars took Oklahoma offensive tackle Anton Harrison with the 27th overall pick in the NFL draft Thursday night. 
The Jaguars traded down twice - moving from 24th to 25th and then from 25th to 27th - before landing Harrison. They got three picks in return from the New York Giants and Buffalo for dropping three spots.
Harrison could end up being an immediate starter, especially if Robinson is sidelined for as many as six games to start the season. Harrison allowed one sack in 425 pass-block snaps with the Sooners last season.
Robinson is facing a suspension for violating the NFL's policy on performance-enhancing drugs, according to a person familiar with the situation. The person spoke to The Associated Press on condition of anonymity Thursday because the potential suspension is pending the result of a B sample.
According to league rules, Robinson could be suspended without pay for up to six games. The possibility of being without Robinson for any length of time surely affected Jacksonville's approach to the draft even though adding an offensive tackle already was high on the team's to-do list.
Jacksonville lost right tackle Jawaan Taylor to Kansas City in free agency, leaving the team with Robinson and third-year pro Walker Little as starters. The Jags signed oft-injured veteran Josh Wells to a one-year deal earlier this month.
Robinson also is recovering from a knee injury. He tore the meniscus in his right knee in mid-December and missed the final five games of the season, including two in the playoffs.
First-Round NFL Draft 2023 picks
Carolina Panthers - Bryce Young, QB, 5-foot-10, 200 pounds, AlabamaScouting report: Poised leader and creative playmaker, who excels at buying time while seeing the entire field. Elite combination of instincts and intelligence with a good arm, but, boy, is he small for an NFL quarterback.Fact: The national high school player of the year as a senior in California went on to become the 2021 Heisman Trophy winner as a sophomore at Alabama.Notable: Alabama's first Heisman-winning quarterback is now the first Tide player taken No. 1 overall in the NFL draft since QB Harry Gilmer by Washington in 1948.
Houston Texans - C.J. Stroud, QB, 6-3, 214, Ohio StateScouting report: Elite accuracy and touch combined with good size and arm strength. Has shown above-average athleticism, but has seemed reluctant to use. Can linger in the pocket and lock on receivers.Fact: Threw 85 touchdown passes to break a Big Ten record held by Drew Brees for TDs over two seasons.Notable: Third straight Ohio State starting quarterback drafted in the first round, following Dwayne Haskins (No. 15 to Washington in 2019) and Justin Fields (No. 11 to Chicago in 2021).
Houston Texans (from Arizona) - Will Anderson Jr., OLB, 6-3, 253, AlabamaScouting report: Quick first step with an array and moves and power, and ability to dominate a game. Can quibble with his tackling and ability to finish against the run, but he's probably the best prospect regardless of position.Fact: Racked up 34 1/2 sacks and 62 tackles for loss in 41 games and won the Bronko Nagurski Award as the nation's top defensive player twice.Notable: Texans traded up to become the first team since Washington in 2000 to make two of the first three picks in the draft (LB LaVar Arrington at No. 2 and OT Chris Samuels at No. 3).
Indianapolis Colts - Anthony Richardson, QB, 6-4, 244, FloridaScouting report: The most intriguing prospect in the class, with Cam Newton-type size, athleticism and arm strength. The mechanics need work to fix accuracy issues.Fact: Richardson had 13 career starts and only 393 pass attempts in three seasons at Florida.Notable: The last two quarterbacks the Colts selected in the first round were Andrew Luck (No. 1 in 2012) and Peyton Manning (No. 1 in 1998).
Seattle Seahawks (from Denver) - Devon Witherspoon, CB, 5-11, 181, Illinois.Scouting report: Aggressive, disruptive and physical defensive back, who took a huge leap as a senior to become one of the best defensive players in the country. Maybe a little too aggressive, especially at that size.Fact: Didn't play high school football until his junior year and spent a season at junior college before going to Illinois.Notable: Witherspoon is the first cornerback drafted in the first round by Seattle since 2006 (Kelly Jennings at No. 31).
Arizona Cardinals (from Detroit via L.A. Rams) - Paris Johnson Jr., OT, 6-6, 313, Ohio StateScouting report: Ideal size and athleticism, with some work to be done on technique and footwork.Fact: Graduated with a degree in journalism and wrote for the school newspaper at Ohio State.Notable: Highest drafted offensive tackle from Ohio State since Orlando Pace went No. 1 overall in 1997 to the Rams.
Las Vegas Raiders - Tyree Wilson, DE, 6-5, 271, Texas TechScouting report: Ideal frame with long arms and room to add more pounds. Improved technique and footwork could unlock an even more fierce pass rusher.Fact: His final season was cut short by a right foot injury in November that kept him from doing more than lifting at the combine and pro day. Notable: Raiders last top-10 pick was also an edge rusher. They took Clemson's Clelin Ferrell as No. 4 overall in 2019.
Atlanta Falcons - Bijan Robinson, RB, 5-11, 215, TexasScouting report: Vision, burst, finishing power and reliable hands make Robinson one of the best running back prospects in the past decade. Will need to be more decisive in hitting holes in the NFL.Fact: His 3,410 career yards rushing rank behind only Ricky Williams, Cedric Benson, and Earl Campbell (all four-year players) in Texas history.Notable: Robinson is the first Texas offensive player selected in the first round since QB Vince Young was taken by Tennessee's No. 3 overall in 2006.
Philadelphia Eagles (from Chicago via Carolina) -- Jalen Carter, DT, 6-3, 313, GeorgiaScouting report: A game-wrecking package of power and quickness who collapses pockets and splits double-teams. The only questions appear to be about maturity and makeup.Fact: Pleaded no contest to two misdemeanors (reckless driving and racing) and was sentenced to a year of probation and community service in March on charges related to an automobile accident that killed a Georgia teammate and football staffer.Notable: Third defensive tackle from Georgia selected in the first round in the last two drafts, and second by Philadelphia. The Eagles took Jordan Davis No. 13 last year.
Chicago Bears (from Philadelphia via New Orleans) - Darnell Wright, OT, 6-5, 330, Tennessee.Scouting report: Thick and feisty blocker who played more comfortably at right tackle than left.Fact: Held up about as well as any offensive lineman in the Southeastern Conference against Alabama star pass rusher Will Anderson.Notable: First offensive lineman taken in the first round by Chicago since Kyle Long (No. 20 overall) in 2013.
Tennessee Titans - Peter Skoronski, OL, 6-4, 313, Northwestern.Scouting report: Explodes off the line with power and balance. Locks up defenders in the running game. Legit concerns about whether he has the length to stay at tackle at the next level.Fact: Three-year starter at left tackle after being a blue-chip recruit.Notable: Skoronski is the second offensive lineman from Northwestern to be selected in the top 13 picks in the last three years. Rashawn Slater went No. 13 to the Chargers in 2021.
Detroit Lions (from Arizona through Houston via Cleveland) - Jahmyr Gibbs, RB, 5-9, 199, Alabama.Scouting report: Explosive and shifty runner, with excellent hands, but doesn't run with tackle-breaking power.Fact: Averaged 11.7 yards per reception over three seasons at Georgia Tech and Alabama.Notable: Last time two running backs were selected in the first 12 picks of the draft was in 2017 when Leonard Fournette of LSU went No. 4 to Jacksonville and Christian McCaffrey of Stanford went No. 8 to Carolina.
Green Bay Packers (from N.Y. Jets) - Lukas Van Ness, DE, 6-5, 270, IowaScouting report: Powerful player who has been used both inside and outside on the defensive line, but still a relatively raw and inconsistently productive player.Fact: Nicknamed "Hercules," Van Ness was focused on hockey before high school and didn't take off as a football prospect until junior year.Notable: Green Bay has not selected a receiver, tight end or running back in the first round since taking WR Javon Walker in 2002. 
Pittsburgh Steelers (from New England) - Broderick Jones, OT, 6-5, 311, GeorgiaScouting report: Excellent athlete (former high school basketball player) who has some questions about his build being ideal to play tackle in the NFL.Fact: Never called for holding during his college career.Notable: Last offensive lineman drafted in the first round by Pittsburgh was David DeCastro of Stanford at No. 24 in 2012.
New York Jets (from Green Bay) - Will McDonald IV, DE, 6-4, 238, Iowa State.Scouting report: Long and lanky edge rusher with good burst off the line and agility. Lean build leads him to have some issues holding ground against the run.Fact: Tied the Big 12 record for career sacks with 34.Notable: McDonald is just the second player from Iowa State drafted in the first round and first since RB George Amundson went No. 14 to the Houston Oilers in 1973.
Washington Commanders - Emmanuel Forbes, CB, 6-1, 166, Mississippi State.Scouting report: Elite ball skills in long and very slender frame.Fact: Set a major college football record with six career interceptions returned for touchdowns.Notable: Forbes is Mississippi State's fifth first-round pick in the last five drafts, including three in 2019 and OT Charles Cross last year to Seattle. 
New England Patriots (from Pittsburgh) - Christian Gonzalez, CB, 6-1, 197, Oregon.Scouting report: Long and fast (4.38 in the 40) cornerback who became more of a playmaker last season with four interceptions and 11 passes defended.Fact: Former four-star recruit transferred from Colorado to Oregon after the 2021 season.Notable: The Patriots last drafted a defensive back in the first round in 2010 (Devin McCourty from Rutgers at No. 27).
Detroit Lions - Jack Campbell, LB, 6-4, 249, Iowa.Scouting report: Big and active run stuffer who will have to show more in coverage or as a pass rusher to become a three-down player in the NFL. There is potential for that.Fact: Butkus Award winner as top linebacker in the nation in 2022.Notable: Campbell and Van Ness give Iowa six first-round picks in the last five drafts.
Tampa Bay Buccaneers - Calijah Kancey, DT, 6-1, 281, Pittsburgh.Scouting report: Undersized, but active and quick interior lineman. He's no Aaron Donald, who came out of Pitt with a similar scouting report, but he's disruptive.Fact: Led major college football defensive tackles with 14 tackles for loss last season.Notable: Last time Tampa Bay picked a defensive tackle in the first round was Vita Vea from Washington at No. 12 in 2018.
 Seattle Seahawks - Jaxon Smith-Njigba, WR, 6-1, 196, Ohio StateScouting report: Smooth router runner. Great at tracking passes through the air and catches just about anything that hits his hands. Lacks top-end speed.Fact: Playing in the slot most of the season with first-rounders Garrett Wilson and Chris Olave, had 95 catches and 1,606 yards in 2021 but missed almost all of '22 with a hamstring injury.Notable: Third Ohio State receiver selected in the first round in the last two seasons, joining Chris Olave (New Orleans) and Garrett Wilson (New York Jets).
Los Angeles Chargers - Quentin Johnston, WR, 6-3, 208, TCUScouting report: Big, fast and strong. Looks the part, but injuries and inconsistencies held back production.Fact: A four-star recruit who had a breakthrough season as a junior, when he caught more passes (60) than in his first two seasons combined (55). Notable: The last two TCU players drafted by the Chargers were also taken in the first round: CB Jason Verrett in 2014 at No. 25 and RB LaDainian Tomlinson in 2001 at No. 5.
Baltimore Ravens - Zay Flowers, WR, 5-9, 182, Boston CollegeScouting report: Plays fast and runs aggressively after the catch for an undersized receiver. Needs to improve consistency with his hands.Fact: Caught 78 passes for 1,077 yards and 12 touchdowns last season, despite playing on an offense that had issues almost everywhere else.Notable: Third time in the past five drafts Baltimore has selected a receiver in Round 1. Rashod Bateman from Minnesota at No. 27 in 2021 and Marquise Brown from Oklahoma at No. 25 in 2019.
Minnesota Vikings - Jordan Addison, WR, 5-11, 173, Southern CaliforniaScouting report: Creates separation with a combination of quickness and burst out of breaks, but he is undersized and that could limit him to the slot. Fact: Won the Biletnikoff Award as the nation's best receiver with Pitt in 2021 before transferring to USC.Notable: Fourth straight year a USC player has been selected in the first round, and second straight season a Trojans receiver was taken (Drake London by Atlanta at No. 8).
New York Giants (from Jacksonville) - Deonte Banks, CB, 6-0, 197, MarylandScouting report: Another physical corner who likes to mix it up and get involved against the run, but a little finesse might help him in coverage.Fact: Missed 11 games in 2021 with a shoulder injury.Notable: Last two cornerbacks taken in the first round by New York were Deandre Baker from Georgia at No. 30 in 2019 and Eli Apple from Ohio State at No. 10 in 2016.
Buffalo Bills (from Jacksonville via New York Giants) - Dalton Kincaid, TE, 6-3 1/2, 246, UtahScouting report: Agile athlete with excellent body control, good hands, and quick feet to avoid tacklers. Needs to refine routes and gain strength.Fact: A zero-star recruit who started his college career at San Diego, a non-scholarship FCS school.Notable: Buffalo last drafted a tight end in the first round in 1983 when it took Tony Hunter from Notre Dame at No. 12.
Dallas Cowboys - Mazi Smith, 6-3, 323, MichiganScouting report: Crazy strong and athletic for his size, but it hasn't translated to pass-rushing skills.Fact: Pleaded guilty to a misdemeanor gun possession charge last year for failing to register a weapon he had legally purchased.Notable: Fifth straight year Michigan has had at least one player selected in the first round. 
Buffalo Bills
Cincinnati Bengals
New Orleans Saints (from San Francisco through Miami and Denver)
Philadelphia Eagles
Kansas City Chiefs