Florida's sports world watching Matthew, too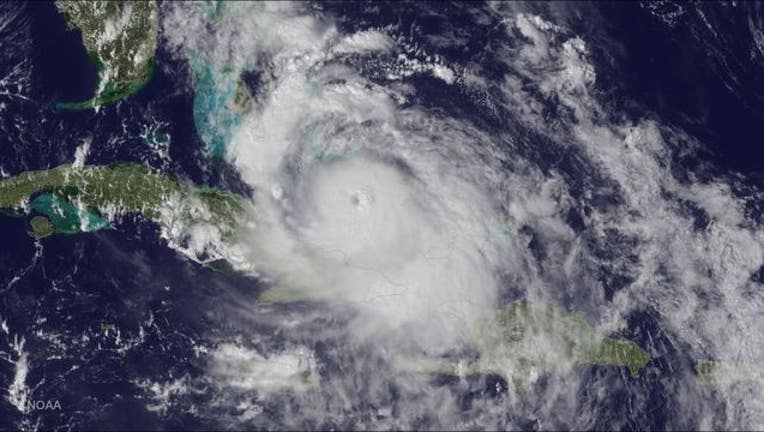 article
CORAL GABLES, Fla. (AP) - Hurricane Matthew's slow march toward Florida kept plenty of major college football teams guessing about their weekend plans on Wednesday, with schools still waiting to determine if moving or rescheduling games will be necessary because of the massive storm.
All games involving teams from the AP Top 25 this weekend were on as scheduled, including three being held in areas that forecasters believe could deal with Matthew's wrath in the coming days -- No. 23 Florida State at No. 10 Miami, LSU visiting No. 18 Florida and No. 25 Virginia Tech at No. 17 North Carolina.
"We are hopeful that the impact of Hurricane Matthew will be minimal and the game between the Hurricanes and Seminoles will be played as planned," Miami athletic director Blake James said.
Also still on: the Georgia at South Carolina football game on Saturday night, even though forecasters think Matthew could be directly affecting that area of the country this weekend.
"Whatever decision is made, we'll be ready to go," South Carolina coach Will Muschamp said.
The Web.com Tour Championship, a golf tournament scheduled to be played near Jacksonville, Florida, was canceled. Thursday's Tampa Bay at Florida preseason NHL game was postponed, with no reschedule date announced, and with some uncertainty if there would even be a chance to get that game in before the regular season starts next week.
The Web.com tournament was the last chance for some golfers to secure their PGA Tour cards for the coming season. It had to be called off after a mandatory evacuation order was posted for Jacksonville beach areas, and there's no opportunity for it to be made up.
"I know the players who came here needing a good finish to get their cards are very disappointed," Web.com Tour president Bill Calfee said.
Even an eSports event scheduled for this weekend -- the UMG Orlando Call of Duty tournament with a $100,000 prize pool -- was called off out of concern for the storm.
"Regardless of the financial losses, which not hosting the event exposes us to, we felt the safety of our community was obviously far more important," UMG said in the news release announcing the cancellation.
In South Florida, everything from high school to pro events are being affected -- even before the storm arrives.
The Miami Heat, who were scheduled to leave Friday for a Saturday game in Kansas City, decided to instead depart Wednesday -- for Houston, where they'll set up a temporary camp before moving on to the exhibition matchup this weekend.
In Davie, Florida -- where a hurricane warning was posted -- the Miami Dolphins decided to close their offices on Thursday, which was already an off day for players. The Dolphins are scheduled to host to Tennessee on Sunday afternoon, conditions permitting, and Titans coach Mike Mularkey is keeping a close eye on Matthew for multiple reasons.
"I'm more worried about a lot of family I've still got in the Fort Lauderdale area," Mularkey said. "That's No. 1 for me."
Florida State planned to fly to Miami on Thursday evening for this weekend's nationally televised football showdown against the Hurricanes. Those plans are now iffy at best, Seminoles coach Jimbo Fisher said.
"It looks like the worst of it may hit Thursday night in Miami. So we may have to wait until Friday morning before we go down and see what goes on," Fisher said. "That's our thoughts right now, but we don't know. We're still getting updates as it goes."
Florida Atlantic University in Boca Raton, Florida, is directly in Matthew's forecasted path and made wholesale changes to its schedules.
FAU's football team, scheduled to play host to Charlotte on Saturday, left for Tampa and will practice at South Florida for the remainder of the week. FAU's volleyball team also headed out of town to practice, a women's golf tournament FAU was to host in Boca Raton was canceled and events this weekend for volleyball, men's soccer, softball, women's tennis and swimming were also either postponed or called off.
Other cancelations and schedule changes announced Wednesday related to Matthew include:
-- Friday night's Tulane at Central Florida football game in Orlando has been pushed back to Nov. 5.
-- The Washington Nationals said the rest of their instructional league games on Florida's coast this week would be canceled.
-- A number of college volleyball and soccer matches from Florida to North Carolina were rescheduled or moved.