Fantasy Football Impact: Week 6 hits, misses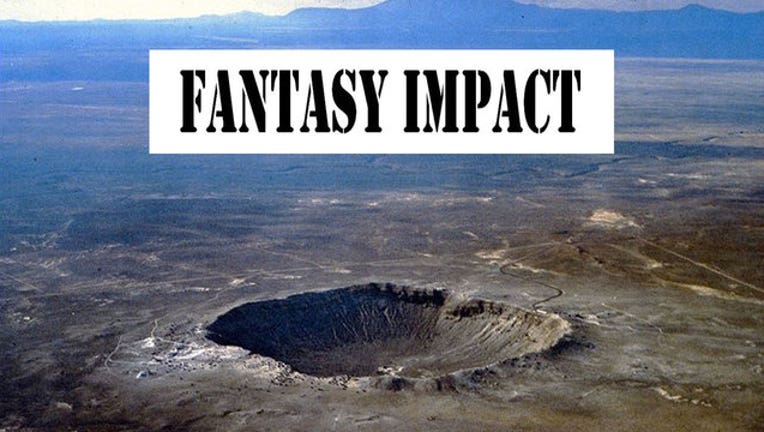 article
In a wild Week 6 which included Case Keenum dropping precision dimes for a 126 QB rating and Jay Ajayi nearly beating his career rushing total in one week, let's pause and be grateful for a few of the things we can still regularly count on.

Drew Brees, Tom Brady, David Johnson and of course, the Cleveland Browns defense.

Okay, moving on ...

The return of ODB: Everyone's favorite Giants receiver looks back on track. If you watched the Sports Works Fantasy Lounge two weeks ago, yours truly predicted he would break out of his funk. While some were saying the dysfunctional Odell Beckham, Jr. situation was headed south I wisely said to stay the course. Beckham scored his first TD the very next game and Sunday showed what he's capable of with 222 yards and a pair of scores. Sure Beckham is volatile, and sure he looks like he's this close to doing sit-ups on camera during an interview in his driveway (circa vintage Terrell Owens), but the highs will outweigh the lows by season's end.

Big Ben: Thankfully Ben Roethlisberger is only going to be out 2-3 weeks according to reports. But in the meantime, Antonio Brown and Le'Veon Bell owners are the only ones immune to Landry Jones' "talent." Both should take a dip in production and Jesse James or Sammy Coates owners or anyone else looking for bye week fill-ins are advised to look elsewhere, away from the Steelers' supporting cast for help the next few weeks.

Regrets, I've had a few: Jay Ajayi. Before I do any groveling for forgiveness on the Dolphins' sudden star-turn, let's first take a breath and put it into context. Prior to Sunday's game Ajayi had 114 yards on 31 carries and last year 187 yards on 49 carries in nine games. Sure, I advocated for the Alshon Jeffrey of running backs, Arian Foster at the start of the year (like they can be laying on a beach in the offseason and still be considered questionable health-wise), so for that I am sorry -for now. There is a preponderance of evidence that says this is a one-game anomaly. But for now you don't need an expert to say grab him off the wire if he's there.  If anything, this might be a nice end to the insane four-back rotation the Dolphins were using earlier this season.

LeSean McCoy and the Bills: I'm sure Greg Roman is a good guy, but McCoy owners everywhere have to be doing a conga line over his grave. Ever since the offensive coordinator was fired, McCoy has exploded - despite the loss of Sammy Watkins. New OC Anthony Linn made an immediate impact with his reportedly simplified offense and the results have been legit: weeks 1-2 McCoy had averaged 58 yards. Since week 3, Shady shot up to 117 yards rushing per game including 290 yards just the past two weeks alone. He's back to being elite and ain't it cool? Plus in deeper leagues, Robert Woods should be considered for ownership as the Bills' interim No. 1 receiver (RIP Watkins 2016) and Tyrod Taylor is now usable in a bye plug-in role.

We need to talk: Jags and Packers - With that sad reminder, let's move to the corner of shame - what in the world has happened to the offenses in Jacksonville and Green Bay? Currently the Packers sit at 25th in the NFL in total offense and the Jags are at 29th. Neither has had significant injuries - or for that matter injuries affecting the offense hardly at all.

Unless your name is Jordy Nelson, the Packers have been a ride to box score nowhere with brief flashes (Lions game notwithstanding) and Aaron Rodgers is no longer an automatic start every week. As he's struggled, so has Green Bay and it is mystifying. With so many solid QBs available, bench A-Rodg and look for streaming (one-week matchup waiver wire options) or take a good look at your fantasy backup. Rodgers might be a situational starter.

If it wasn't for a miracle Arrelious Benn touchdown to salvage a bad Blake Bortles performance against the Bears (making it merely poor), Sunday would have been a complete disaster. Unlike the Packers who at least have shown flashes, the Jaguars can barely get off the mat score-board wise despite the talented young core. Allen Robinson has not gone over 75 yards all year, Allen Hurns is barely own-able, Julius Thomas has a way of disappearing and TJ Yeldon could lose his job to Chris Ivory. So far, the Jags' offense is the early leader for fantasy disappointment of the year.

Pick these guys up (appearing in order of importance)

Cameron Meredith, Bears: Allow me to walk back my tepid Eddie Royal support of a few weeks ago and let's take a minute to admire the Illinois State rookie. Sunday marked back to back 100-yard performances for Meredith, while Brian Hoyer's string of 300-yard games in every start he's had continued. While Jeffrey happens to still be standing upright and posting solid numbers, Meredith has shined once he got the chance these past two weeks. Royal meanwhile continues his injury list dabbling while vanishing after a splash game. Kevin White is also out until Week 13, so Meredith has a chance to establish himself further, making the oft-injured second year wide out an afterthought.

Jacquizz Rodgers, Bucs: Depending on the Doug Martin situation, Rodgers is worth the pick-up. In his first chance to be the featured back in Tampa Bay after Charles Sims went down, the former third-stringer posted 101 yards and added five catches for 28 yards. Rodgers plays on a good offense and as long as Martin is sidelined (he didn't practice Monday, although he was expected back this week), Rodgers will play a big role. And with how hamstring injuries can linger (along with Martin's sometimes frustrating durability), Rodgers is a solid add this week.
Cole Beasley, Cowboys: Believe it or not, he is the leading target for Dallas and makes the burgeoning passing game go. Beasley has a team-high 390 yards and three touchdowns and has grown with rookie QB Dak Prescott. According to TeamRankings.com his 84.6 percent catch rate leads the league. Dez Bryant will always be the Cowboys' No. 1 receiver, but Beasley appears to be his wingman.

Devontae Booker, Broncos: If you have an open spot and an open mind consider Booker. Coach Gary Kubiak did say he wants to get Booker more carries and Anderson has been fading a bit after his strong start to the season. On Thursday Booker out-gained CJ Anderson 46-37 with half the carries. This is purely a stash suggestion. If you have a few weeks to be patient, Booker might be the back to own in Denver before long.

Colin Kaepernick, 49ers: There seems to be plenty of productive fantasy quarterbacks right now, but Kaepernick in Chip Kelly's offense could be something to behold. I've given up on seeing the Kap of old when he shredded the NFL with the read-option under Jim Harbaugh, but Kelly's offense could lead to a productive second act for him.  If Blaine Gabbert could lead all QBs in rushing, what could Kaepernick do? There's no denying that San Fran is bad, but they're better with Kap under center and also, don't forget the chance for garbage points.
DON'T FORGET: Watch The Sports Works' Fantasy Lounge Facebook Live show every Thursday at 7:30 on the FOX 2 Facebook page or see it later at Fox2detroit.com/sports
About the Author:
David Komer is a web producer/multimedia journalist for FOX 2. He is a former fantasy sports columnist for SportsIllustrated.com where he wrote for three years and he has won more than 20 Michigan Press Association awards in news and sports coverage in his career.