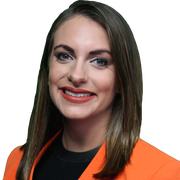 Stephanie Buffamonte
Reporter
Stephanie Buffamonte is an Emmy nominated journalist who joined the FOX 35 News team in November 2019.
Stephanie grew up on Long Island before moving to the Windy City to attend Loyola University Chicago. She's excited to get away from the cold and move to the Sunshine State.
Prior to FOX 35 Orlando, Stephanie was a reporter in Milwaukee where she covered the city's lead crisis, reckless driving epidemic, and many stories that impacted the community. She also spent two years anchoring/reporting in Wausau, Wisconsin before moving to Milwaukee.
In her free time Stephanie likes to run, hike outdoors, try out new restaurants and enjoy the company of her cats Ellie and Tigger. She hopes to participate in the Walt Disney World Half Marathon next year!
The latest from Stephanie Buffamonte
Florida leads the nation in new coronavirus cases compared to other states. Of the 141,075 positive COVID-19 cases reported in the Sunshine State since the beginning of the pandemic, nearly 44,000 were reported in just the last week.
After being furloughed from their jobs at Walt Disney World, one couple has turned to social media to spread their love of music. 
Could Florida be the next New York? Some Central Florida health experts think so.  
Some restaurants in Orlando are shifting back to to-go services only or shut down, due to a spike in coronavirus numbers.
A Sanford man surprised several businesses who are struggling because of the coronavirus pandemic with checks to help them survive. 
Kiwi's Pub & Grill learned that several people who visited the restaurant last week tested positive for COVID-19.
A Port Orange business owner says she's facing backlash for requiring customers to wear face masks.