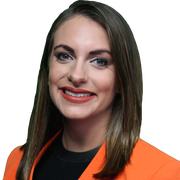 Stephanie Buffamonte
Reporter
Stephanie Buffamonte is an Emmy nominated journalist who joined the FOX 35 News team in November 2019.
Stephanie grew up on Long Island before moving to the Windy City to attend Loyola University Chicago. She's excited to get away from the cold and move to the Sunshine State.
Prior to FOX 35 Orlando, Stephanie was a reporter in Milwaukee where she covered the city's lead crisis, reckless driving epidemic, and many stories that impacted the community. She also spent two years anchoring/reporting in Wausau, Wisconsin before moving to Milwaukee.
In her free time Stephanie likes to run, hike outdoors, try out new restaurants and enjoy the company of her cats Ellie and Tigger. She hopes to participate in the Walt Disney World Half Marathon next year!
The latest from Stephanie Buffamonte
A Daytona Beach high school cheerleader is back with her team Friday night after going into cardiac arrest. The teen is getting support from her community and NFL players.
Learning during the pandemic has been difficult for children and teachers. Now, some school districts are asking the state not to grade school performance this year, as many students are failing.
Florida is one week into early voting and election supervisors say they're expecting recording-breaking turnout.
During a string of robberies, Marion County sheriff's deputies say a thief took a dinner break and the homeowner walked in on it. 
FOX 35 News is getting a closer look at contact tracing following a spike in COVID-19 cases at the University of Central Florida.
A controversial Halloween decoration is raising eyebrows in one Central Florida neighborhood.
As voters get ready to cast their ballots, elections workers are getting extra training to make sure they're prepared to handle heated situations. 
An Apopka family is now suing the Seminole County Sheriff's Office after a deputy shot their dog. The Sheriff's Office said the deputy's actions were justified, but the family disagrees.