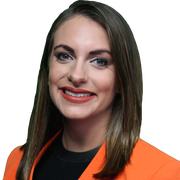 Stephanie Buffamonte
Reporter
Stephanie Buffamonte is an Emmy nominated journalist who joined the FOX 35 News team in November 2019.
Stephanie grew up on Long Island before moving to the Windy City to attend Loyola University Chicago. She's excited to get away from the cold and move to the Sunshine State.
Prior to FOX 35 Orlando, Stephanie was a reporter in Milwaukee where she covered the city's lead crisis, reckless driving epidemic, and many stories that impacted the community. She also spent two years anchoring/reporting in Wausau, Wisconsin before moving to Milwaukee.
In her free time Stephanie likes to run, hike outdoors, try out new restaurants and enjoy the company of her cats Ellie and Tigger. She hopes to participate in the Walt Disney World Half Marathon next year!
The latest from Stephanie Buffamonte
When the victim refused to empty his pockets and get on the ground during the robbery attempt, police say that the suspect shot the man and took his dog.
After locals tried and failed to trap an alligator in a Chicago lagoon last year, they called in an expert. Frank Robb, also known as "Alligator Robb," traveled from Florida to the Windy City to catch the 5 foot, 3 inch reptile named "Chance the Snapper."
The St. Cloud Fire Chief is recognizing his department for life-saving measures they took last weekend while in challenging conditions. 
A family visiting Orlando from Peru last year remains in the United States while their newborn child is receiving treatment for a rare condition.
Crews are making preparations ahead of inclement weather that is expected to move across the region. Construction cranes are being lowered at some work sites, including the I-4 Ultimate Project. Power crews are also preparing for any downed lines or outages.