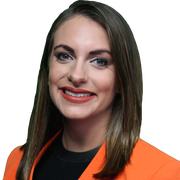 Stephanie Buffamonte
Reporter
Stephanie Buffamonte is an Emmy nominated journalist who joined the FOX 35 News team in November 2019.
Stephanie grew up on Long Island before moving to the Windy City to attend Loyola University Chicago. She's excited to get away from the cold and move to the Sunshine State.
Prior to FOX 35 Orlando, Stephanie was a reporter in Milwaukee where she covered the city's lead crisis, reckless driving epidemic, and many stories that impacted the community. She also spent two years anchoring/reporting in Wausau, Wisconsin before moving to Milwaukee.
In her free time Stephanie likes to run, hike outdoors, try out new restaurants and enjoy the company of her cats Ellie and Tigger. She hopes to participate in the Walt Disney World Half Marathon next year!
The latest from Stephanie Buffamonte
After a massive fire at the Pet Alliance of Greater Orlando on Friday, the community has come together to help.
An Orlando doctor said she was sent a letter in the mail containing an image of a mask with a Nazi symbol on it. She believes it was sent to her because she was encouraging mask-wearing on social media.  
The man who helped to catch the cat at the Miami Hurricanes game Saturday is speaking to FOX 35 about the moment that's gone viral.
Weekly numbers from the Florida Department of Health show that cases in children under 12 are drastically trending upward. 
AdventHealth says they have begun utilizing rented, refrigerated coolers at 10 of its campuses.
A Daytona Beach family confronted the man who is accused of killing their loved one inside a Volusia County courtroom.
The Seminole County fire chief is asking the public to only call 911 if they have an actual emergency because Central Florida hospitals are busy which has made wait times high.
Orange County Public Schools hopes to keep curbing coronavirus cases in classrooms by making it easier for students, staff and their families to get tested for COVID-19 at different schools each day.
Seminole County is hoping to start distributing the third shot on Tuesday, but they say they need more guidance from the state on what is needed first.