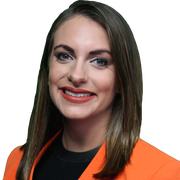 Stephanie Buffamonte
Reporter
Stephanie Buffamonte is an Emmy nominated journalist who joined the FOX 35 News team in November 2019.
Stephanie grew up on Long Island before moving to the Windy City to attend Loyola University Chicago. She's excited to get away from the cold and move to the Sunshine State.
Prior to FOX 35 Orlando, Stephanie was a reporter in Milwaukee where she covered the city's lead crisis, reckless driving epidemic, and many stories that impacted the community. She also spent two years anchoring/reporting in Wausau, Wisconsin before moving to Milwaukee.
In her free time Stephanie likes to run, hike outdoors, try out new restaurants and enjoy the company of her cats Ellie and Tigger. She hopes to participate in the Walt Disney World Half Marathon next year!
The latest from Stephanie Buffamonte
 The eighth-grader says she was walking out of the bathroom at Millenium Middle School when a 13-year-old student pulled out her hair, shoved her to the ground and started stomping on her head.
According to court documents, Dustin Adkins was charged and entered a plea for manslaughter in a 2011 death of a teenager from an accidental shooting. This week, Adkins is once again charged in the accidental shooting of his own daughter.
The mother of an autistic child says her son opens up when he visits Walt Disney World, especially when he interacts with the characters.
Peacocks are all over the Conway neighborhood in Orlando, but now residents claim someone is snatching them.
He left his residence on November 29 while his daughter was sleeping.