Witness 8 lied about hospital visit, Zimmerman attorney says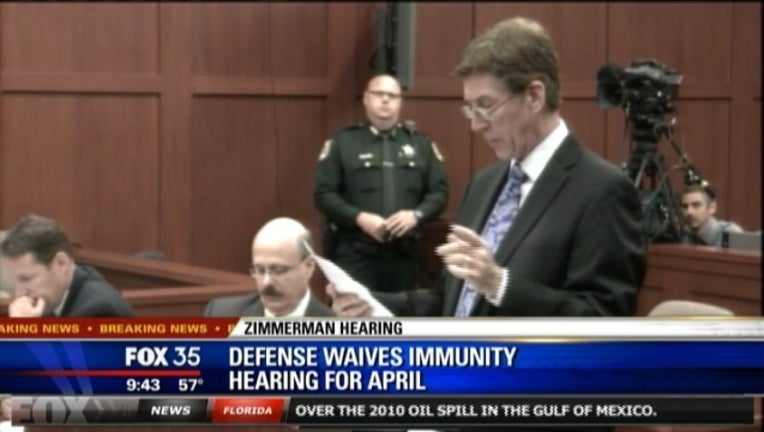 article
Two major developments emerged this morning from a monthly court hearing between prosecutors and attorneys for George Zimmerman.

Defense attorney Mark O'Mara told the court he will not need the two weeks in April set aside for his client for an immunity hearing under Florida's controversial "stand your ground" law.

"George wants to have a jury of his peers decide the case," O'Mara said. "It's going to be, I think a more accepted result for everyone, that has to accept the result of an acquittal at trial, even more so than an immunity hearing by a judge."

O'Mara did not say he would not ever have the hearing, but it's likely it will be rolled into Zimmerman's second-degree murder trial for the shooting death of Trayvon Martin.

Prosecutor Bernie de la Rionda, who rarely addresses the media but did today, wondered what O'Mara's plans are for an immunity hearing.

"Will he have one someday or not? De la Rionda said. "I am bewildered."

Also, O'Mara also asked Judge Debra Nelson for medical records from Witness 8, the young woman who allegedly was on the phone with Trayvon when Zimmerman approached the teen.

Witness 8 previously had said in a sworn statement she didn't go to Trayvon's funeral because she was sick and went to a hospital.

But then defense attorneys said she "misrepresented" herself.

"Witness No. 8 misrepresented that she went to the hospital," Don West told the court.

"She, in fact, did not go to the hospital as she stated under oath, and that [prosecutor] Mr. [John] Guy represented there would not be hospital records confirming her sworn statement, because, in fact, she lied."
Guy confirmed there are no hospital records.

Last month, O'Mara lost in court when a judge ruled that Martin family attorney Benjamin Crump will not be deposed on the conversation he had with Witness 8.

O'Mara always has had questions about the young woman's story and wants to investigate her, including looking into her Facebook and Twitter accounts.

O'Mara will also get Florida Department of Law Enforcement profiles of more than a dozen people on the state's witness list. They are now waiting on the profiles to be redacted. O'Mara would not say who those people were. According to the judge, Martin and Zimmerman both have files at FDLE.

Zimmerman claims he acted in self-defense in fatally shooting Trayvon and has pleaded not guilty to second-degree murder. O'Mara said he could focus on civil immunity for his client after the trial, set for June.
Information from The Associated Press was used in this report.