'Wiped out everything': Florida homeowners hit hard by EF-0 tornado in Brevard County
MICCO, Fla. - Homeowners are starting to rebuild after an EF-0 tornado ripped through southern Brevard County on Sunday. The Rive Grove I and II 55-plus mobile home communities were hit hard from the storms. 
On Monday, neighbors and volunteers were picking up pieces of people's roofs and other parts of the destroyed homes. Some tell FOX 35 News, they haven't seen destruction like this before.
"This is my actual first tornado I've ever been in, and it was just scary. Really, it was. I'm not going to lie to you, it was scary," said Arthur Corbitt whose home was damaged. "It was scary going out and walking through and seeing stuff we worked hard to buy and replace – gone."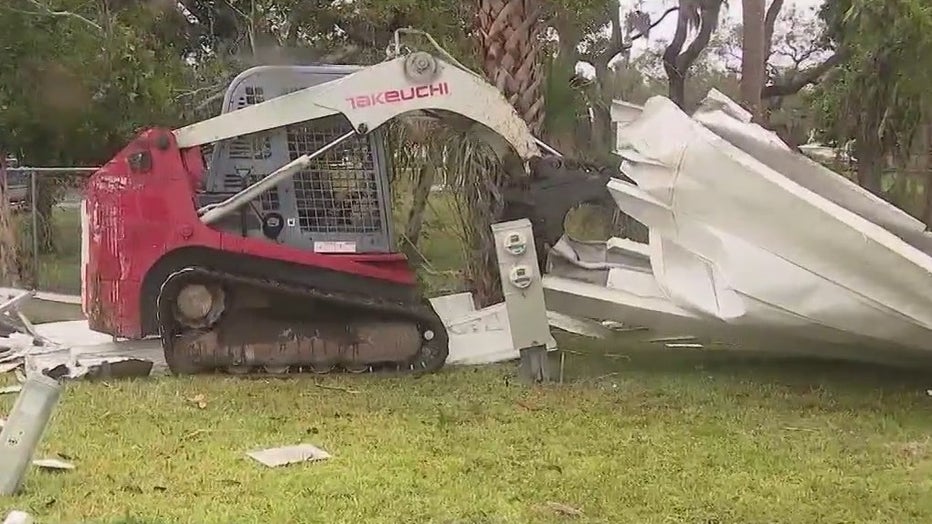 Corbitt's patio roof ended up in his backyard with sheets of metal lining the grass."Our core home, there is no damage," he added. "It just wiped out everything all the way around us."
While these neighbors said the confirmed EF-0 tornado didn't them hurt them physically, it still took a toll.
MORE HEADLINES:
"It was just a lot of anxiety last night because every time it rained, it thundered, lightning all night long, I mean you hear a big boom of thunder and think, 'Oh God, it's coming again!" he added.
A lot of clean-up is happening with numerous volunteers stepping in to help others in need.
"We have a lot of people here who are disabled. I myself don't walk. I use this scooter," said Nancy Nordyke-Shelley whose home was also damaged. "There's lots of people here who have lost limbs, who have other disabilities, and they live alone."
"I feel sorry for some of the older people who have no income or nothing to help them replace roofs and whatever because some of these people, their homes are probably going to be damaged," Corbitt added. 
He's worried about his neighbors who may struggle to rebuild physically and financially. 
The damage is extensive for some after the National Weather Service confirms 70 mph winds ripped through. Those affected are working with the Red Cross to find temporary housing and long-term recovery plans.
"You do get to feeling like you're sort of invisible from time to time, but it didn't feel that way today, so I have an attitude of gratitude you know," Nordyke-Shelley concluded.