Who is Ron DeSantis? Florida governor enters 2024 presidential race
ORLANDO, Fla. - After months of anticipation, Florida Gov. Ron DeSantis threw his hat into the Republican presidential primary contest on Wednesday. Many political pundits consider him to be former President Donald Trump's strongest GOP rival in the crowded 2024 field.
DeSantis said in his presidential announcement that he was running to "lead our Great American comeback."
Who is Ron DeSantis?
A Florida native, born in Jacksonville in 1978, DeSantis would grow up in Dunedin, where he was a standout baseball player. He represented the Florida squad in the 1991 Little League World Series before becoming the captain of the baseball team for Yale University where he graduated with honors in 2001.
After a short stint teaching high school, he went on to Harvard Law School where he earned a commission in the U.S. Navy as a Judge Advocate General officer. That position took him to the Guantanamo Bay detention camp and to Iraq, where he served as an adviser to a U.S. Navy SEAL commander.
After his military service, DeSantis served as a federal prosecutor for the U.S. Attorney's Office in the Middle District of Florida and briefly worked as a litigator for a private law firm. In 2009, DeSantis married Jill Casey Black, a former television anchor in Jacksonville, Florida, at Walt Disney World.
They now have three children together – daughter Madison, 5, son Mason, 4, and daughter Mamie, 2. 
U.S. Representative of Florida's 6th Congressional District
DeSantis launched his first political campaign in 2012 and ran for Congress in Florida's newly-created 6th Congressional District, which then included all of Flagler and St. Johns counties and portions of Putnam and Volusia counties.
He was the darling of national tea party groups who saw him as part of a new class of Republican leaders. He used that as a springboard to become a founding member of the far-right Freedom Caucus on Capitol Hill.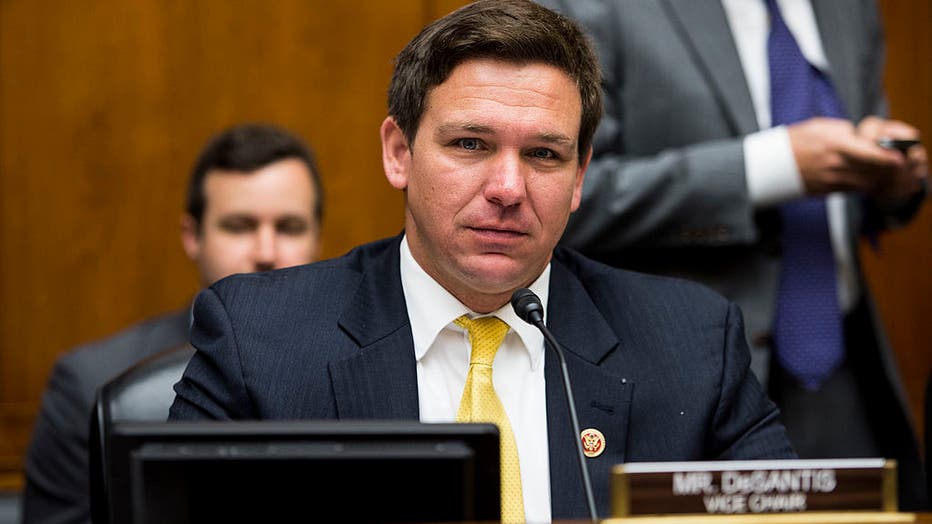 Rep. Ron DeSantis, R-Fla., participates in the House Oversight and Government Reform Committee's Economic Growth, Job Creation, and Regulatory Affairs Subcommittee and House Judiciary Committee's Constitution and Civil Justice Subcommittee joint hear
DeSantis won re-election to Congress in 2014 and 2016, capturing over 60% of the vote in each election. He served in Congress for three terms before launching what was considered a long-shot bid for governor in 2018.
46th governor of Florida
Riding the support of President Donald Trump, then-40-year-old DeSantis claimed a narrow victory in the 2018 gubernatorial race in Florida.
DeSantis was considered an underdog before Trump tweeted his support for DeSantis, a month before he got into the race. Trump campaigned to help push DeSantis to a primary victory in August and came to Florida two more times to propel him past Democratic Tallahassee Mayor Andrew Gillum in the final days of the election. 
DeSantis won that race by less than 1% point.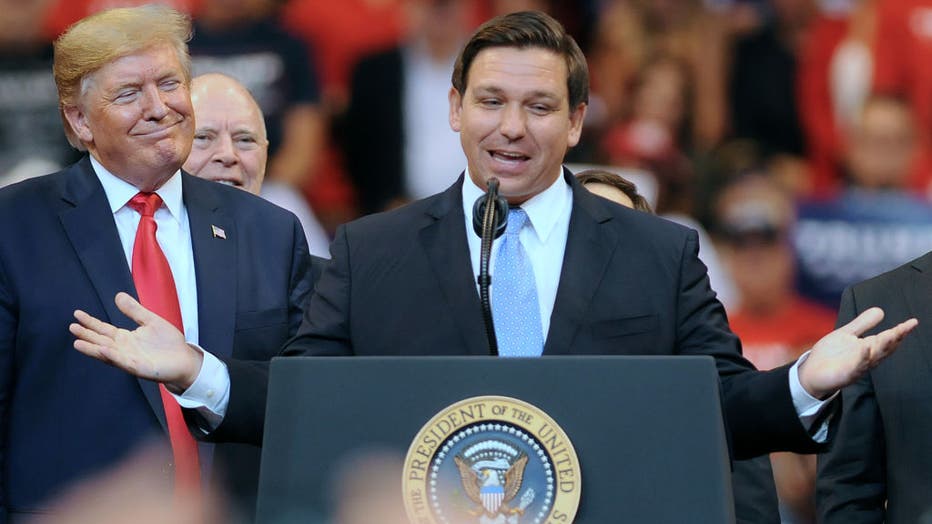 U.S. President Donald Trump looks on as Florida Governor Ron DeSantis speaks during the Florida Homecoming rally at the BB&T Center. (Photo by Paul Hennessy/SOPA Images/LightRocket via Getty Images)
The 2018 race was not without controversy. DeSantis stumbled out of the gate after winning the Aug. 28 primary, telling Fox News that voters shouldn't "monkey this up" by electing Gillum, who was Florida's first black nominee for governor. Despite implications that DeSantis was racially insensitive — an idea he angrily disputed during a debate — he was able to win the state that Trump carried in 2016.
Although DeSantis heavily emphasized his support of Trump before the primary, he scrubbed his campaign website of most Trump references and toned down his association with the president through most of the general election. That changed in the final week when Trump helped drive out Republican supporters.
During his 2018 victory speech, DeSantis noted the national attention focused on the race, saying the "political and media classes" had been eager to write his political obituary.
"On Election Day, it's the voice of the people that roars," DeSantis told supporters at his election party and called it "the one day the elites don't call the shots ... and they don't set the agenda."
The win maintained the grip Republicans have had on the governor's office since Jeb Bush was sworn in back in 1999.
In 2022, the 44-year-old governor, who saw his popularity soar among conservatives across the country due to his forceful pushback against coronavirus pandemic restrictions and his aggressive actions as a culture warrior going after media, corporations, and teachers' unions, won an overwhelming re-election victory.  
DeSantis defeated Democrat Charlie Crist, a former Republican governor and Democratic congressional representative, by nearly 20 percentage points in November. He even won Miami-Dade County, a longtime Democratic stronghold. It was a huge blowout in a state known for close elections, and other Republicans on the statewide ballot won by similar margins.  
Foundations for 2024 presidential run
GOP supermajorities in the Florida Statehouse have helped DeSantis push through an aggressive, conservative agenda on multiple fronts, including education, immigration, abortion, and gender identity. He has also made LGBTQ+ legislation a large part of his messaging. He has called it his war on "woke."
"We reject this woke ideology. We seek normalcy not philosophical lunacy. We will not allow reality, facts, and truth to become optional. We will never surrender to the woke mob. Florida is where woke goes to die," DeSantis said to loud applause during his swearing-in ceremony in 2023 for a second term as Florida's governor.
In just four years, DeSantis has "transformed" Florida from a top general election battleground "into the nation's leading red state," and Republicans believe his policy victories in Florida can serve as a roadmap for the entire nation. He won reelection as governor, performing well even in many longtime Democratic strongholds. That victory, his supporters say, demonstrates the extent of his political appeal beyond the GOP's hardcore base, which stands in contrast with Trump. 
The Associated Press and FoxNews.com contributed to this report.