Volusia and Flagler Co. schools closed Monday & Tuesday; Brevard Public Schools closed Monday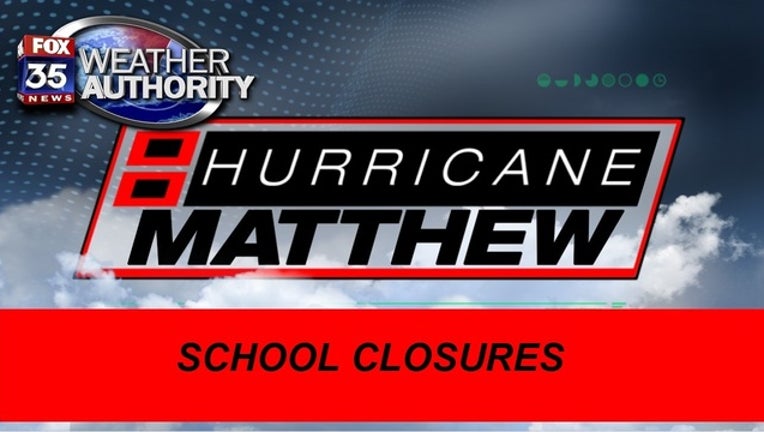 article
Volusia County and Flagler County schools will be closed Monday and Tuesday.  Brevard Public Schools will be closed on Monday. 
VOLUSIA COUNTY
All Volusia County Schools will be closed Monday, October 10, and Tuesday, October 11.  All school activities and athletic events are also canceled for Monday and Tuesday. 
The district needs time to make sure all power is restored to schools, leaks are repaired, classrooms are cleaned and downed trees and limbs are removed. Makeup days will be determined at a later date.

In addition, Deltona Trinity Christian Academy will be closed on Monday.
FLAGLER COUNTY
Maintenance teams from Flagler Schools are touring all schools and sites today, assessing the damages now that the weather has cleared following Hurricane Matthew. Preliminary checks show some exterior damage at a few sites.
Bunnell Elementary School, Rymfire Elementary School and Buddy Taylor Middle School are still being used as shelters for displaced Flagler County residents.
Superintendent Jacob Oliva has determined because these damage assessments and clean-up operations will take time, as well as the continued need of shelter space for our residents all schools will remain closed Monday and Tuesday. We are currently developing a timeline for when schools will reopen.
Our thoughts and prayers are with all of Flagler County as we begin the difficult process of cleaning up. We thank our school community and Flagler County as a whole for their support through the coming days and weeks ahead.
BREVARD COUNTY
**Update**
Brevard Public Schools are closed on Monday.
Now that Hurricane Mathew has moved out of the area and people are working diligently to return to normalcy, be assured that BPS is working tirelessly to evaluate our capacity to resume school on Monday, October 10. We are very fortunate that facility damage is minimal, however power is now our main concern at this time. This issue not only impacts Monday morning operations, but also our ability to evaluate systems (HVAC) functionality prior to school start times.
We are working with county officials, local municipalities and Florida Power & Light (FPL) to determine feasibility to resolve these issues. Due to our dependence on FPL's timeline to restore full power to Brevard County, we will not have a decision regarding Monday's operations until Sunday, October 9. We are evaluating what is the absolute best decision for our students and staff, but please be advised that should school resume on Monday, there still may be unresolved issues with HVAC and other services for the early part of the week.
We recommend that families continue to monitor our website - www.brevardschools.org.