Volunteer divers take aim at fishing line that covers bottom of inlet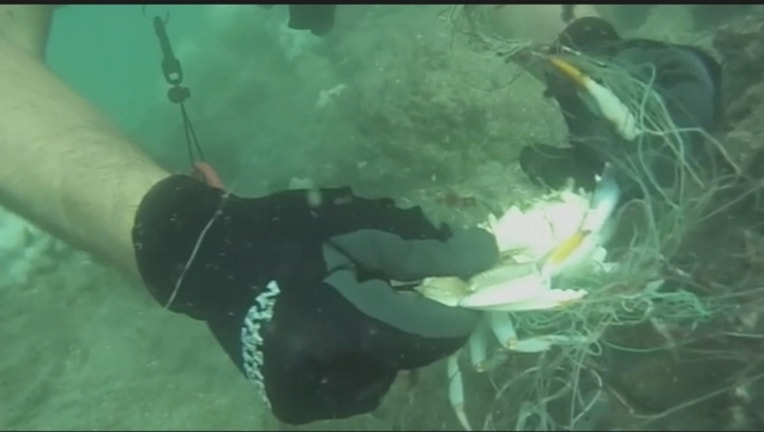 PONCE INLET, Fla. (WOFL FOX 35) - Ponce Inlet in Volusia County has natural beauty in every direction in addition to an incredible variety of wildlife.  But underneath the water's surface is an ugly problem. According to the marine science center's Michael Brothers, there's a heavy accumulation of fishing line all over the bottom of the inlet. Repeatedly sliced from the rods by sharp rocks, the monofilament then entangles creatures underwater, as well birds above it, causing injury, and sometimes death.
"They get wrapped up in some monofilament, then that monofilament gets entangled in the trees," said Brothers. "And you get an animal that really dies a terrible death."
That's where wildlife rescuer Leo Cross draws the line, so to speak. The diver and founder of Florida Wildlife Rescue is organizing a massive volunteer cleanup of the inlet. So far, he's signed on more than 50 certified divers, to literally pull, cut, and remove thousands of square feet of these tangled mats off the bottom of the inlet.
"For the last ten years I've been part of these wildlife rescues," said Cross, who volunteers with the Florida Wildlife commission to rescue everything from Manatees to endangered birds. "But now we can be pro-active, cleaning up this fishing line, getting it out of the way before it ensnares an animal."
Although Volusia County holds a half dozen cleanup dives each year, netting roughly a thousand pounds of monofilament, staff say it hardly makes a dent in the problem. However, none of those dives are on the scale of the clean up organized by Cross on November 14.
"So what you really need to do is go out there with a big force of people, like we are going to be doing here, and tackle the problem like we are," said Cross. "We're gonna pull out a ton of line, literally."
Environmental experts say removing large amounts of monofilament will go a long way towards improving conditions for wildlife in the inlet. But they also admit it will take an ongoing effort in order to truly make a difference. 
"It will really help," said Brothers, "but there will also be more fisherman, so the problem is a continuing one."
Cross says he also wants to educate fisherman about responsible angling, like disposing of cut line in designated bins here.  He also wants to cut through the man made web at the bottom of the inlet on an annual basis, in hopes of saving marine life, before a rescue is needed.
To learn more, click here.