Viral video appears to show Detroit McDonald's worker tricking homeless man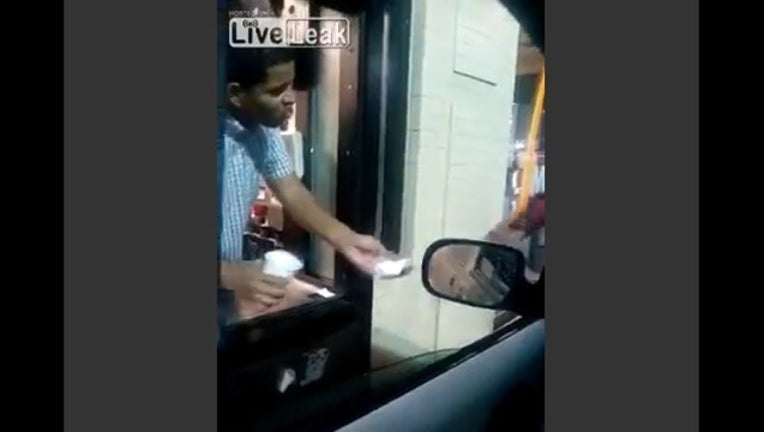 article
DETROIT (WJBK) - A McDonald's worker, apparently at a fast food location in Detroit, was caught on camera offering a homeless man a sandwich but when the man approaches the drive-thru window, the worker yanks the sandwich away and throws a cup of water in his face.
However, the man who was recording the incident said it was in retaliation for the homeless man's actions earlier in the night. 

The nearly one minute long video starts with the employee handing over food to a customer who is holding a cell phone and recording the whole thing. The employee shouts across the parking lot to a homeless man, who he calls Willie, and offered a sandwich.
According to a woman's off camera expletive, 'Willie' declined the offer. The employee disappeared inside and returned with a sandwich in his hand and held it up for the man to see. It appears the man starts walking over, as the employee disappears and returns with a cup in his hand as 'Willie' walks up to the window.
With his hand outstretched to get the sandwich, the employee yanks it back and instead throws a cup of what seems to be water in his face as the man holding the cell phone laughs.
The homeless man walks away and the driver then leave the scene.
Video of the incident was shot on a cell phone and allegedly happened at a Detroit McDonald's. It was posted late Friday night on Liveleak.com and has been viewed over 110,000 times.
After the video was posted to LiveLeak, the owner/operator of the McDonald's released this statement: 
"I am very disturbed by the inappropriate behavior of this employee. This type of behavior is not tolerated in my organization.  I expect my employees to treat everyone with dignity and respect, and this was unacceptable.  I am taking appropriate action with respect to this individual. "
-        Wise Finley, McDonald's franchisee
A few days later, Finley told FOX 2 the employee in the video had been fired for his actions.
According to the description in the video, the man holding the phone said the manager did it because the homeless man, identified as Willie in the video, had argued with a McDonald's customer earlier in the night.
Due to offensive language in the video, FOX 2 has chosen not to embed it. If you want to watch it, you can click here (Warning, offensive language)