Video: Florida mother holding baby robbed at gunpoint in broad daylight in Orange County
ORANGE COUNTY, Fla. - A Florida woman who was holding her baby was robbed at gunpoint in broad daylight as her other young child stood nearby Tuesday, according to deputies.
The incident, which was captured on surveillance video, happened shortly after 9:30 a.m. on S Orange Blossom Trail off Holden Avenue, the Orange County Sheriff's Office said in an arrest report. 
Multiple cameras within the nearby shopping plaza captured the suspects arriving in a black Volkswagon. The car pulls up alongside the mother and then video shows a suspect approach the woman with a gun in his left hand. He is seen taking the woman's purse, bag and the child's iPad before walking back to the car, deputies said. 
MORE HEADLINES:
'Please get the dog!' Bodycam shows Florida K-9 taking down armed teen burglary suspect
Video: Father kicked off Frontier plane from Orlando for letting child sit on lap during take-off
Using surveillance cameras, investigators were able to capture the car's tag – which came back as an Enterprise rental car that had been rented out to Corahn Myrie, 22, and had not been returned, authorities said. 
Shortly before 1 p.m., detectives found the car at Silver Star Road and Dardanelle Drive with Myrie and Joshua Davila, 18, inside.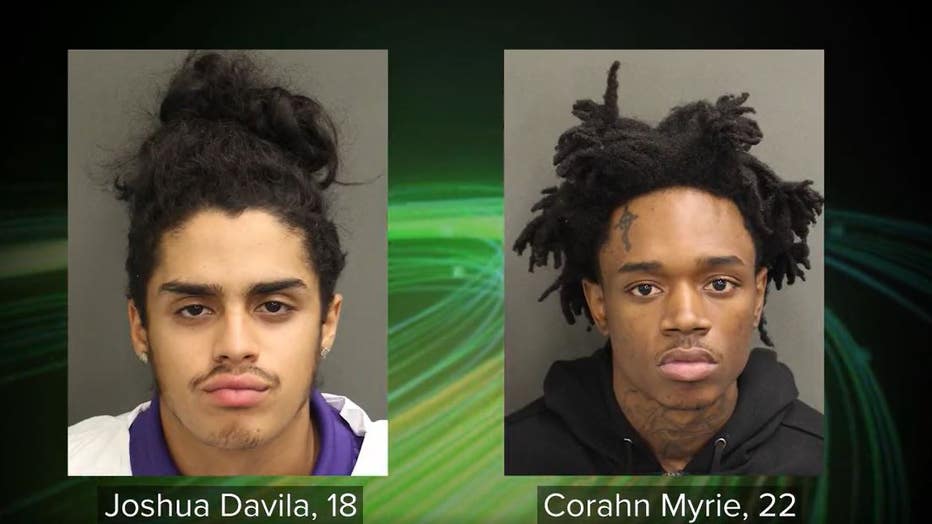 (Photos via Orange County Sheriff's Office)
Davila reportedly admitted to committing the robbery and deputies said his description and clothing matched the suspect seen in the video. He was arrested on charges of robbery with a firearm, aggravated assault with a firearm and grand theft. 
Myrie is facing a charge of accessory to robbery with a firearm.