School shootings reach all-time high — again
School shootings in the U.S. reached an all-time high for the second consecutive year, and last year's staggering number was more than twice as high as the year before.
According to the National Center for Education Statistics' (NCES) annual crime and safety report, there were 188 school shootings with casualties during the 2021-2022 school year. That's up from 93 reported in the previous school year.
Researchers noted the latest jaw-dropping figure should be interpreted "with caution" because it's such an outlier, but it's further evidence that America is experiencing gun violence on levels not seen before.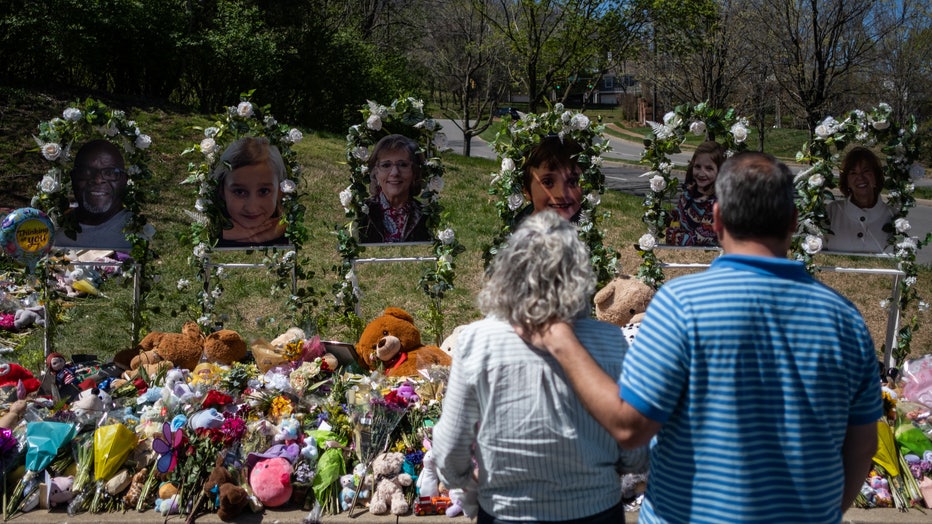 People visit a makeshift memorial at the entrance of The Covenant School on April 1, 2023 in Nashville, Tennessee. Three students and three adults were killed by the 28-year-old shooter on Monday. (Photo by Seth Herald/Getty Images)
According to Education Week, there have been 30 school shootings so far this year, with 16 people killed and 32 injured. Twelve of those deaths were students or other children.
The latest school shooting happened Sept. 12 in Greensburg, Louisiana, where a student was killed and two others were injured in a shooting at St. Helena College and Career Academy during dismissal.
READ MORE: New Mexico governor's order suspends the right to carry guns in public across Albuquerque
In August, a 16-year-old student was killed and two people injured from gunfire at the stadium during a high school football game in Choctaw, Oklahoma. One of the people injured was a 42-year-old man who was shot by the off-duty officer.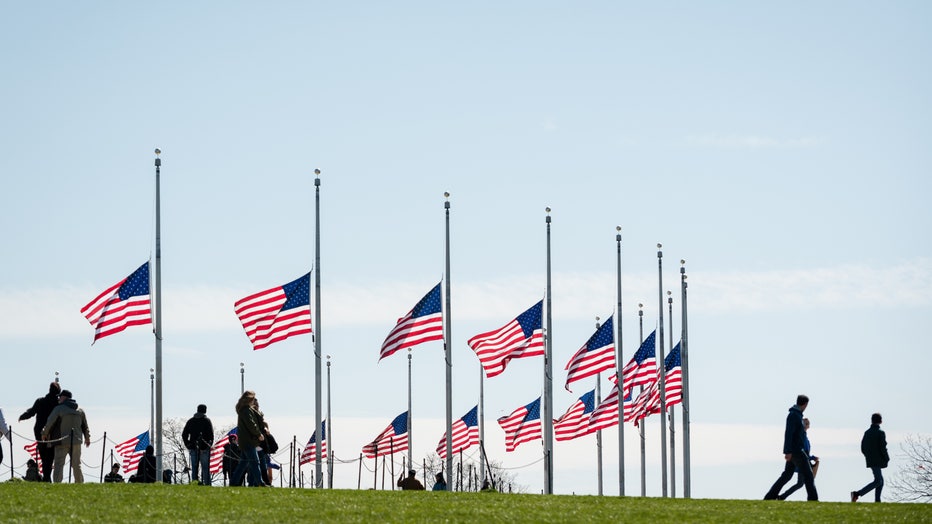 Two people walk between the monument with flag at half -mast in because the massive shooting in Nashville Tennessee in Washington D.C., United States on March 30, 2023. (Photo by Arturo Jimenez/Anadolu Agency via Getty Images)
In March, six people were shot and killed by an active shooter at a private school in Nashville, Tennessee. The victims included three 9-year-old children, the school's top administrator, a substitute teacher and a custodian. Unlike the vast majority of active shooters, the Nashville suspect is a woman. 
Active shooters
There have been 47 active shooters responsible for 46 active shootings in U.S. schools since 2000. The FBI defines active shooters as "one or more individuals actively engaged in killing or attempting to kill people in a populated area."
RELATED: Nashville school shooting bodycam video shows officers down suspect within minutes
Of the 47 active shooters, 46 were men, and 34 of them were between 12 and 18 years old. Five were 19-24 years old, and eight were older than 25. 
What are we doing about it?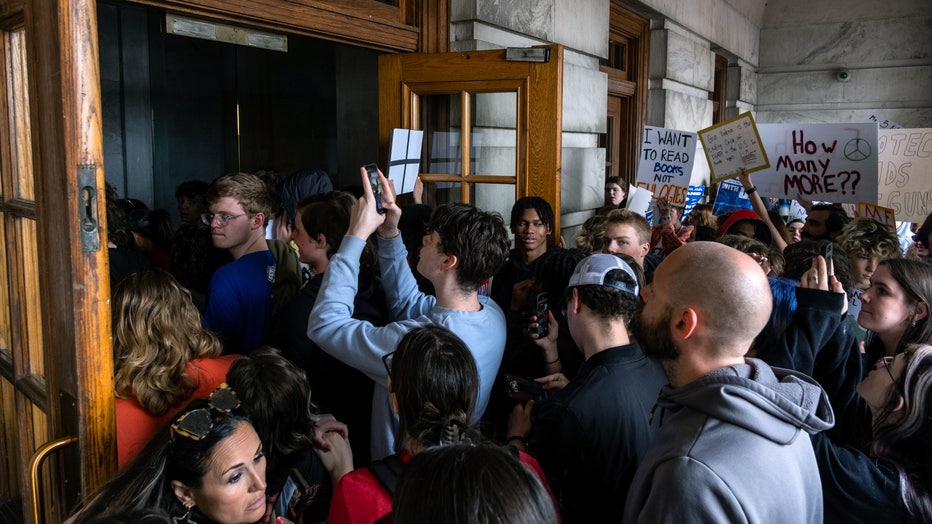 Protesters and students enter the Tennessee State Capitol building in protest to demand action for gun reform laws in the state on April 3, 2023 in Nashville, Tennessee. (Photo by Seth Herald/Getty Images)
More than half the states have enacted substantive new laws this year regarding gun policies or school safety measures — most often tightening firearm restrictions in Democratic-led states and loosening them in Republican-led ones. Some states also have pumped money into efforts to secure schools or to train teachers and staff how to respond in shootings.
The U.S. Supreme Court ruled last year that Americans have a right to carry firearms in public for self-defense. The ruling provided a new precedent for challenging state gun-control policies and sent some states scrambling to replace their former laws with newly reworded gun restrictions.
READ MORE: Fox News Poll: Voters favor gun limits over arming citizens to reduce gun violence
In Delaware, Democratic Gov. John Carney signed legislation in August expanding restrictions on guns at election polling places and school property.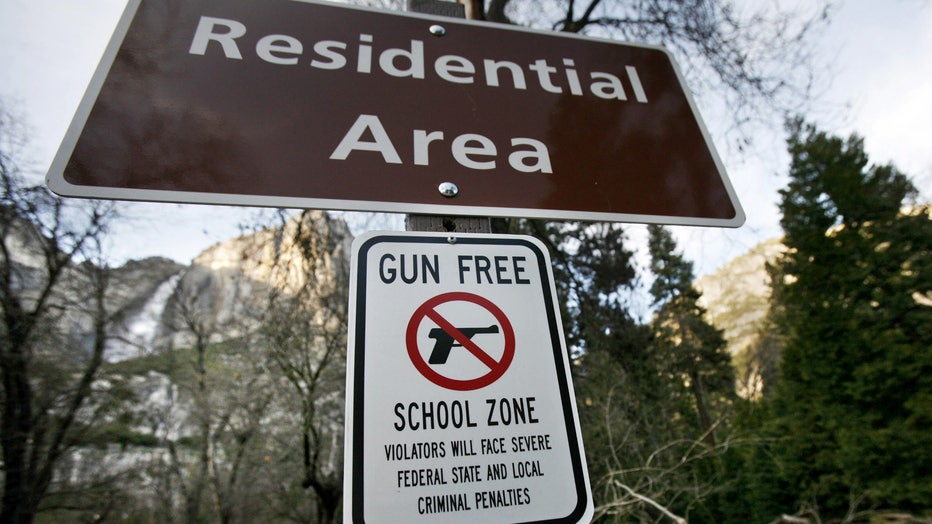 A gun-free zone is posted below the residential sign near administrative offices in Yosemite Valley (Photo by Eric Paul Zamora/Fresno Bee/Tribune News Service via Getty Images)
Fellow Democratic Gov. J.B. Pritzker also signed a law making Illinois the eighth state to roll back legal protections for firearms manufacturers and distributors. The new law bans firearms advertising that officials determine produces a public safety threat or appeals to children, militants or others who might later use the weapons illegally.
Pritzker signed the bill alongside attendees of an annual conference hosted by the gun-control group Everytown for Gun Safety. The group said 2023 has been "a historic year for gun safety in the states."
In addition to Illinois, Democratic-led legislatures in Colorado, Connecticut, Hawaii, Michigan, Maryland, Minnesota, Vermont and Washington all passed multiple gun control provisions this year. Among other things, those laws have strengthened background checks, banned certain semi-automatic weapons and restricted so-called "ghost guns," which lack serial numbers.
READ MORE: Lawmakers get into hallway shouting match over gun violence as Democrat calls Republicans 'cowards'
By contrast, some states have strengthened gun rights. One of the most recent laws got signed by Republican Gov. Mike Dunleavy, of Alaska.
The new Alaska law bars state and local officials from restricting the sale or possession of guns and ammunition during disasters — a response to mandatory business closures during the coronavirus pandemic. The law will mean gun stores can't be closed in emergencies unless all commerce is shut down. The National Rifle Association described it as "the first major pro-Second Amendment legislation" passed in Alaska in a decade.
Several Republican-led states also made it easier for people to carry concealed handguns. A Florida law allowing concealed guns without needing a permit took effect July 1. North Dakota expanded a similar law Aug. 1. And Nebraska will become the 26th state with such a law on Sept. 10.
Texas responded to last year's deadly Uvalde school shooting with new laws this year that require armed security officers at every school and silent panic buttons in every classroom. The state also provided additional funding to improve the physical safety of schools.
The Associated Press contributed to this report.