Universal Orlando Resort reveals life-like animated Hagrid figure for new Harry Potter coaster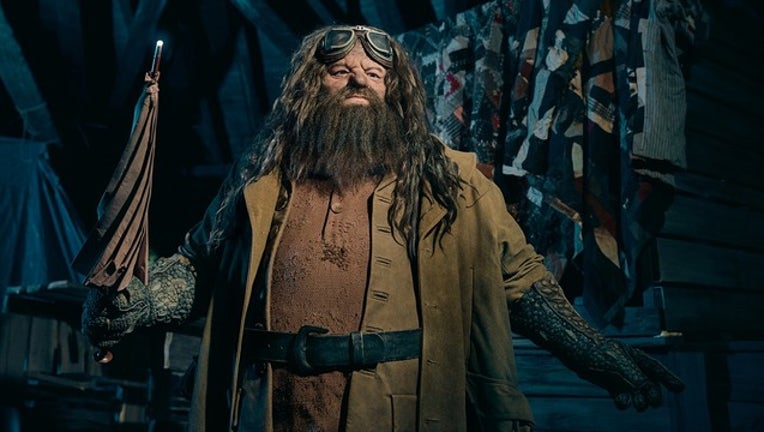 ORLANDO, Fla. (FOX 35 ORLANDO) - On Monday, Universal Orlando Resort announced that the new Harry Potter coaster, 'Hagrid's Magical Creatures Motorbike Adventure,' will feature the park's most life-like animated figure yet. 
The ride, set to open on June 13th, will bring park guests face-to-face with Hagrid, a Hogwarts gamekeeper and Care of Magical Creatures professor. He will take guests on a journey through Forbidden Forest, where some of the wizarding world's rarest magical creatures can be seen.
The Universal Creative team brought Hagrid's animated figure to life. They reportedly spent thousands of hours creating the figure with a level of detail that they say has never been done before. They even worked along side actor Robbie Coltrane, who portrays Hagrid in the Harry Potter film series, to develop the most advanced and realistic animated figure of its kind.
Universal Orlando Resort says that Hagrid is authentic to what the Harry Potter film series portrays. For example, the following outlines the detail that went into the animated figure:
The animal figure reportedly feataures a motion profile of 24 different body movements and facial expressions, copying Coltrane's exact motions as Hagrid.

A digital scan of Coltrane's mouth was used to create Hagrid's teeth.

Hagrid's costume was designed by the same team that made his on-screen wardrobe.

Coltrane recorded a custom script for this adventure with Hagrid.

The animated figure stands at seven feet, six inches tall. This is exactly proportional the Hagrid in the films.
"Hagrid is such an iconic character and an integral part of the Harry Potter franchise, so we were excited to develop a truly innovative and authentic animated figure to bring him to life for this experience," said Thierry Coup, Senior Vice President of Universal Creative. "We worked tirelessly to make sure Hagrid's full essence was captured with the utmost attention to detail for our guests to feel completely immersed in this all-new adventure." 
Hagrid's Magical Creatures Motorbike Adventure will be located in The Wizarding World of Harry Potter, which is located in Hogsmead at Universal's Islands of Adventure.
Read more THEME PARK news: