Tropical Storm Kalia likely to form in Atlantic Friday: NHC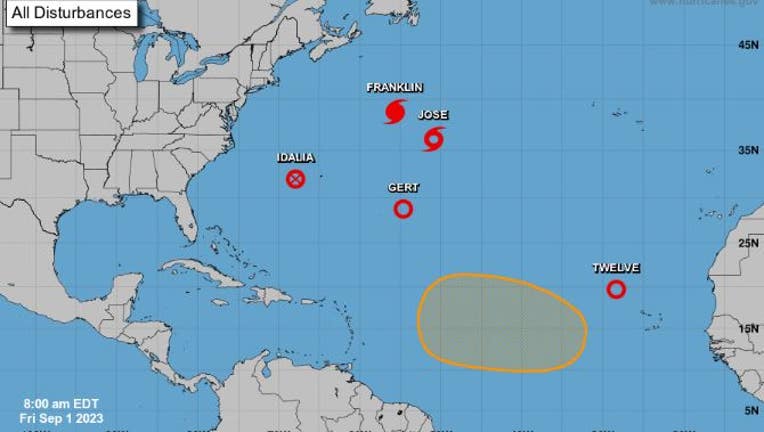 article
Tropical Depression 12 formed over the Atlantic Ocean on Friday and is expected to become a short-lived tropical storm - Tropical Storm Kalia.
At 2 p.m., the tropical system was in the far east Atlantic, about 375 miles northwest of the Cabo Verde Islands. It has maximum sustained winds of 35 mph and was currently moving north-northwest at 8 mph.
"Some strengthening is expected, and the depression is forecast to become a tropical storm later today or this evening," the Nationla Hurricane Center said. If that happens, it would be known as Tropical Storm Kalia.
"The system is likely to weaken early Sunday and degenerate to a remnant low by late Sunday."
It's one of six systems churning in the Atlantic, including Post-tropical cyclone Idalia, Hurricane Franklin, Tropical Storm Jose, and Tropical Depression Gert.
The NHC is also monitoring a tropical wave off the west coast of Africa, which has a 50% chance of further development over the next seven days.