Teen arrested for sexual battery of five girls, including 12-year-old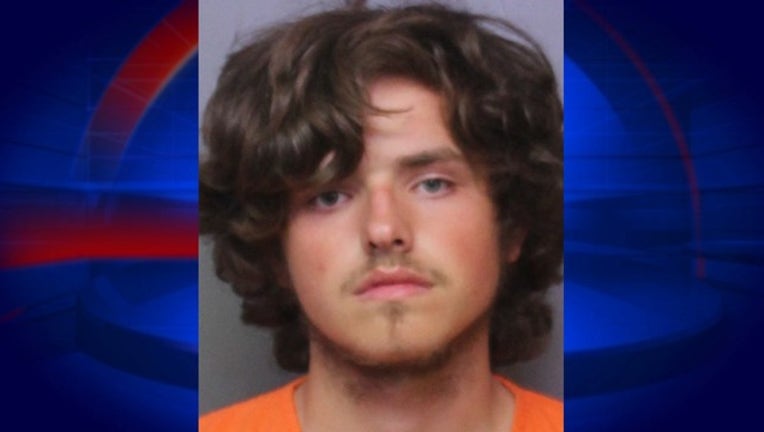 article
AUBURNDALE, Fla. (FOX 35 WOFL) - On March 29, 2018, the Polk County Sheriff's Office (PCSO) Special Victims Unit stated that they arrested 18-year-old Justin Cruey of Auburndale, for sexually battering five girls, some as young as 12-years-old, over a span of two years. 
According to the arrest affidavit and recent interviews with victims and witnesses, sometime in March or early April of 2016, the first victim, who was 13-years-old at the time, was sleeping at a family member's home with her friend when Cruey, who was 16-years-old at the time, entered the home through the bedroom window around 12:30 a.m.
The sheriff's office says Cruey forced oral sex and unprotected sexual intercourse on the first victim against her will. The first victim left the bedroom and when she came back, she saw Cruey laying on top of her friend, who was also in the bedroom.
The second victim, who was 12-years-old at the time, told detectives that he laid on top of her and put his hand up her shirt near her ribs and sucked on her neck until he left a mark, officials report. Later on, a family member walked into the bedroom and forced Cruey to leave.
Deputies go on to say that the third victim told detectives that Cruey sexually battered her approximately two-weeks before at a local park in Winter Haven. She told detectives that he kissed her and put his hand down the front of her pants, and continued to touch her inappropriately. She told Cruey to stop, but he refused.
According to officials, on March 18, 2018, at the same park, Cruey forcefully pinned her feet and hands down and engaged in unprotected sex.
On March 29, 2018, they say the third victim asked Cruey to bring her an emergency contraceptive pill, in fear that she may be pregnant. Cruey agreed to meet her at the park. She notified detectives, who found and arrested prior to him going to the park.
Based upon the physical evidence obtained in both of these cases and the disclosures by all four victims, Justin Cruey was arrested and charged on March 29, 2018, with the following: 
2 counts of Sexual Battery by force or threat 
1 count of Lewd and Lascivious Molestation F.S.S on a person less than 16, older than 12 by a person 18 years or older
1 count of Sexual Battery by a JV
1 count of Lewd and Lascivious Conduct 
According to deputies, Cruey was on juvenile probation for lewd and lascivious behavior and battery and was additionally charged with violation of parole. 
"As far as we know Cruey has been sexually battering young girls since he was 16-years-old. We need to find out if there are more victims. If you know your daughter has been in contact with Cruey from either school or a personal interaction, please call us. We need to make sure Cruey is held accountable for his actions," said Sheriff Grady Judd.
After deputies arrested Cruey, they say a fifth victim came forward and showed detectives pictures of her and Cruey on her phone. The fifth victim, who was 13-years-old at the time, told detectives that this happened approximately three weeks ago when she was spending the weekend at a friend's house. Cruey snuck into the girls' bedroom. The picture on the victim's phone shows a sexual act being done. 
Based on the physical evidence and statements from victims and witnesses, detectives additionally say they charged Cruey with Lewd and Lascivious Conduct by a person 18 years or younger or older on a person less than 16-years-old and violation of probation.
The Sheriff's office says that Cruey is being held at the Polk County Jail on $95,000 bond for the sexual battery charges, and on no bond for his 2 counts of Violation of Probation.