Suspect threatens to blow up sheriff's office after being arrested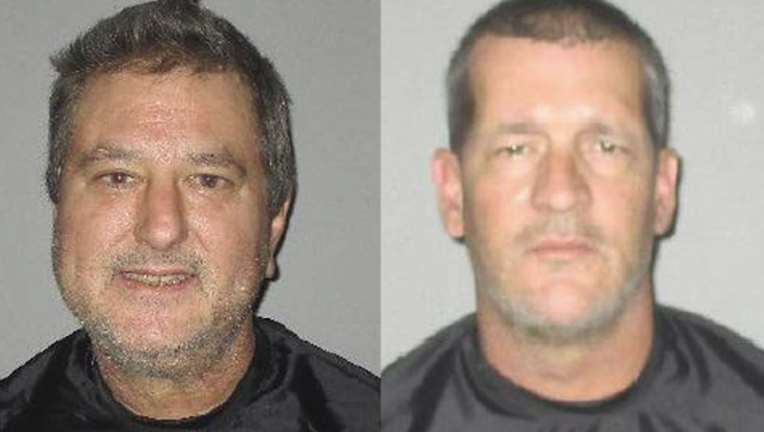 PALM COAST, Fla. (FOX 35 WOFL) - The Flagler County Sheriff's Office says that they responded to a criminal mischief complaint on Wednesday morning at Oceanshore BLVD in Palm Coast.
They say that the complainant reported that a window to his home was broken and that two subjects smashed a window on his vehicle and slashed all four tires. One of the suspects also took two chainsaws from the complainant's vehicle.
Deputies say that the suspects were located and stopped on Palm Coast Parkway by a deputy on patrol. The vehicle they were traveling in contained a knife in the glove compartment and the two chainsaws that had been reported stolen. 
52-year-old Raymond Crown and 48-year-old Robert Brandon were arrested. Deputies say that Crown was charged with grand theft and felony criminal mischief. Brandon was charged with felony criminal mischief and resisting arrest without violence.
While on the way to the Flagler County Detention Facility following the arrest, deputies say that Crown made numerous statements that he was going to blow up the Sheriff's Office and kill Sheriff Staly. He also threatened to shoot the arresting deputy. 
Because of the threats, he was reportedly also charged with two counts of threats to law enforcement officer and one county of threatening to throw, place, or discharge a destructive device.
"We will not take threats of any kind lightly," said Sheriff Rick Staly. "Threatening to blow up buildings or kill law enforcement officers for doing their job will not be tolerated. Just this Tuesday, we had funeral services for two Florida deputies that were murdered while eating lunch. Threatening or attacking us will only get you taken to the Green Roof Inn quicker."
Crown is being held at the Flagler County Detention Facility with no bond. Brandon is being held on a $3,000 bond.