Suspect arrested in destruction of Trump's Hollywood star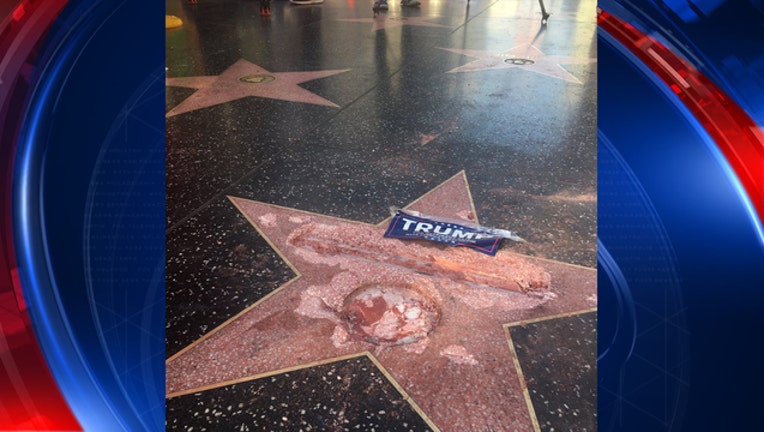 article
LOS ANGELES (AP) — Los Angeles police arrested a man suspected of using a sledgehammer to destroy Republican presidential candidate Donald Trump's star on the Hollywood Walk of Fame, officials said Thursday.
Jamie Otis was taken into custody early Thursday on suspicion of felony vandalism, Officer Andrew Chambers said. It wasn't immediately known if he has an attorney.
Otis told Deadline Hollywood after Wednesday's pre-dawn attack that he originally intended to remove the star. He said he wanted to auction it off to raise funds for the 11 women accusing the presidential candidate of groping them. Trump has denied the groping allegations.
"I just sort of had enough with Mr. Trump's aggressive language toward women and his behavior, his sexual violence with women and against women," Otis told the Los Angeles Times. "I've had personally in my own family four people who have been assaulted or have had sexual violence happen to them. It all became very personal."
The Hollywood Chamber of Commerce, which bestows the stars and maintains the popular tourist attraction, said it would take several days to repair Trump's spot.
Otis was expected to be booked later Thursday. He had planned to make a statement to reporters along Hollywood Boulevard and then turn himself in at a police station but officers picked him up before that could happen.
Otis told the Times he spent weeks planning his "nonviolent action," even going as far as spending a couple of nights in Hollywood to scope out the area to pick a time when he could do it "safely, carefully and successfully."
He said he would "gladly" pay for the repairs.
Det. Meghan Aguilar said investigators were called to the scene early Wednesday following reports that the presidential candidate's star was struck by blows from a hammer. A sledgehammer, construction hat and vest, and a pick were recovered nearby, police said.
Trump's star was dedicated in 2007 in recognition of his work on NBC's reality TV show "The Apprentice." Trump's star is near the Dolby Theatre, where the Academy Awards are held each year.
To receive a star on the Walk of Fame, a celebrity has to be nominated and a $30,000 fee paid to a charitable trust.
It is at least the second time this year that Trump's star has been targeted. In July, an artist installed a miniature wall topped with razor wire and "keep out" signs in response to Trump's vow to build a wall along the U.S.-Mexico border to stem illegal immigration and drug smuggling.
"When people are unhappy with one of our honorees, we would hope that they would project their anger in more positive ways than to vandalize a California State landmark," Hollywood Chamber of Commerce President and CEO Leron Gubler wrote in a statement. "Our democracy is based on respect for the law. People can make a difference by voting and not destroying public property."
___
Associated Press Entertainment Writer Anthony McCartney in Los Angeles contributed to this report.