Sentencing phase begins for man convicted of killing two Kissimmee police officers
OSCEOLA COUNTY, Fla. - The sentencing phase for convicted cop-killer Everett Miller began Tuesday morning.
It was an extremely emotional and powerful afternoon at the Osceola County Courthouse where the family and friends of Officer Matt Baxter and Sgt. Sam Howard read their victim impact statements, sharing their love of the two men gone too soon.
"I still do not sleep well knowing that Matthew will never come home," said Sadia Baxter, the widow of Kissimmee Officer Matt Baxter. 
Sadia Baxter sat firmly on the stand, letting Everett Miller know exactly how his actions have impacted her and their three young daughters, who are now without a father. 
"I finally stirred up the courage to tell her, 'Yes, Zara, your daddy is dead and he is in heaven.' She said, 'But we never knew Daddy,'" Baxter said.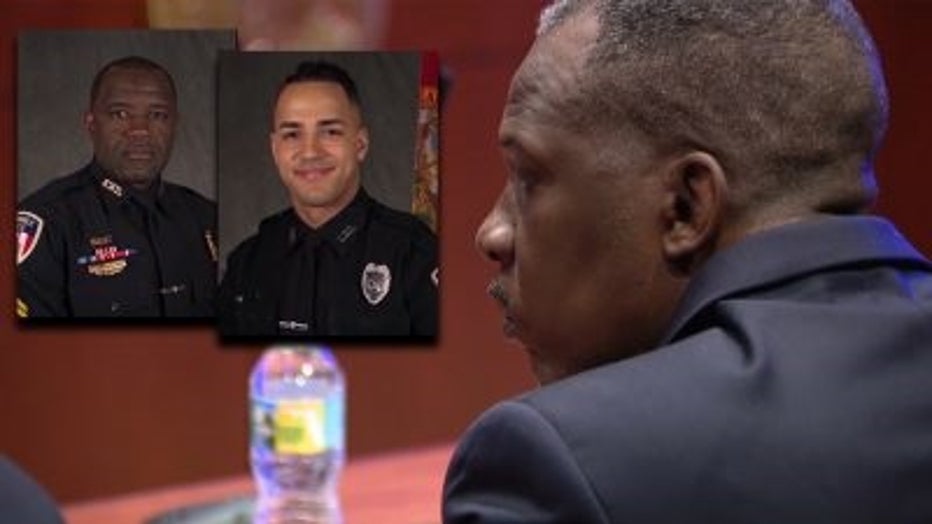 Now, in the penalty phase of the trial for convicted cop killer Everett Miller, a jury will determine whether Miller gets life in prison or the death penalty for the shooting deaths of Kissimmee Police Officer Matt Baxter and Sgt. Sam Howard in 2017.
"I wish we could wake up from this nightmare to the sounds of Sam laughing, but I know that day will never come," said Sgt. Howard's stepfather Jeffrey Surran.
Miller listened Tuesday afternoon while family and friends of the officers shared their grief.
"Is Matt upset with me when I choose to have fun when his wife and girls struggle? What kind of friend does that make me?" testified Deputy Michael Bixler, who was a close friend of Officer Baxter.
"A wife who lost her husband, a daughter who lost her father," said Sgt. Howard's friend Brandon Nicholson.
"I will continue to raise my girls to have love and not hate in their hearts. Hate is why we are all here today," Sadia Baxter said.
One of Everett Miller's friends from the military took the stand several times Tuesday, discussing the severity and intensity of the shooting and targeting they did while in the military and working as a contractor afterward. 
Miller's attorney told the jury Miller suffers from paranoia and fear of being killed.