Mount Dora murders: Timeline details hours before couple slain inside retirement community
LAKE COUNTY, Fla - Sharon and Darryl Getman had their lives tragically taken in a random crime of opportunity, according to authorities. 
The Mount Dora Police Department said the person of interest, later identified as 50-year-old Vickie Lynn William, of Savannah, Georgia, was taken into custody out of state. Investigators said Williams was spotted on the Lakeside of Waterman Village property three times before police were ever called.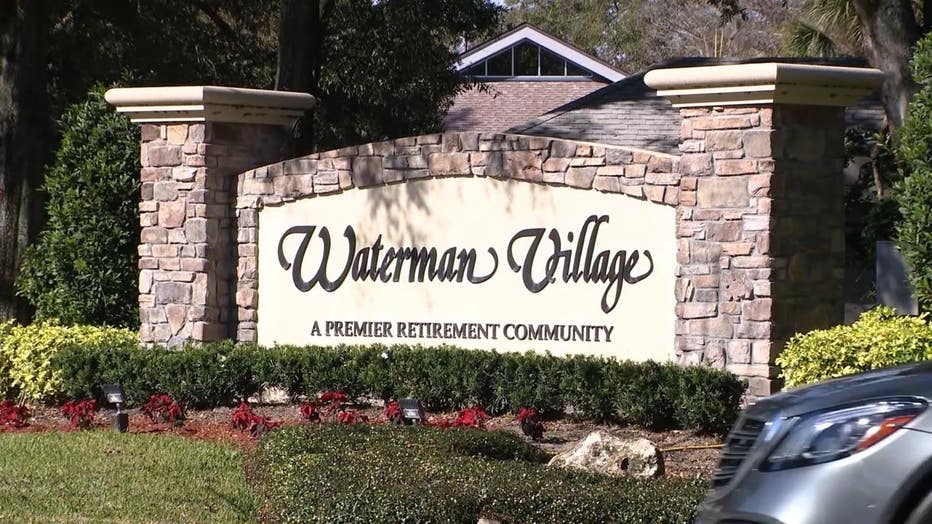 Waterman Village retirement community in Mount Dora, Florida.
Below is a timeline of events leading up to the couple's deaths, according to police.
Friday, December 30:
3 p.m. – A suspicious woman was escorted out of the complex by Waterman security through the back of the community.
4:14 p.m. – A suspicious woman was seen again on the security camera at the back of the complex.
10:58 p.m. – Police said the same woman entered the facility a third time through the big tower at the front of the complex.  That's when she knocked on a door and asked a tenant to use the shower. It wasn't until a panicked resident hit her alarm that security and police responded. The person of interest got away.
Saturday, December 31: 
2:02 a.m. – The couple's car was seen leaving the complex
2:12 a.m. – That suspicious person comes back for a fifth time into the apartment complex, and she's told to leave by security, who then loses sight of her.
4 p.m. – The Getmans are found dead by Mt. Dora police.
"What went wrong?" asked State Rep. Anna Eskamani, D-Orlando, "because it definitely seems like there are some gaps in security with this neighborhood."
Rep. Eskamani tells FOX 35 News that this tragedy is reminiscent of other cases of forced entry, such as the murder of Miya Marcano in 2021. In that case, the Florida Legislature took action and created Miya's Law to strengthen the safety of renters. 
MORE NEWS:
FOX 35 also reached out to State Rep. Keith Truenow, R-Tavares, who represents the area where the homicides happened. He sent the statement below:
"The senseless and tragic deaths of Mr. and Mrs. Getman this past weekend have left our community reeling. As law enforcement continues to investigate, I hope that the person responsible for this act of violence is soon held accountable to the fullest extent of the law. I will hold on any further comments pertaining to legislation on security measures until we have a better understanding of the investigation and what occurred.  
"In the meantime, I will be keeping the Getman's friends, family, loved ones, and the Mount Dora community in my thoughts and prayers as we deal with this unimaginable loss, and I encourage you to do the same."  
"I'm hopeful that as we learn more about this case that we can glean facts to look at ways to help ensure community safety for all," Rep. Eskamani added.