Rollins College starts new e-sports summer camp
WINTER PARK, Fla. - There's a room at the Rollins College gym, where athletes compete in a different kind of sport, it's home to the college's e-sports league.  For the first time this summer, this space will also host a video game summer camp for kids ages 9 to 12.
"We've got top-of-line gaming PCs here, we have pretty high-refresh-rate monitors, we've got peripherals, and everything a gamer would need to succeed in the games they're playing in today," said Ben Katz, the school's e-sport's head coach, and a counselor at the camp.
There are no Nintendo, Sony, or Xbox consoles in this classroom. Serious gaming is now e-sports, and Katz said it was anything but child's play. The games featured there included first-person shooters like Valorant and games like Rocket League, which is like soccer - if you kicked the ball with a speeding car.
In all cases, though, Katz said the name of the game was really 'teamwork.' "There are some games that are solo, but for the most part, the competitive games that we're playing are definitely team-based," he said.
Rollins is offering three weeklong sessions of the e-sports camp. Each session costs about $400. The first camp session starts June 12. The campers of course play video games, but they also listen to guest speakers and have training and strategy sessions.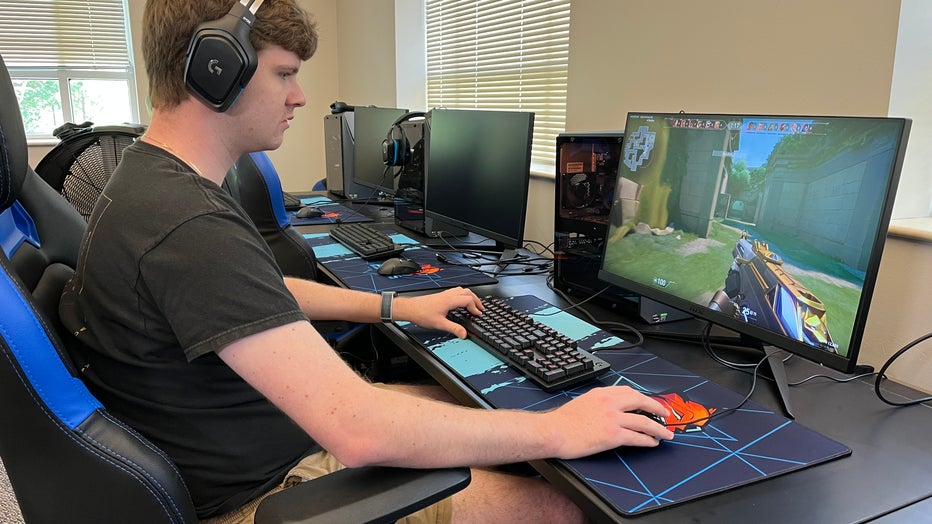 Tech expert Tom Jelneck said when it came to entertainment, parents shouldn't be quick to dismiss gaming. The industry now generates more revenue than movies and music combined. "The interest with students is becoming amazing. I think the younger generation that are pre-college right now, including my own daughters, are super-excited about joining a team and being a part of that, as well," he said.
Competitive gaming has exploded in popularity over the years, with tournaments worldwide netting winners and winning teams millions of dollars in prizes. The University of Central Florida and Full Sail University also have programs in video game design and development. Jelneck said parents should recognize the opportunity. "I think they still need to go out and take some walks and ride some bikes, but certainly the future, this is involved in it, this is a huge component of life, today."