Rare 'Red Leader' X-wing Starfighter miniature from 'Star Wars' hits auction block at $400K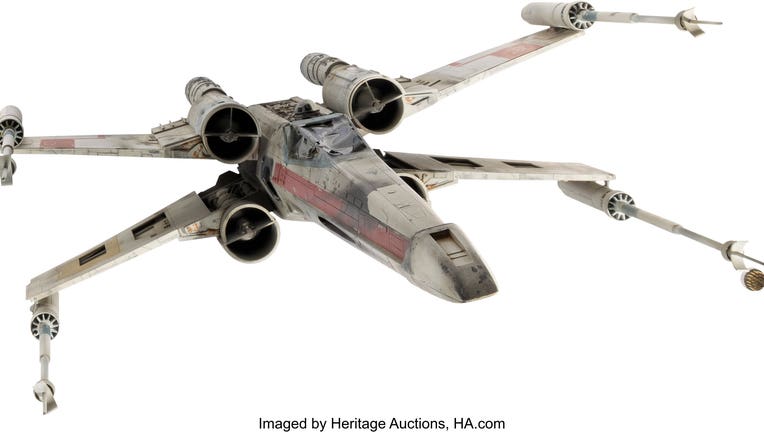 article
Star Wars fans can own a piece of the action with a long-lost historic item going up for auction soon.
Heritage Auctions said the "Red Leader" X-wing Starfighter filming miniature will open up for bidding starting at $400,000. The auction will take place on October 14 and 15. 
The item appeared in the 1977 flick "Star Wars: Episode IV- A New Hope" and is described as the "pinnacle of Star Wars artifacts to ever reach the market."
RELATED: SpaceX makes changes to Starship after 'lessons learned' from test flight
The item was built at Industrial Light & Magic which won the Academy Award for Best Visual Effects for Star Wars. It was used to film battle scenes involving Luke Skywalker. It's one of only four hero filming miniatures. 
According to industry insiders, hero models are filmed up close to appear much bigger on screen. 
Heritage Auctions said the item contains several minute details and characteristics including "distinct weathering pattern on the nose and starboard side of the fuselage that creates a "clean" panel on the top of the forward fuselage, a darker gray underside, a yellow-ish panel on the port side of the lower fuselage, as well as a yellow-ish panel on the inside of the starboard wing."
The first "Star Wars" film, "A New Hope" was released  in 1977. Since then, countless films, video games, television spin-offs and books have been produced to fill in every corner of the galaxy far, far away.
What started out as a campy, low-budget sci-fi flick that was expected to flop, quickly grew into a juggernaut of a film franchise with plenty of content for everyone.
FOX News contributed to this report. This story was reported from Los Angeles.