Publix joins Nashville hot chicken trend with new sandwich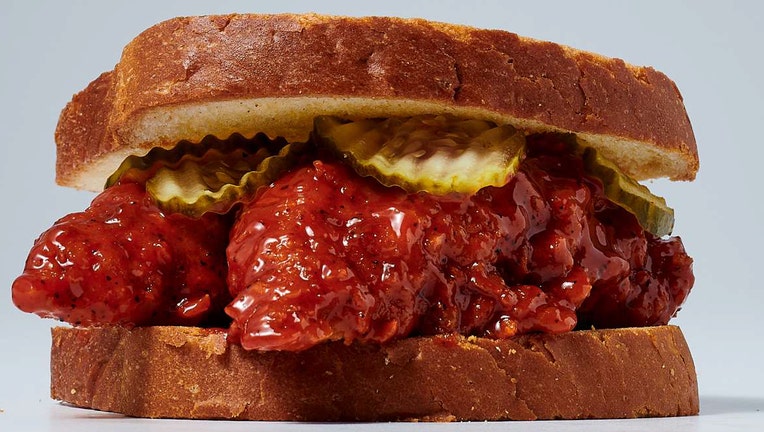 article
LAKELAND, Fla. - Publix is jumping on a "hot" trend in the food world – but only for a limited time, the grocery chain announced this week. 
A new Nashville Hot Chicken Sandwich will be available at Publix stores starting in April through June 30.  
Nashville hot chicken, which typically comes as fried chicken in a coating of hot sauce and spices like cayenne pepper and chili powder, is said to have originated at Prince's Hot Chicken Shack in Nashville, though many restaurants in the city have adopted their own takes on the recipe. 
Over time, the spicy dish has grown in popularity and popped up on restaurant menus far beyond Tennessee. The hashtag #nashvillehotchicken on TikTok has more than 431 million views alone. 
Not wanting to miss out on the flavor trend, Publix said it "did its homework to make sure the sandwich had the most authentic flavors."
"After creating the recipe, the category team and a company chef traveled up to Nashville to sample the best hot chicken local restaurants had to offer to make sure our version hit the mark," Publix said in a statement.
RELATED: From Coconut Road to Moose Tracks, here's the scoop on how Publix creates its ice cream
While Nashville hot chicken is known for being spicy, Publix said its chefs didn't want it to be" too much for our customers," landing instead on "a tangy profile that will appeal to most hot chicken lovers."
"No one can say it isn't spicy," Audrey Peace, Hot Prepared Foods Category Manager at Publix, said in a statement.
"We've heard from many people in the Nashville area," Peace added. "They said we really nailed the flavor."
Publix currently operates more than 1,300 stores in the U.S. southeast, with the most locations in Florida, Georgia, Alabama, and the Carolinas, according to its website. 
Also launching in April is Dairy Queen's deal offering its Blizzard treat for just 85 cents between April 10 and 23. Krispy Kreme is also helping fans usher in the spring season with new Spring Mini doughnuts. 
RELATED: Wendy's adds menu item dropped by McDonald's
This story was reported from Cincinnati.