Chaos breaks out at Ocala's Paddock Mall after couple shot in parking lot, police say
OCALA, Fla. - Ocala Police are searching for the suspect in the shooting of two people outside the Paddock Mall on Tuesday.  
The Ocala Police Department said it received initial reports that there was an active shooter inside the mall, but it turned out to be an isolated incident, according to investigators.
Detectives said the two victims suffered non-life-threatening injuries.  The young couple, ages 17 and 21, were shot as they were parked in the mall lot. A baby was in the back seat but escaped injury.  The victims are in stable condition at the hospital.
It led to a lot of chaos inside the mall, according to witnesses.
Rebecca Rodriguez said she was working at one of the shops inside when she heard people yelling.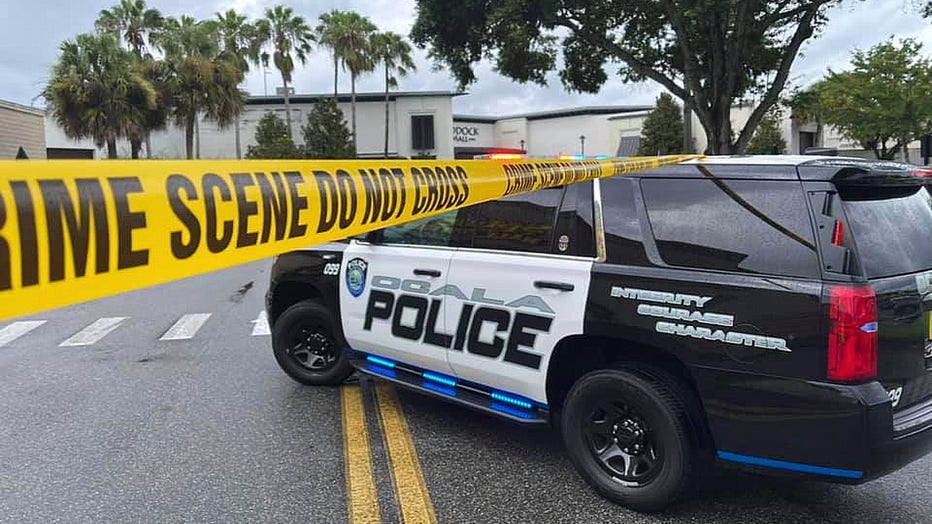 "We heard people say there was a shooting so we had to run. Right away, we just closed our gate. We're like, 'Ok this is scary!'" 
Natalie Flechas was inside working as well.
"I ran out, was like, 'What's going on?', was like 'Shut the gate!'" 
"I ran out locked the gate and we all barricaded in the back room until the cops found us," added Donna Jeffcoat 
Rodriguez stepped outside after the police arrived and described what she saw.
"There was about eight to 10 bullet holes across the whole car. The windshield was completely shattered and all the windows were shattered as well."
"We absolutely have reason to believe the victims were targeted," explained Ocala Police Chief Mike Balken.
He said the suspect was gone by the time officers arrived. One of the victims collapsed outside the entrance. 
Rodriguez said, "We did see the pool of blood at the bottom, so it was kind of scary." 
Jeffcoat added, "It was more unnerving than anything, not knowing what was going on. Not getting any information."
Police posted messages on social media hoping to communicate with people inside the mall. They said it took an hour to get everyone outside.
Investigators have not released any information on any possible arrest or suspect but said they believe they know the identity of the person responsible. 
If anyone has any information on the shooting, they are asked to call Det. Mary Williams at 352-812-1818 or leave an anonymous tip using CrimeStoppers at 352-368-STOP.
Watch FOX 35 Orlando for the latest Central Florida news.