Florida police issue warning after 2 were possibly followed, then burgled after stopping at bank
ORANGE COUNTY, Fla. - Deputies in Florida are warning residents to remain vigilant and aware of their surroundings after at least two people were reportedly followed from the bank and later had their vehicles burglarized.
The Belle Isle Police Department said it's investigating at least two incidents involving residents being followed from the Bank of America located at 2839 South Orange Avenue near East Pineloch Avenue. Officers said cars were later burglarized and people's money was taken. 
One man showed FOX 35 photographs of his truck with a shattered window. Police said whoever did it stole $5,000 in cash and a $25,000 cashier's check. The man had just made a withdrawal from the bank and found his tire slashed, forcing him to go to a repair shop.
An employee at that repair shop said the man parked his vehicle next to the shop for 10-15 minutes and was burglarized during that time. That $25K check was going to be used to buy a new car, the man told FOX 35.
"He was very upset," said Belle Isle Police Sgt. Ferraiuolo.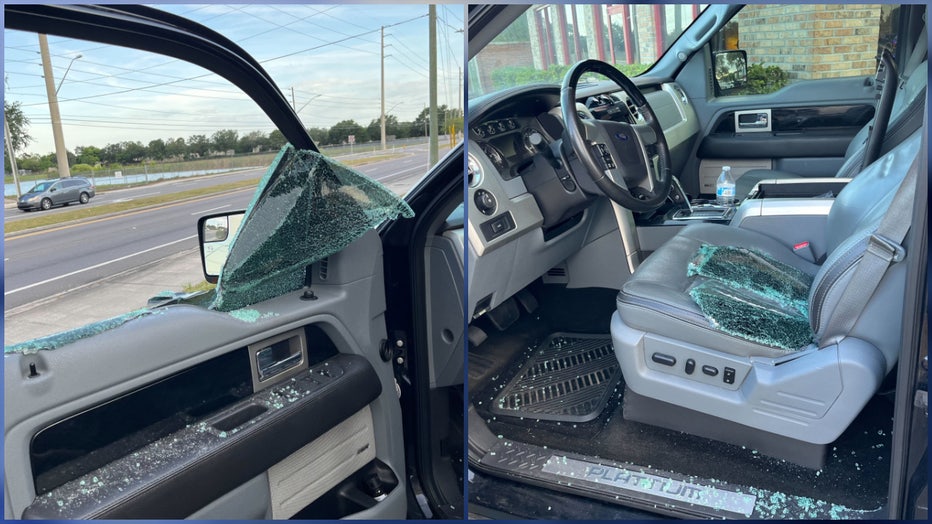 Three weeks ago, thieves took about $100 from Dustin Meyers truck. He, too, had just made a withdrawal from the bank.
"Someone followed me home and took the money bag that was in the passenger seat of my truck. It was only there for 10-15 minutes. I mistakenly didn't lock the door," Meyers said.
Police believe the two incidents are connected and that there could be more victims, which is why they put the warning out on social media. FOX 35 reached out to Bank of America for comment, but did not receive a response.
"Always make sure you're not being followed. Or if you feel like you are being followed. Always call 911 or any local law enforcement agency," said Sgt. Ferraiuolo.
"If you believe you are being followed, drive to the closest police department or call 911," the department said in the statement." Always remove money and valuables from your vehicle."
Police said Bank of America has been made aware of the incidents.