Phase two of reopening will begin in most Florida counties on Friday, Governor DeSantis announces
ORLANDO, Fla. - Governor Ron DeSantis announced on Wednesday that 64 Florida counties will enter phase two of reopening on Friday.
Governor DeSantis made the announcement from Universal Orlando Resort, which opened on Wednesday to resort hotel guests and annual passholders. They will open to the public on Friday, June 5th with enhanced safety measures in place.
"Amusement parks — we're here right now — we wanted them to work with their local governments to submit plans," DeSantis said. "Universal did a great job, had a great plan, and I think as you've seen, they're taking safety very seriously to keep their guests safe."
In phase two, businesses like bars, nightclubs, tattoo shops, sporting venues, other large venues, and movie theaters can reopen with capacity limits as long as they take precautions to slow the spread of COVID-19.
RELATED: Over 1,300 more cases of COVID-19 reported in last 24 hours by Florida health officials
Restaurants can now allow bar-top seating with appropriate social distancing. Bars and pubs can now operate with 50 percent capacity indoors and full capacity outside as long as appropriate social distancing is followed. Only seated patrons can receive service. 
Retail stores, which could operate with limited capacity in phase one, can now operate at full capacity with responsible social distancing and sanitization protocols.
"You're seated to get served. People go, enjoy, have a drink, that's fine, We want to kind of not have huge crowds piling in," DeSantis added.
Gyms, which did not reopen initially in phase one but was given approval by May 18th, can now operate at full capacity as well with appropriate social distancing and frequent sanitization. 
Entertainment businesses, like movie theaters, concert houses, auditoriums, playhouses, bowling alleys and arcades, can operate at 50 percent with appropriate social distancing and sanitization protocols. 
RELATED: NBA presents players with plan for season restart in Orlando, source says
Personal services businesses, including but not limited to tattoo parlors, acupuncture establishments, tanning salons, and massage establishments, may operate with guidance from the Florida Department of Health.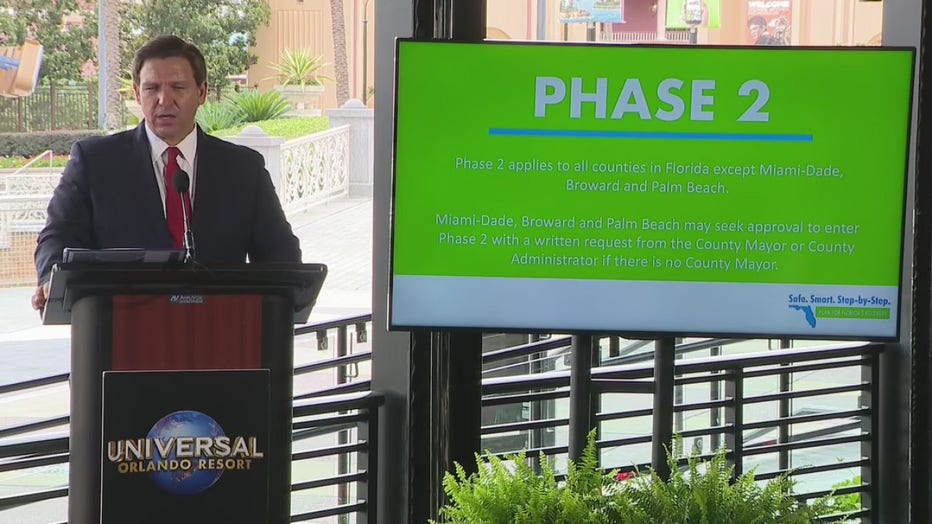 Pari-mutuel betting facilities can submit a request to reopen to the Department of Business and Professional Regulation. The request must include an endorsement from their county mayor or county administrator if there is no mayor.
Florida state universities have developed a task force to create a framework to reopen campuses in the fall. Universities will present their plans on June 23, 2020.
RELATED: Infectious disease specialists call for an end to tear gas during COVID-19 pandemic
With phase two starting on Friday, the state is offering guidance to keep vulnerable individuals safe from coronavirus.
They said individuals over age 65 and or with underlying medical conditions are strongly encouraged to avoid crowds and take measures to limit the risk of exposure.
In addition, all individuals that work in long-term care facilities should be tested for COVID-19 on a routine basis.
All persons are encouraged to avoid congregating in groups larger than 50 as well.
RELATED: Epidemiologists call for widespread contact tracing 'as soon as possible' amid COVID-19 pandemic
Miami-Dade, Broward, and Palm Beach -- which are the counties that got hit the heaviest by coronavirus in Florida -- will remain in phase one for the time being. When ready, they can seek approval from their county mayor or county administrator to enter phase two.
Florida has reported a total of 58,764 known COVID-19 cases. The latest increase, 1,317 new cases in one day, was the largest single-day increase of reported coronavirus cases in the last 30 days and one of the largest since the pandemic began. The number of deaths, though, is on the decline.
Watch Governor DeSantis announce phase two from Universal Orlando Resort.