Palm Bay mayor calls on councilman to resign after DUI, possession of cocaine arrest
PALM BAY, Fla. - Palm Bay Mayor Rob Medina is calling on a councilman recently arrested on DUI and possession of cocaine charges to resign. 
In a statement sent to FOX 35 News, Medina said that Florida law prevents city council the ability to remove a fellow councilman, so he is encouraging Councilman Peter Filiberto to voluntarily resign.
Neighbors in Palm Bay didn't want to go on camera but are disappointed this is the behavior of someone they elected. Others watched the incident unfold from their front yard. At the time, they didn't know who was getting arrested. When FOX 35 reported it was Councilman Filiberto, they were shocked and shared exclusive video of the arrest.
"That's what you get when you run from the cops," said the person who wishes to remain anonymous but reportedly witnessed the arrest.
Those who watched it say he tried to take off on his motorcycle and ended up crashing.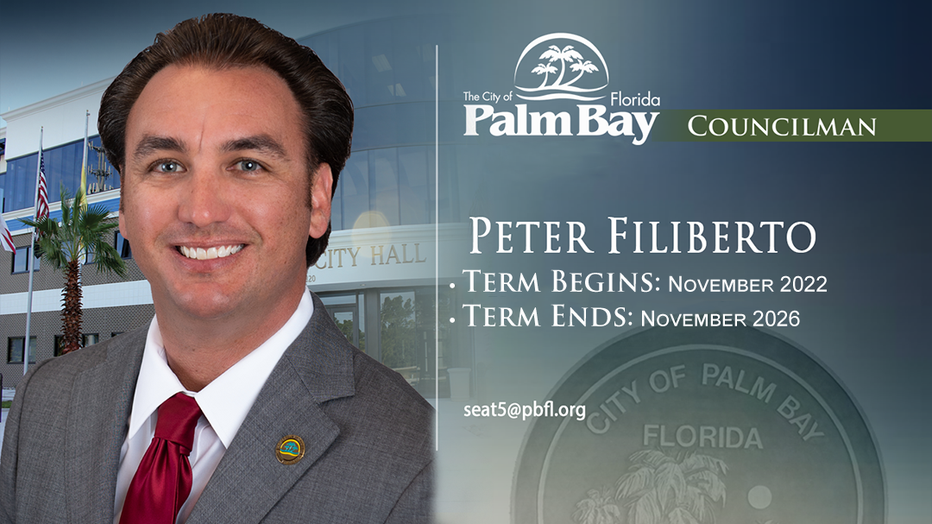 "I think he was trying to turn around and go and run from him and he slipped and fell," the person recording said.
Police arrested Filiberto on Saturday night after he was found riding his motorcycle south on Lipscomb Street NE at a high rate of speed and ran two stop signs while driving through a nearby neighborhood. The officer said Filiberto was traveling "well above the 25mph posted speed limit," according to an arrest report.
The report said Filiberto appeared to attempt a U-turn, but lost control of his bike and fell over.
The councilman reportedly refused to speak with an officer during a traffic stop and refused to participate in a field sobriety test. However, based on the totality of the circumstances, including the smell of alcohol on his breath, he was arrested, police said.
Police said Filiberto did not have the proper motorcycle endorsement, and his license was suspended.
MORE NEWS:
While being processed at the police station, officers found a plastic container with a white substance in his shoe and a plastic bag with a white substance in his sock, according to the police. Tests on both indicated the substance was cocaine, the report said.
"This situation has cast a shadow over the good work that our City Council and leadership team are accomplishing," Medina said. "It has become a distraction as we conduct our City business. As a City, we are striving every day to serve our citizens in a transparent and accountable manner, and I feel strongly that resignation would be in the best interest of our community.Please know that I have not come to this decision lightly, and my prayers continue to go out to Pete and his family. I truly hope that he will get the help that he needs to overcome his personal challenges."