Orlando wants to limit operational hours for downtown bars: What it means for bars outside downtown
ORLANDO, Fla. - The City of Orlando is considering putting in a new rule that would limit operational hours for bars and nightclubs downtown. 
As FOX 35 News reported, bars would have to pay hefty security fees in order to continue serving alcohol after midnight. Currently, they can serve until 2:00 a.m.
However, there are still plenty of bars and clubs outside the zone the City of Orlando is considering.
The area around Virginia and Mills is a good example of that.
The people FOX 35 News spoke with at bars near that intersection largely said the same thing: for the bars that are able to stay open, there could be both good effects and bad that come from the change.
One bartender, Pat Beierschmitt, called the change a double-edged sword. 
"We'd be getting the overflow from downtown," he predicted. "And honestly, that's the time of night where we get the busiest, between 12:00 and 2:00, so I think that might just add to it."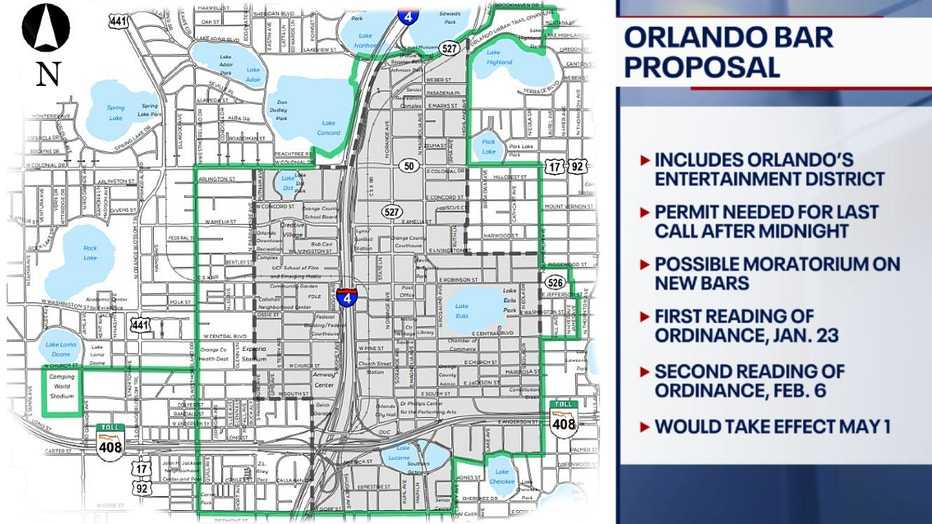 The City's also thinking about not allowing any new bars for the next six months.
The City says there's "been an increase in criminal activity" downtown lately, and says "the high concentration of nightclubs in Downtown Orlando" is to blame.
As a musician who performs at bars downtown, Steven Pietrusza wasn't sure the City's plan would work. 
"I thought it was insane," he said at first. "It's a lot to consider. I don't want anyone to ever not be safe. It's just always a bad idea when we tell people they can't do what they've been doing forever."
And as for the bars that can stay open, a boost in foot traffic might not be worth the trade. 
"I mean, it would be good for us, numbers-wise, but I think it would be bad for all the small businesses downtown," said Beierschmitt.
The City plans to discuss its proposal at the next City Council meeting on Monday, January 23.   You can read the full proposed ordinance below or at this link (PDF):