'No to annexation': Winter Garden horse facility fighting against proposed development plans
WINTER GARDEN, Fla. - The owners of a horse riding and training facility in Winter Garden are concerned about proposed plans to build homes near their farm and are using their biggest assets to spread their message: "Say no to annexation."
The messages are draped across two of the horses at Crownpointe Equestrian off Tilden Road.
"It's really hard. I've had a lot of sleepless nights about it," said owner Anne Bingler. The city of Winter Garden is looking to annex 30 acres east of the farm with eventual plans for a developer to build 24 single-family homes.
The Binglers are firmly against the idea, concerned about how the construction and noise may impact their horses and business.
She said homes have already been built on the other side of the farm and that noise from those properties had impeded their ability to train their elite horses. She's worried that additional noise will force her to shut down.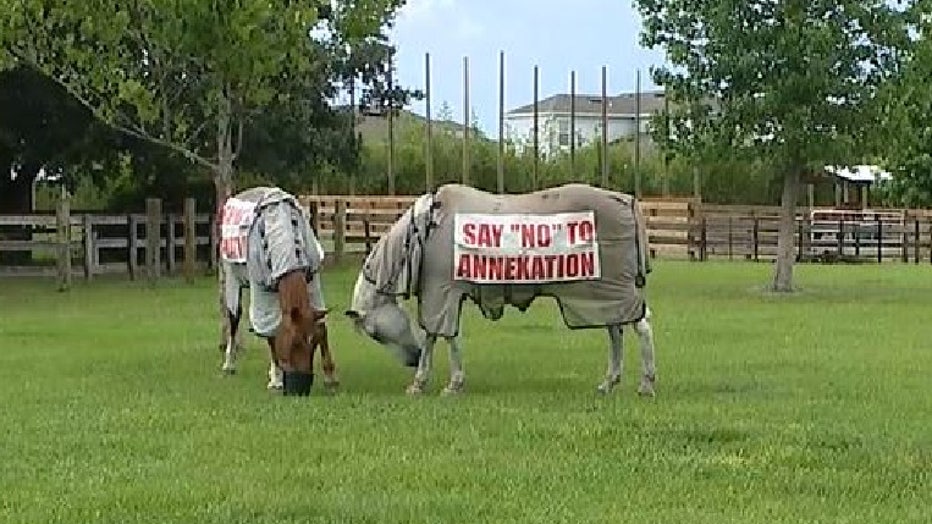 "We're going to start winding down our operation," she said.
RELATED: Winter Garden horse farm owners say new city development forcing them out
Kelly Carson, planning director for Winter Garden, said the developer submitted plans to the city with the horse farm in mind. According to those plans, she said, there are three lots proposed along their property line.
That's one too many for Bingler. 
"Somebody started to make a loud noise with a machine and the horse spooked and trampled her baby," she recalled and told FOX 35.
A spokesperson for the city said they have weighed the impacts of the development and feel the design will have minimal impact on Bingler's business. A final vote on the project is scheduled for June 8.
"I do think that everyone is trying to do the right thing but in doing the right thing I just think they need to take into account how it affects our livelihood and our business," said Bingler. 
Bingler said she has considered moving her farm and business elsewhere, but the costs of buying land somewhere else are too costly.