National Hurricane Center tracking tropical disturbance in the Atlantic
The National Hurricane Center says a tropical disturbance has been spotted northeast of the Bahamas, just days before Hurricane season officially kicks off. 
The disturbance is located in the Southwestern Atlantic and has a 10% chance of formation over the next 48 hours and over the next seven days. 
 "Strong upper-level winds and dry air are expected to prevent development while the system moves generally north-northeastward at 5 to 10 mph over the southwestern Atlantic during the next couple of days," the NHC said in its advisory Monday morning.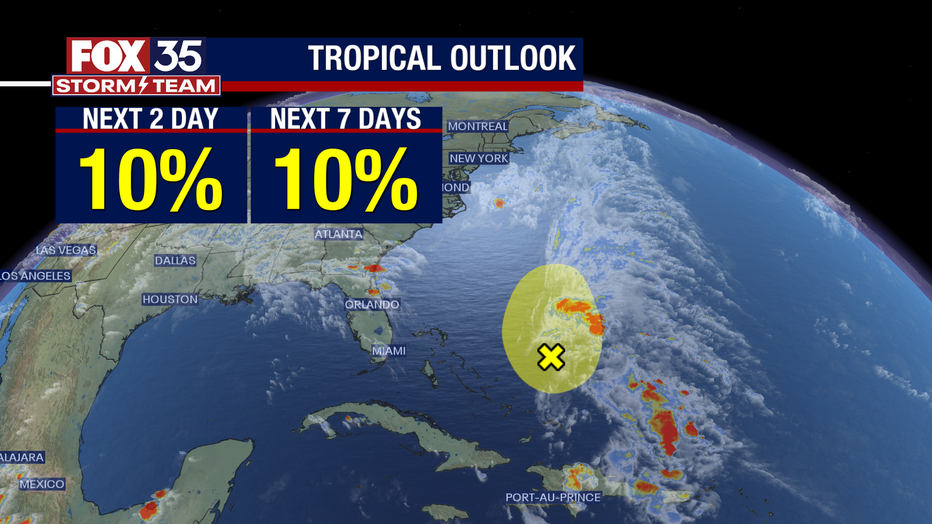 The FOX 35 Storm Team says this is a reminder that the tropics will soon come alive as Atlantic waters continue to warm as hurricane season approaches on June 1. 
According to the NHC, a tropical disturbance is described as a tropical weather system with organized convection (generally 100-300 miles in diameter) originating in the tropics or subtropics, having a non-frontal migratory character and maintaining its identity for 24 hours or longer. It may or may not be associated with a detectable perturbation of the wind field.
Central Florida will see higher rain chances on Monday and Tuesday along with an isolated severe storm or two Monday afternoon. Damaging winds will be the main risk. 
2023 Hurricane Season Prediction
Colorado State University released its 2023 Atlantic Hurricane Season Predictions and Outlook with a slightly below average season. 
CSU predicts 13 named storms, six hurricanes, and two major hurricanes. 
According to the NHC, the first subtropical storm formed in the Atlantic basin off the U.S. coast in mid-January 2023 and is considered the first cyclone of the 2023 Atlantic season. 
The storm did not bring major impacts to the U.S., but wind gusts of more than 60 mph were reported on Sable Island in Nova Scotia, Canada.