Man makes sign inviting burglar to come back after being robbed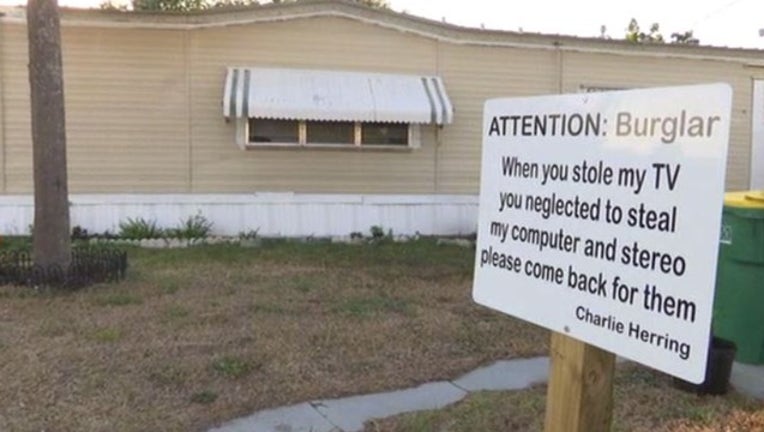 MELBOURNE, Fla. (FOX 35 WOFL) - A Melbourne man has posted a sign outside his home, inviting a burglar who recently stole his TV to come back while he's home.  
The sign says, "Attention burglar. When you stole my TV, you neglected to steal my computer and stereo. Please come back for them."
Charles Herring, a 66-year-old former Marine is the one who had it made. 
"Bugs me that they broke in at all," Herring said. "They wouldn't wait until I was home because then they know they wouldn't get out." 
Herring says he was in the hospital when the burglary happened. His trailer had been sitting empty for a few weeks in February. 
"I was at the VA hospital in Orlando," Herring explained. "On the 18th, I came home and my neighbor told me she saw the door open and my TV was gone." 
He says he contacted police and decided to spend $67 on the professionally made sign, which invites the burglar to try it again. 
"I've got a thumper stick in there that's for that," Herring said. 
He tells the News Station he plans to keep the sign up for as long as possible.