Leaders discuss changing signals at dangerous crosswalks in Brevard County
SATELLITE BEACH, Fla. - It's been just over a week, but in Brevard County, the emotions are still raw.
A 6th-grader named Sophia Nelson stepped away from her dad and grandpa and stepped onto the crosswalk that was signaling drivers to stop. She was hit and killed. 
Now, there are new petitions and old ones getting new attention, calling on state and county officials to take away or modify the crossing points.
Daniel Willemin is organizing protests and meetings.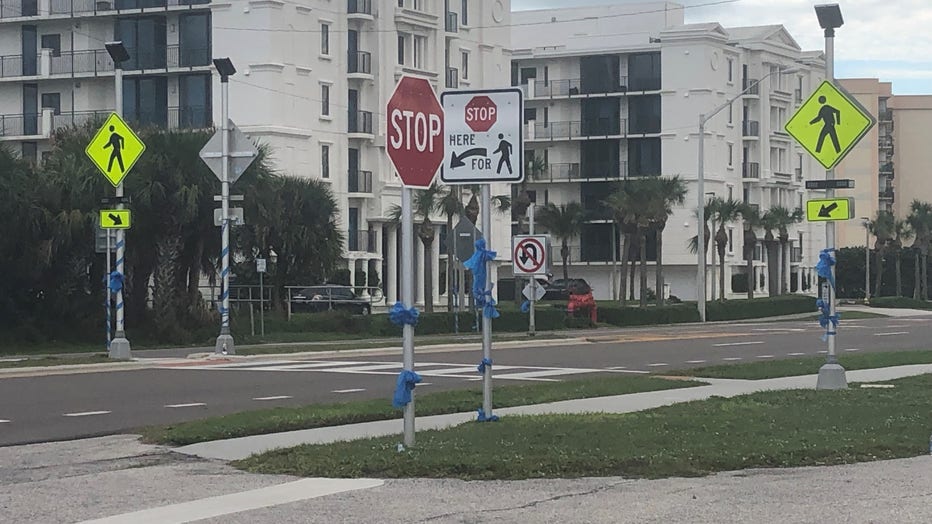 "People are going too fast. People see yellow, they think it means caution, well it does it means caution, it doesn't mean stop. When you see red, there is no cognitive process, you automatically have your foot on the brake, you stop," Willemin said.
Fox 35 News spoke to a Melbourne city councilman who agrees and will call for the lights to become solid red instead of blinking when the buttons are pressed.
Some other elected leaders are telling FOX 35 News "no comment," explaining they don't want to have inconsistent messages while the Space Coast Transportation Planning Organization says more education is the answer, not tearing down the 18 crosswalks.
There have been three deaths in Brevard county at three locations.
In some communities, like Melbourne Beach, folks are using these flags to alert drivers that they're trying to cross the street.
But two friends who live near one of the flag station walkways tell FOX 35 News the flags aren't any safer than the blinking lights.
"We had a Mack truck the other day, we were waving the flag, he went right by us. It's not a good system. We need something electronic," they said. 
One county commissioner says he'll introduce something at the next commission meeting.
And another county official tells us, he is vowing the crosswalks will be gone by this time next year.