Lawmakers asked to mind their manners for pope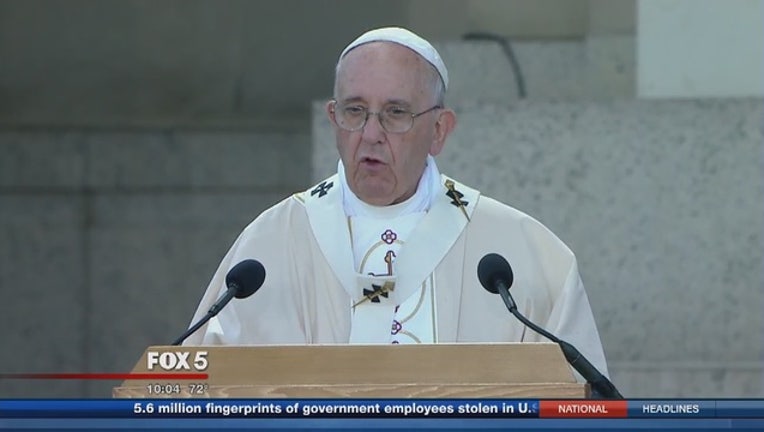 WASHINGTON (AP) — Latest developments in Pope Francis' visit to the United States. All times local:
7:30 a.m.
Joint gatherings of Congress for dignitaries' speeches are usually a recipe for competing partisan ovations and chummy backslaps and handshakes.
This time, House and Senate leaders have asked lawmakers: Please, not when the pope is here.
The leaders sent an appeal to lawmakers in advance of Pope Francis' speech Thursday morning, asking them to act with decorum in his presence. Among the no-no's — reaching out for handshakes or conversation with the pope and those accompanying him as they walk down the center aisle of the grand House chamber.
To drum the lesson in, the leaders' letter reminded legislators that the historic event will be seen on television "around the whole world and by many of our constituents."
Leaders have made similar appeals for State of the Union addresses, with little luck.
___
7 a.m.
With his speech Thursday morning, Francis will become the first pope to address Congress. But the list of foreign leaders and dignitaries who've done so is long.
The House historian's office says it's happened 117 previous times.
Francis won't be the first religious leader to address the House and Senate. Technically that was Britain's Queen Elizabeth II in 1991, since the British monarch heads the Anglican Church.
The most addresses to Congress? Three, by both British Prime Minister Winston Churchill and Israeli Prime Minister Benjamin Netanyahu.
The historian's office lists the first such speech in 1874. That's when Congress heard King Kalakaua of Hawaii, still an independent kingdom then.
The first speech by a foreign leader to lawmakers was in 1824 by the Marquis de Lafayette, the French general who helped the colonies win independence. But he addressed only the House.
___
6:45 a.m.
Francis' speech to Congress is a personal and political coup for House Speaker John Boehner, an Ohio Republican and Catholic.
Boehner unsuccessfully invited the two previous popes, John Paul II and Benedict XVI, to speak. He began trying in 1994 during his second House term, organizing a petition by lawmakers saying John Paul II was a "world leader, ambassador of peace and an important catalyst in the fall of the Iron Curtain."
Francis is the fourth pope to meet with a president in the U.S., including presidential visits on six separate trips by John Paul II.
The first was Paul VI's 1965 New York meeting with President Lyndon Johnson. Benedict XVI met President George W. Bush in 2008.
Francis' coming speech at the United Nations will be the fifth by a pope.
___