Armed and dangerous suspect sought by Florida deputies located, shot in Mount Dora
LAKE COUNTY, Fla. - An 18-year-old man who was sought by deputies in Seminole and Volusia Counties – was located in Lake County and shot by deputies Monday afternoon, according to the Volusia County Sheriff's Office and Mount Dora Police Department.
Earlier Monday, Volusia County deputies said it was looking for the driver of a white truck that was possibly connected to a "suspicious incident" in Deltona. Authorities did not elaborate on the incident, but said the driver was considered to be "armed and dangerous."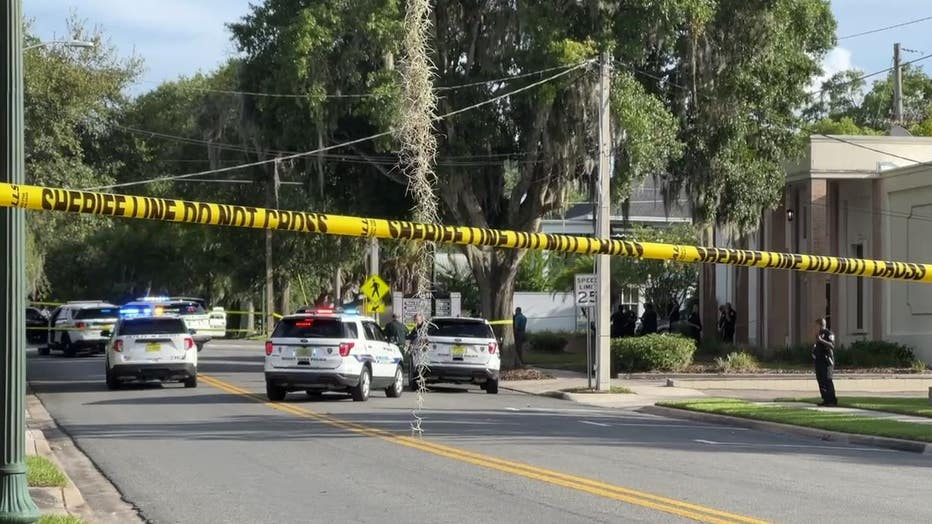 A spokesperson for Mount Dora police said the truck was located by Lake County deputies around 4:45 p.m. Monday and led deputies on a short chase, which ended in Mount Dora. An official said the driver crashed into a synagogue near Donnelly and 9th and began to shoot at law enforcement, who returned fire.
The man was shot and then surrendered, the official said. Officers rendered aid and transported the main to the hospital. He was alive at last check, the official said.
The suspect was shot and then surrendered to authorities, an official said. They rendered aid and transported the man to the hospital. 
No deputies or officers were hurt in the shooting. Because law enforcement was involved in the shooting, the Florida Department of Law Enforcement will investigate.
Few details about the Deltona incident have not been released. An official said it may have been related to a domestic violence situation, but deferred to Volusia County Sheriff's Office.
In a tweet, VCSO said the circumstances in that case were "still under investigation."
"Detectives are actively working this case, and we'll release more info in the future as we're able to confirm details," read the tweet.