Lakeland wife claimed to accidentally stab husband after slipping on dog feces, detectives say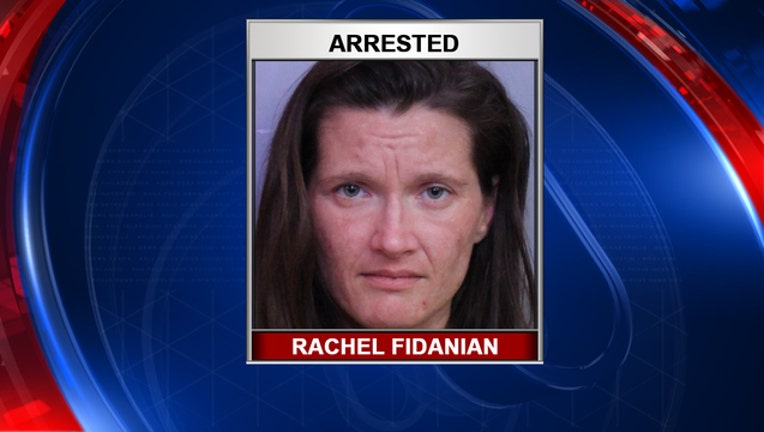 article
LAKELAND (FOX 13) - A Lakeland woman was arrested for murder after she said she accidentally stabbed her husband, deputies said.
The stabbing death occurred on June 25, but a medical examiner's report recently ruled the death of 40-year-old Bryant Fidanian as a murder. Polk County detectives said the wife, and suspect, 38-year-old Rachel Fidanian "gave several inconsistent statements" about the events leading up to the stabbing.
According to her arrest affidavit, Rachel gave two different explanations during the initial 911 call. She first said she was holding her dog while doing dishes, then ran towards her husband, slipped, and a knife entered his shoulder area. Later in the call, detectives said she explained holding her dog while slicing pizza, went to talk to her husband, tripped and accidentally stabbed him.
While Polk County Fire Rescue officials were providing medical care, detectives said Rachel explained she was slicing a pizza she just cooked and noticed her dog defecated on itself. She went to clean the feces with the knife still in her hand, investigators said, but tripped on the mess and fell on the victim.
Bryant was transported to Lakeland Regional Health but later died at the hospital. During the investigation, a detective spoke to Rachel, and she provided another account of what lead up to the stabbing death.
Detectives said she told them she woke up around 8 a.m. to cook a frozen pizza for herself and the victim. The victim was sleeping on the couch, and Rachel ate half the pizza. Later, she said she used a filet knife to start slicing the other half of the pizza for the victim, when she heard the dog whimpering outside.
She said she observed orange feces covering the dog, so she picked the dog up, and brought him inside, according to her affidavit. The dog began urinating and defecating on itself in the living room, so she asked the victim for help, but she tripped on the rug, fell forward and ended up stabbing the victim. 
Detectives said they found no signs of feces or urine inside the living room or on her clothing at the time of the stabbing. They also asked her to demonstration how she was holding her dog, but she was unable to pick it up.
"The suspect made a lot of excuses, but none of them made sense," said Sheriff Grady Judd in a statement. "Our detectives did a thorough investigation. In the end, they determined this was an intentional act of domestic violence. Incidentally, her arrest occurred during Domestic Violence Awareness Month." 
Rachel was arrested Wednesday on a murder charge.