Kentucky, Tennessee under flood threat as Harvey moves inland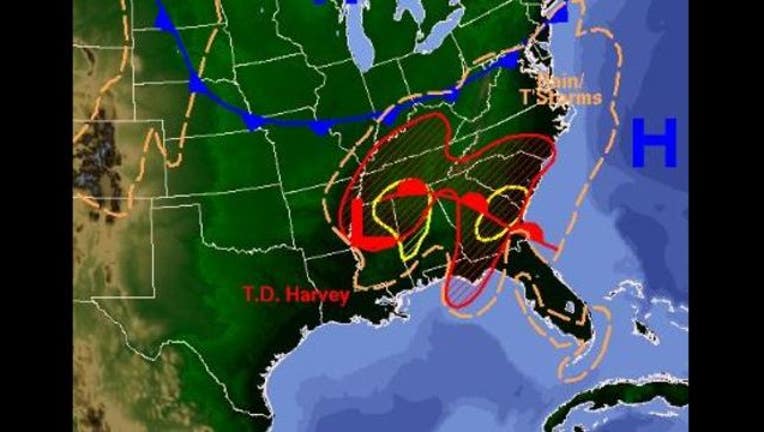 NORMAN, Ok (KRIV / AP) - The National Weather Service is forecasting flooding in Kentucky and Tennessee as Tropical Depression Harvey travels inland.
Forecasters say the storm is expected to drop 2 inches to 6 inches (50 to 152.4 millimeters) of rain in Kentucky, with the highest totals expected in western Kentucky near the Tennessee border.
The heaviest rainfall for a wide swath of the state is expected to start late Thursday and last through Friday afternoon. Forecasters say high winds from the storm could also produce tornadoes.
MOBILE USERS - CLICK HERE FOR NWS FORECAST TORNADO WARNINGS.
Some locations in Tennessee could get more than 10 inches (254 millimeters), though most will get 4 inches to 8 inches (101 to 203 millimeters).
The say high winds from the storm could also produce tornadoes. The weather service issued a flood warning for areas along several rivers in West Tennessee while a flood watch included the whole region and stretched into Middle Tennessee.
Harvey dumped nearly 52 inches (1321 millimeters) of rain on at least one spot in Texas.
It has caused more than 30 deaths.
Keep informed with FOX 26 News updates on Hurricane Harvey.