Husband, wife charged with battery on elderly mom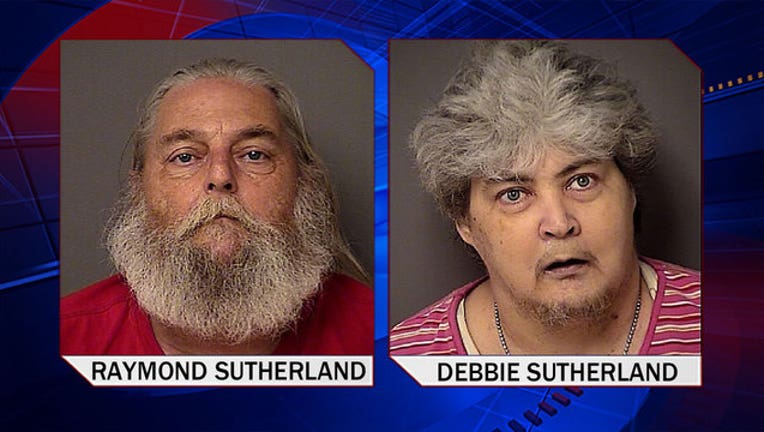 article
KISSIMMEE, Fla. (WOFL FOX 35) - Osceola County sheriff's detectives have arrested a Kissimmee couple in an investigation into the abuse and neglect of an 81-year-old woman.  Raymond Sutherland, 56, is charged with battery on a person over 65 years old, aggravated battery on a person over 65 years old, aggravated abuse of an elderly person and neglect of an elderly person with great harm.  His wife, Debbie Sutherland, 54, is charged with battery on a person over 65 years old.
The investigation began in mid-September when deputies took a report regarding an elderly woman who was recovering at a temporary medical rehabilitation center in Kissimmee. The victim told deputies she had fallen in her bedroom and asked her son, Raymond, on several occasions for assistance. She lost consciousness and when she woke up, she lying on the floor in a pool of blood.  After some time, the son called for medical assistance and she was taken to the hospital.
Detectives spoke with her son who denied harming his mother, but he said he couldn't remember, because he takes medication that causes him to black out. Doctors told detectives the victim's injuries were not consistent with a fall, but instead appeared to be from abuse.
After interviewing the Sutherlands, authorities said they determined that they both physically abused Raymond's mother and detectives obtained felony warrants for their arrest. In addition, Raymond was charged with elderly neglect for not initially providing medical assistance for the victim.
Both Raymond and Debbie Sutherland were booked into the Osceola County Jail. The victim is in critical condition and the investigation is on-going at this time.
Fox 35 Weather Authority