Hurricane Franklin forms in the Atlantic, could become major hurricane, NHC says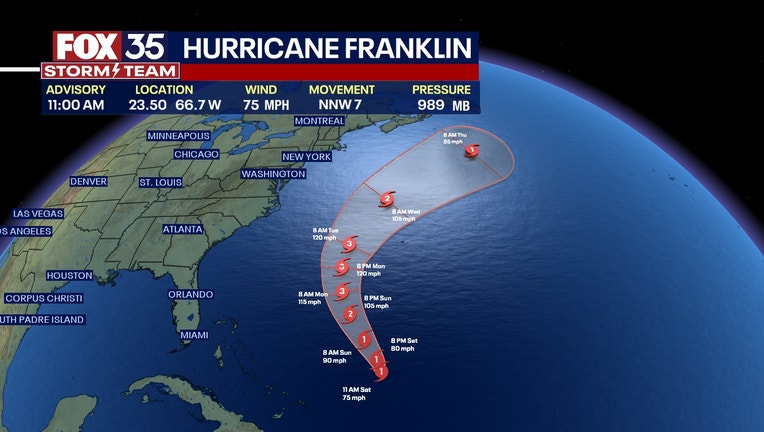 article
Franklin is now a hurricane.
Tropical Storm Franklin strengthened into a hurricane on Saturday in the Atlantic, and could strengthen and become a major hurricane next week, according to the National Hurricane Center.
There are no coastal watches or warnings, the NHC said, and the storm is forecast to stay east of the eastern U.S. Coast and remain in the Atlantic Ocean. It could create "life-threatening surf and rip currents" along portions of the East Coast.
Franklin is located about 315 miles east-northeast of Grand Turk Island and 620 miles south of Bermuda.
It has maximum sustained winds of 75 mph, making it a category 1 hurricane on the Saffir-Simpson Hurricane Wind Scale. It's currently moving north-northwest at 7 mph, the NHC said.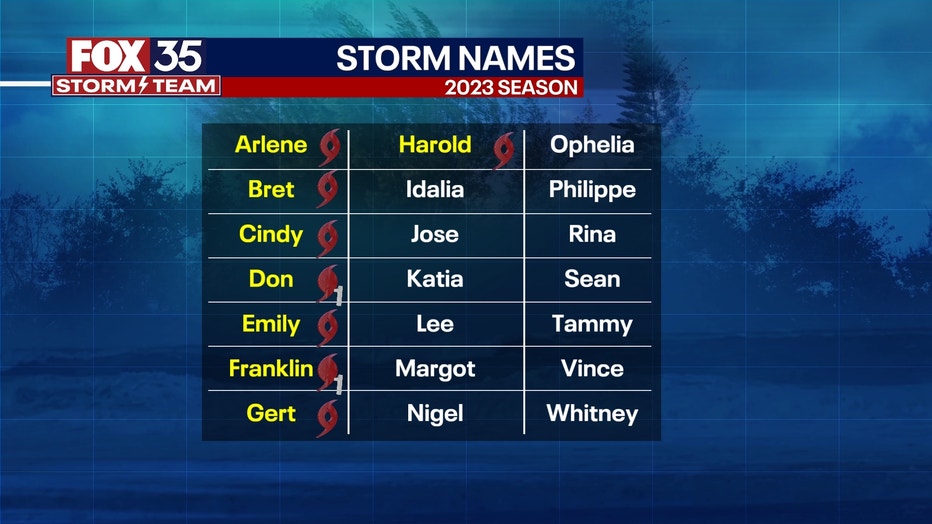 Here are the 2023 Atlantic hurricane season names
Arlene (Pronunciation: ar-LEEN)
Bret (Pronunciation: bret)
Cindy (Pronunciation: SIN-dee)
Don (Pronunciation: dahn)
Emily (Pronunciation: EH-mih-lee)
Franklin (Pronunciation: FRANK-lin)
Gert (Pronunciation: gert)
Harold (Pronunciation: HAIR-uld)
Idalia (Pronunciation: ee-DAL-ya)
Jose (Pronunciation: ho-ZAY)
Katia (Pronunciation: KAH-tyah)
Lee (Pronunciation: lee)
Margot (Pronunciation: MAR-go)
Nigel (Pronunciation: NY-juhl)
Ophelia (Pronunciation: o-FEEL-ya)
Philippe (Pronunciation: fee-LEEP)
Rina (Pronunciation: REE-nuh)
Sean (Pronunciation: shawn)
Tammy (Pronunciation: TAM-ee)
Vince (Pronunciation: vinss)
Whitney (Pronunciation: WHIT-nee)