Hollywood, Florida shooting: 2 arrested in South Florida mass shooting investigation, police say
HOLLYWOOD, Fla. - Police have made two arrests in a shooting that broke out during what investigators are calling an altercation between two groups near a South Florida beach boardwalk on Memorial Day. They continue to investigate who or how many actually fired shots and continue to search for possible suspects.
Shortly before 7 p.m. Monday, officers working the beach responded to the area of Johnson Street in Hollywood after hearing gunfire and found multiple people with gunshot wounds. The shooting left nine people hurt, including a 1-year-old.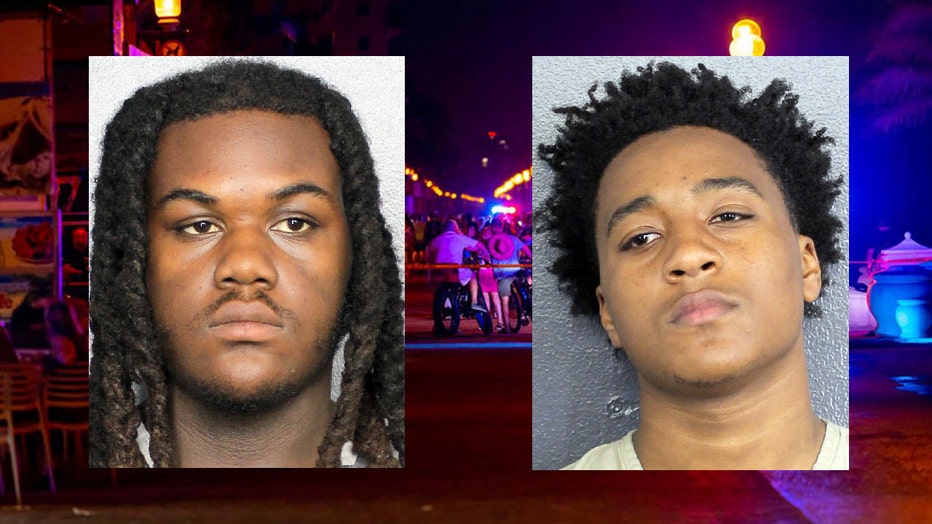 Two people believed to be involved in the altercation that led to a shooting in Hollywood, Florida — Keshawn Stewart (Left) and Morgan Deslouches (Right), both 18 — have been arrested on firearms charges, police said. 
In a news release, the Hollywood Police Department released photos of the three people of interest in hopes someone would recognize them and come forward. Police on Tuesday evening said they have arrested Morgan Deslouches and Keshawn Stewart, both 18, on firearms charges but not for any charges directly related to shots fired that injured any of the victims. Police continue to seek assistance in identifying persons of interest. 
Police are working to identify the person in this photo that is believed to be involved in a shooting near Johnson Street that left nine people injured on Memorial Day in Hollywood, Florida. (Photo via Hollywood Police Department)
Investigators said the victims – four minors between the ages of 1 and 17 and five adults between the ages of 25 and 65 – were taken to local hospitals. Three have since been treated and released, while six others remain hospitalized, police said. The names of those wounded have not been released.
Multiple people were detained after the shooting, but police did not identify them as the shooters. As part of the investigation, officers recovered five handguns, two of which were stolen.
Hollywood Mayor Josh Levy said that he was "deeply saddened and angered" by the shooting. 
"People come to enjoy a holiday weekend on the beach with their families and to have people in complete reckless disregard of the safety of the public and to have an altercation with guns in a public setting with thousands of people around them is beyond reckless," he said.
Deslouches is charged with grand theft of a firearm, carrying a concealed weapon, and removal of a serial number from a firearm. All charges carry a total bond amount of $10,000. Stewart has been charged with carrying a concealed firearm, which carries a $15,000 bond.
Anyone with information regarding the shootings is asked to call HPD at 954-764-4357(HELP) or 954-967-4567. Those who wish to leave a tip or a video or photo can do so by email at hollywoodpdtips@hollywoodfl.org.