Hamburger Mary's owners suing Gov. DeSantis over Florida drag show law
ORLANDO, Fla. - A popular national restaurant chain that features drag performances to which families with young children are invited is taking on Florida Gov. Ron DeSantis over a new law restricting such shows.
The owners of Hamburger Mary's Bar & Grille in Orlando said they have filed a lawsuit against DeSantis and the State of Florida in federal court, claiming the "Protection of Children Act" (SB 1438) is in violation of First and Fourteenth Amendment rights. Also named as a defendant is the Secretary of the Florida Department of Business and Professional Regulation, Melanie Griffin.
"This bill has nothing to do with children, and everything to do with the continued oppression of the LGBTQ+ community," wrote Michael Rogier in a post on the restaurant's Facebook page.
In the post, Rogier wrote that Florida lawmakers are "creating a false narrative that drag queens are grooming and recruiting your children with no factual basis or history to back up these accusations."
Gov. DeSantis signed several new bills into law Wednesday, including a ban on transgender treatments for children and legislation regarding the use of pronouns in schools. 
"I feel very strongly as governor, but also just as a dad of a 6 or 5 and a 3-year-old that you know, we need to let our kids just be kids. And we have a very crazy age that we live in," DeSantis said. "There's a lot of nonsense that gets floated around. And what we've said in Florida is we are going to remain a refuge of sanity and a citadel of normalcy."
Gov. DeSantis signs 'Let Kids Be Kids' bill package
Rogier said the lawsuit was filed after several days of consideration. In the post, he wrote that "our transgender friends are being vilified" and that legislators have not taken the time to understand the importance of gender-affirming care to the transgender community.  
"With depression and suicide, it can mean the difference between life and death," he added.
The new law punishes venues for allowing kids to attend "adult live performances." 
Read the lawsuit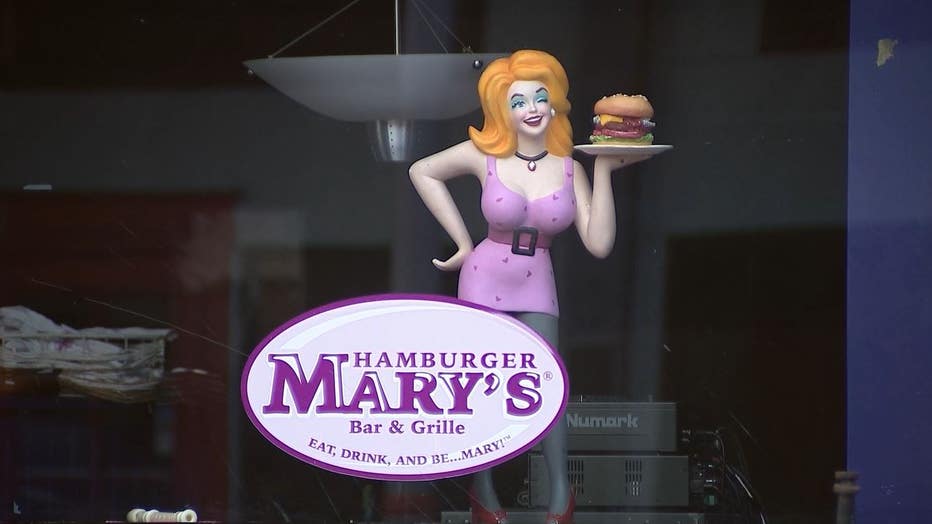 According to the lawsuit, the restaurant said the new Florida law is forcing them to ban children from all shows, which has led to a 20% drop in Sunday bookings. Lawyers for the business argue the new law is so broad and vague that it could be applied to almost any performance that involves a man dressing up like a woman, even if the performance isn't sexual in nature. The lawsuit said the business owners can't risk having their business or liquor licenses suspended or risk facing criminal prosecution by allowing children at the shows.
There are a dozen Hamburger Mary's Bar & Grille locations across the country, with four in Florida. The Orlando restaurant has been a fixture on Church Street for over a decade and has previously hosted a family-friendly drag brunch on Sundays.
The Associated Press contributed to this report.