Funeral for fallen Apopka firefighter Austin Duran held Saturday
APOPKA, Fla. - The Apopka firefighter who died after being seriously injured on the job was laid to rest on Saturday. 
The community lined the streets for the funeral procession to honor 25-year-old Austin Duran. 
Susan Dudley's son is the district fire chief for the fire station Duran was in. She was one of many people in the community who came to show support to Duran's family and fellow firefighters as they made their way to the funeral home to lay their loved one to rest.
"He just loved being a firefighter. And our hearts are very heavy for his loss. And we show respect for him and his family and we pray that we keep them in our memories forever," said Dudley. "We'll always remember what a fantastic firefighter he was."
Since Duran's tragic loss, the community has been coming together to show their support for his family. 
"It says that our we love our firemen, and we're proud of them and they're everything to this community," said Lynn Doerr who attended the funeral procession. "He's another community person who has given his all for Apopka, his all, everything. That's why we're here to support him."
Duran, who worked for the Apopka Fire Department for about two years, was hurt last month when a 4,500-pound sand trailer fell on him and pinned him down, landing on his legs and abdomen. He had been in the hospital for weeks and underwent several surgeries before passing away this week.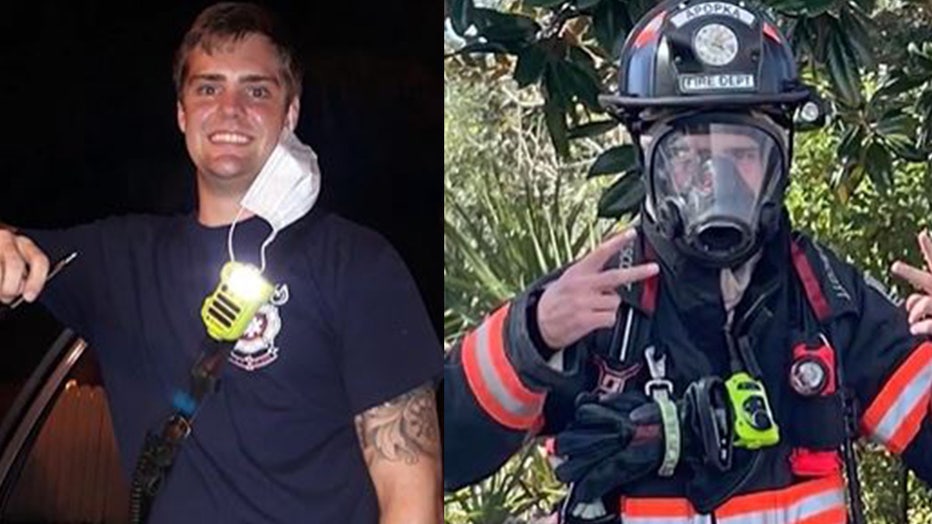 His sister shared the heartbreaking news on his GoFundMe.
"Austin fought this fight like a warrior, like a hero. My heart is broken and will never fully heal. We love you so much Austin and we will miss you for the rest of our lives."
Hundreds of firefighters and other members of the Apopka community carried candles at a vigil for Duran on Friday.
Everyone at the vigil, across the street from Apopka Fire Station 1, placed a rose at a memorial to Austin, right by where the accident happened.
"It's a tragic loss, we're hurt, and we're suffering, we're going through it, but from the community, we saw a lot of support from the community," said Kyle Lampp, the vice president of the Apopka Fire Department Union. "It's been very helpful for them to come together and see that they have our back."