Freezing cold in Florida: Is snow possible this weekend? Here's what the forecast says
ORLANDO, Fla. - Florida is getting another taste of winter as a strong cold front brings freezing temperatures to the area this weekend.
Saturday started off very chilly in the 30s and 40. Highs today in Central Florida aren't expected to leave the 50s, so be sure to wear a sweater or jacket.
Now, if you think that's cold, just wait until Sunday.
A Freeze Watch is in effect for counties north of Orlando on Saturday night with lows falling at or below freezing. Lows for Sunday morning are expected to be in the 20s and 30s.
"Models have trended even colder for tonight's temperatures, especially to the south. Because of this, Frost Advisories are in effect for areas along and south of I-4 with Freeze Warnings in effect elsewhere where lows will fall to 28-32 degrees overnight. Make sure to protect those plants if you haven't already," FOX 35 Storm Team Meteorologist Ian Cassette said. 
A Freeze Warning is in effect from 4 a.m. to 8 a.m. Sunday for inland Volusia, Osceola, Okeechobee, and southern and northern Lake counties. The National Weather Service says frost and freeze conditions will kill crops, and other sensitive vegetation and possibly damage unprotected outdoor plumbing.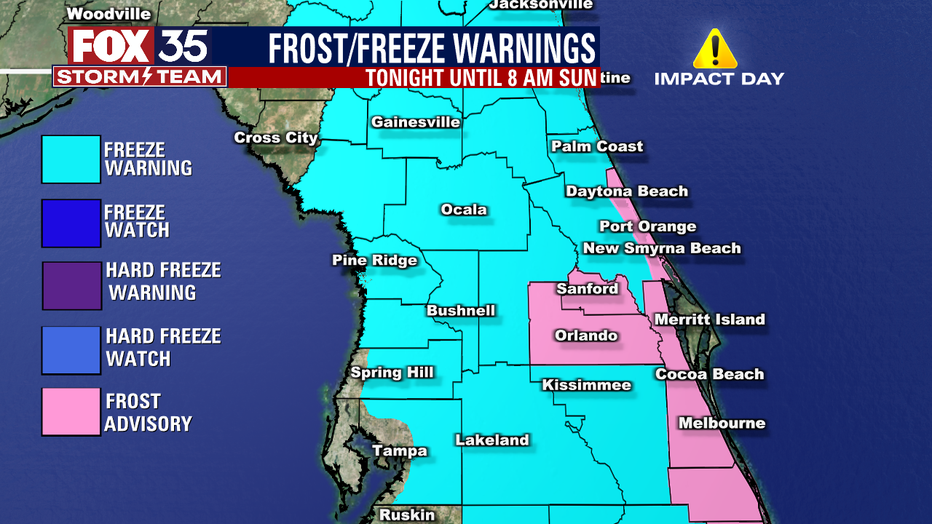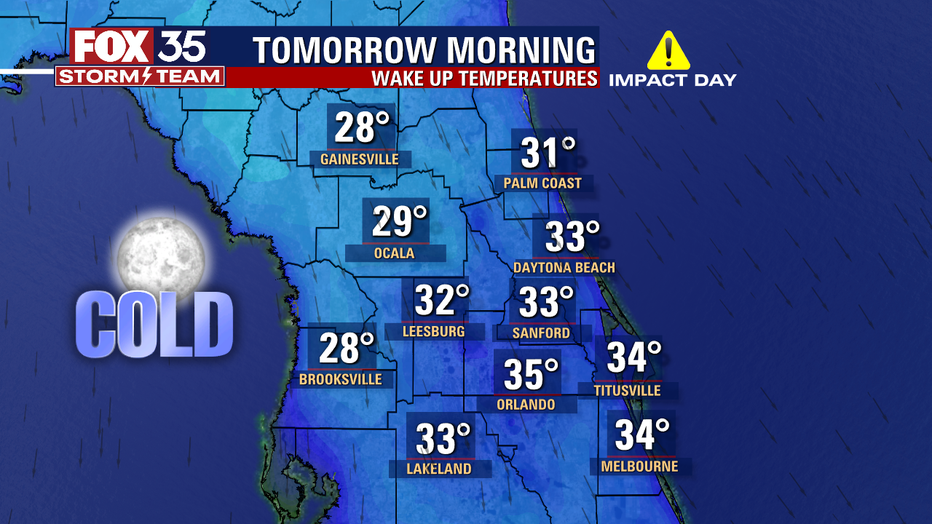 While widespread frost is expected, what about snow? You may remember on Christmas morning, videos shared by Central Florida residents on social media showed ice pellets, otherwise known as sleet, falling from the sky onto their yards. It was one of the coldest Christmas' on record in Central Florida, with wake up temperatures in the low 20s and 30s. 
But if you were hoping to spot some snow this weekend, FOX 35 Storm Team Meteorologist Ian Cassette says it's not likely.
RELATED: Central Florida freeze: 5 P's to help you prepare for chilly weather
"Temperatures won't be as cold as Christmas weekend thankfully! They'll be about 10 degrees warmer for lows compared to Christmas morning. There also is no chance of any wintry weather since the air is really dry!"
Even though snow most likely won't be falling, you still need to take some precautions to prepare yourself and your family for the freezing weather. 
Be sure to cover your plants and bring your pets indoors. Also, use safe heating sources indoors. Do not use fuel burning devices like grills: the Marion County Sheriff's Office says they release deadly carbon monoxide.