Florida's ethics probe into Gillum to linger past election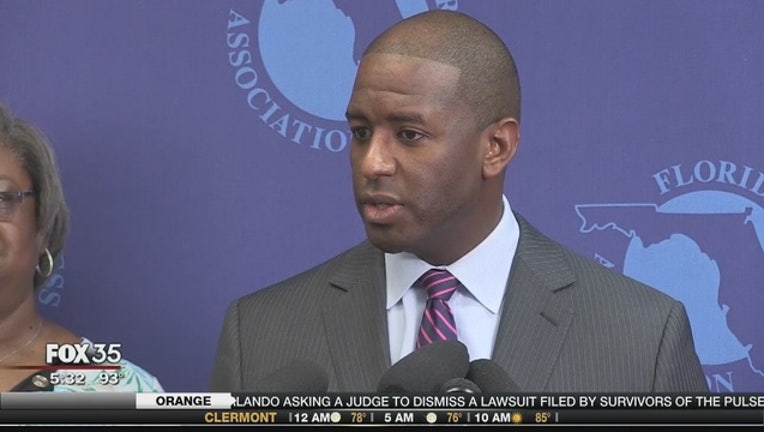 article
TALLAHASSEE, Fla. (AP) - An ethics investigation of Florida Democratic nominee for governor Andrew Gillum is going to linger beyond Election Day.
The Tallahassee mayor has steadfastly denied any wrongdoing in the case, which is separate but related to an ongoing FBI investigation into city government.
Erwin Jackson, a local businessman and long-standing critic of city officials who filed the complaint against Gillum, said Florida's ethics commission has confirmed to him they will not resolve the case before Nov. 6. Jackson said he was also told that the commission investigators- who interviewed Gillum in September - have not wrapped up their work yet.
Republicans have hammered Gillum over the ethics probe and the FBI investigation including launching television ads that the Gillum campaign has labeled as false.
Ron DeSantis used the ongoing probes to assail Gillum during their nationally televised debate on Sunday, asking him repeatedly whether Gillum paid for a ticket to see the hit Broadway show "Hamilton" during a 2016 trip to New York City.
"You have not proved you have paid for anything," DeSantis said.
Gillum, who has said repeatedly he is not a target of the FBI investigation, forcefully pushed back against the allegation.
"I don't take free trips from anybody, I'm a hardworking person," Gillum said. "I don't need anybody handing me anything for free."
The trips to Costa Rica and New York City came to light after the FBI investigation broke into the open in June 2017. That's when a federal grand jury subpoenaed five years of records from Tallahassee and a local redevelopment agency that involved high-profile projects and developers, including an ally of Gillum.
In February, a federal search warrant was accidentally made public on a court website and detailed that the FBI launched its corruption investigation in 2015 and that agents posed as out-of-town real-estate developers and medical marijuana entrepreneurs in order to gain access to various city officials.
The warrant stated that agents were focusing on City Commissioner Scott Maddox, a former head of the Florida Democratic Party, and his former chief of staff and whether Maddox was paid to help out businesses seeking help from the city. He has denied any wrongdoing
The FBI earlier this year also asked for more records, dealing primarily with an upscale restaurant that is located in a city-owned building. The Edison received $2 million in financial assistance from the city and the local community redevelopment agency.
One of the owners of the restaurant was lobbyist Adam Corey, who once served as Gillum's campaign treasurer and has known him since college. Gillum vacationed at a luxury resort in Costa Rica in May 2016 with Corey, as well as another investor in the Edison. During that trip, Corey set up a meeting between Gillum and people who ended up being FBI undercover agents.
Gillum said he paid for the cost of the resort in cash and has produced bank records to show he withdrew $400 to pay for his share of the $1,400-a-night villa that was shared by several couples. He also produced credit card expenses showing other trip expenses.
During the New York trip, Gillum met with Corey and undercover agents and attended a performance of the Broadway show "Hamilton." Gillum produced a hotel bill for two nights, but said he spent a third night in a hotel room rented by his brother. He said his brother, Marcus Gillum, gave him the Broadway ticket and that he learned later his brother swapped a concert ticket with Corey to get the "Hamilton" ticket.
A spokesman for Gillum's campaign said in September that he did not know the value of the two swapped tickets. Geoff Burgan also said the New York airfare was paid by People for the American Way, who was Gillum's employer at the time.
Christopher Kise, an attorney for Corey, has previously disputed the account given by Gillum's campaign and said that his client did not receive any money for the Costa Rica lodging and that Corey did not purchase the Hamilton ticket or swap it for a concert ticket.